The Complete Guide to Akutars
Akutars is part two in the new and exciting Aku movement. It is a collection of 15,000 unique 3D avatars created by former MLB player Micah Johnson. Once he heard his nephew ask the question: "Can astronauts be black?". Johnson decided that they absolutely can.
This conviction resulted in the Akutars NFT collection, which provides entry into the ever-expanding Akuverse, where the lines between the physical and digital world are blurred.
With this exciting, new, and fresh collection having been released, let's dive deeper into what makes it special and unique.
What are Akutars?
Akutars is a special 3D NFT collection with partnerships from Puma, Planes, Vandal, Who Decides War, BBC, and Ice Cream. Every partner has made contributions to the design of Akutars, and it marks an important milestone in the NFT community. Now big and influential brands are starting to notice the value and utility of NFTs, and they want to get involved.
The collection totals 15,000 unique NFTs hosted on the Ethereum blockchain.
Aku, the young boy who's the main face of these NFT's is a representation of what this collection is all about: confidence and boldness – the belief that dreams aren't a reserved thing for exclusive social identities.
The story of this young boy, Aku, is told in a different Aku NFT project called Chapters. Now, Akutars is the next step in this story. Aku is here to empower you on your quest to follow your dreams.
Akutars was created by former MLB player Micah Johnson. The project started out innocently enough with him drawing sketches to motivate and inspire his nephew to not give up on his dreams because of his skin color.
The reception was overwhelming, and so Johnson decided to take the project to the next level. Now, here we are.
The Akutars NFT collection was created with support from the worlds of crypto and NFTs, art, music, and culture. Other than Johnson, the team behind Akutars includes some of the world's best creative design, technology, and community management professionals.
By owning an Akutars NFT you gain exclusive access to culture-defining experiences, products, and collaborations. It is virtually a cultural bonanza with a strong and dedicated movement to back it all up.
How are Akutars made?
Akutars are 3D designed and animated avatars of a young, black astronaut called Aku and other African-American children. Each Akutars NFT has extraordinary drip, with clothes and traits designed by some of the biggest and luxurious fashion brands out there. Puma is one of them, which speaks a lot about the attention this NFT project has attracted.
The man behind the general design is former MLB player, Micah Johnson, a self-taught figurative artist. His style is characterized by strong gestural lines in combination with loose brush strokes. The result is dramatic and lively portraits of our favorite young astronaut: Aku and other African-American children.
The individual NFT is then created by mixing and randomizing the cool clothes and traits, creating an entirely unique Akutar posing in a variety of exciting situations and scenarios.
This makes Akutars perfect for profile pictures on social media like Twitter, where the reception of them has been astounding. They radiate confidence and hope, and that inspires people to keep the story of Aku alive.
However, as mentioned, Akutars aren't simply just profile pictures for social media. By holding one of these fresh NFTs you gain access to great perks.
How do i mint Akutars?
The mint for the Akutars NFTs was conducted on the Akuverse website in two waves.
It was possible to buy an Akutar Mint Pass NFT, and if you held it during their wallet snapshot April 21. 2022 you gained a free mint for your very own Akutars NFT. As this date has passed, these passes are no longer valid. They are still sold on auction by private traders, but they have no use.
The rest of the mint was conducted on April 22. where the rest of the Akutars NFTs quickly were bought on a good old fashioned dutch auction.
To mint an Akutars NFT, you needed to have enough Eth to pay the mint price and cover the gas fees for the transaction. Therefore, a crypto wallet such as MetaMask was required and had to be connected to the website.
How to buy Akutars
Now that the mint has finished, you'll have to purchase an Akutars NFT from private traders. There are two marketplaces where this can be done. The first is OpenSea, which is where you will usually be able to find any and all NFTs. The second place is on LooksRare.
On OpenSea, you should see a verified checkmark next to the creator. This indicates you're at the right NFT and that you aren't buying a knock-off. The floor price is, at the time of writing this article, 0.8 Eth.
To purchase from OpenSea, create an account on the site and link your crypto wallet to it. Fill it up with the required amount of Eth for the NFT you want to buy and take gas fees into consideration as well.
On LookRare the floor price is 0.9 Eth. The purchasing process is exactly the same as on OpenSea. Connect your crypto wallet to the site, fill it with the required amount of Eth and purchase the NFT you're after.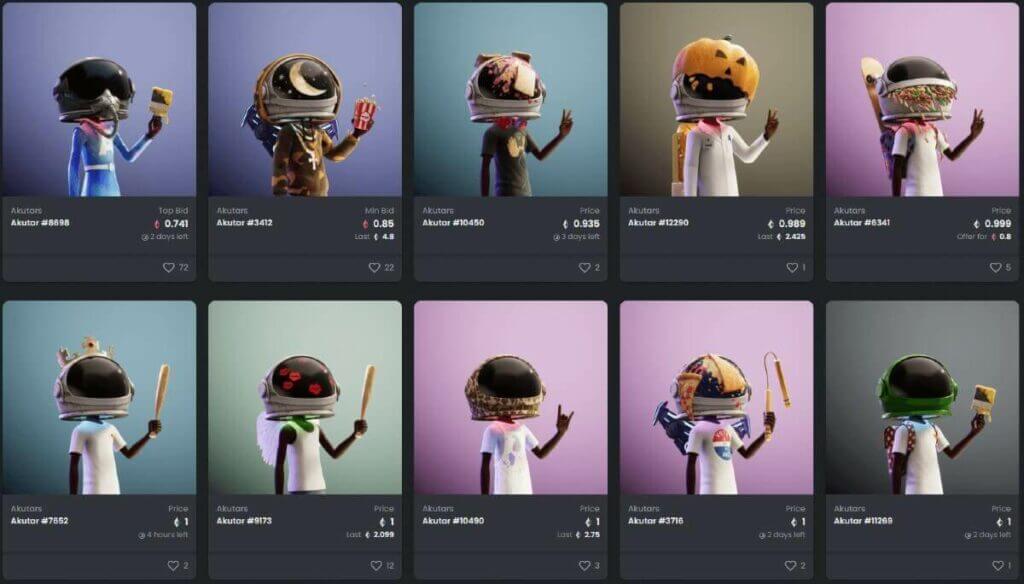 The Akutars NFT collection can not be bought from any other marketplace than these two. If you see it somewhere else, be very cautious. Don't buy from any site that is not directly affiliated with the creators behind the collection.
Conclusion
Akutars is an NFT project that embodies everything any NFT should strive for. It is an inspirational, encouraging and moving project that sets out to inspire everybody to follow their dreams and let nothing stand in their way.
For anyone interested in culture, this NFT collection opens plenty of doors for you to gain unique experiences in a community that strives for the exact same thing that you do: to grow as a person and achieve your dreams.