Whats the use of the Compass NFT tool?
Trading NFTs and turning a profit can be incredibly tricky, with a lot of it coming down to sheer luck. But what if we told you Compass can help you spot advantageous trades to help you win more trades and turn your trading P/L around?
Other functionality to highlight is:
Track floor price, listings & sales i real-time
Snag rare listings with their built in rarity tool
Track wallets and see there trades
Track your portfolio and results
Customisable notification center – wanna get notified when a price drops below X? Or when a wallet buys something? Here you can setup what you need!
But how does it work? Let's find out!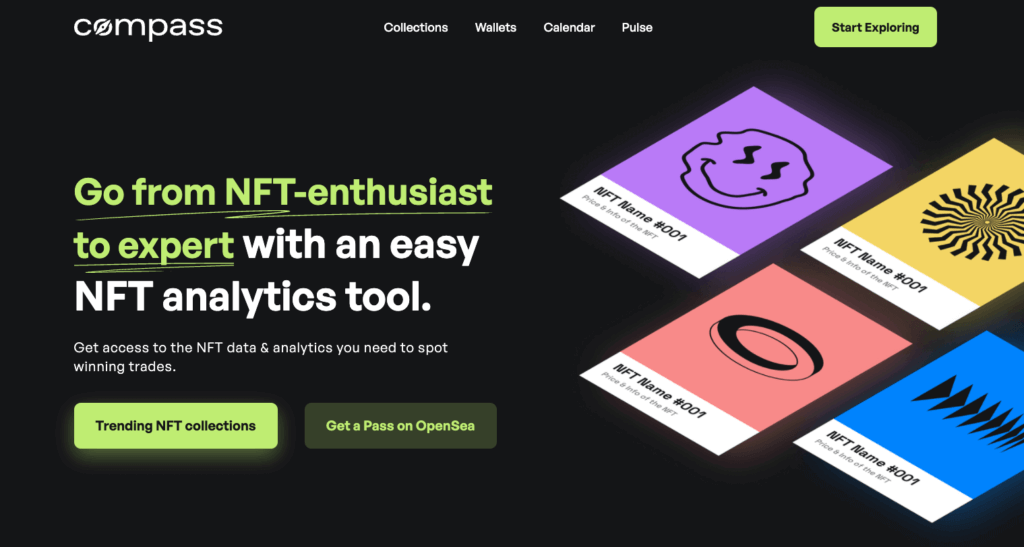 What is Compass?
Compass is a neat NFT analytics platform that allows you to see insightful data from every single NFT project running on the Ethereum blockchain.
You can browse through reams of data about every single collection through a sleek and easy to understand user interface.
You can then use this insight to make data-driven decisions when it comes to trading NFTs, which should help you improve your chances of turning a profit in the long-run.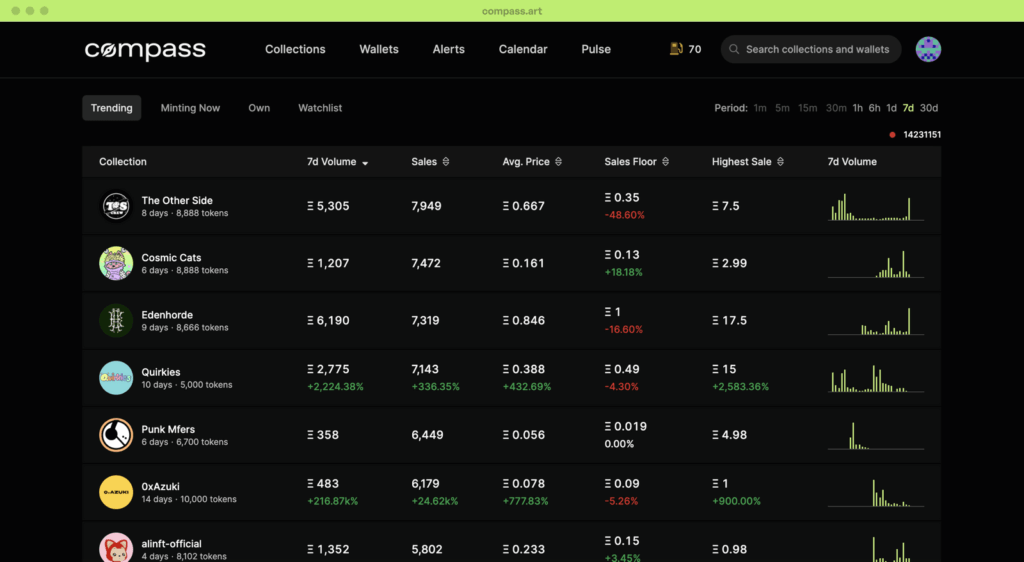 How Can I Get Compass?
Obviously, a powerful tool like Compass isn't free to use. You'll need to head on over to the Compass OpenSea profile and buy yourself a lifetime access token.
Currently they only cost 0.6ETH, which might seem like a lot of money, but for the level of data and insights that it delivers, it's a small price to pay.
Once your Compass access NFT is in your wallet, simply connect that wallet to the Compass platform and you'll be given access to the reams of data.
It works much in the same way as a pre-sale token does for minting new NFTs – finally a project using NFTs for something other than digital art!
What Will Compass Help Me With?
Through the useful data and analytics that Compass provides, you'll be able to spot significant discounts on rare NFTs that you can capitalize on.
This will allow you to better time your buys, and help you focus your search on collections that are more likely to result in a profitable trade.
Compass also lets you know when the best time to sell your NFTs are and for what price.
This allows you to fine tune both your buy and sell price and timings, maximizing your profit.
Throw in the fact that Compass cuts down on your need to trawl through Twitter and Discord to find all of this information and you can streamline your time, becoming more efficient.
Increased efficiency means that you've got more time to place trades and make money, which is the end goal for any serious NFT trader.
Another neat feature that Compass has is early collection detection.
This feature helps you find collections before the masses, allowing you to get in before they go mainstream.
In turn, you'll be able to turn your regular 3x profitable trades into 10x trades with ease.
If that doesn't sound like a fantastic tool, then we really don't know what does!
Start Tracking Whales
Whales are a secretive bunch, but they have the most power when it comes to creating change in the markets.
Within your Compass account, you'll be able to track your favorite influencers, friends, and the biggest NFT whales in real-time.
Compass will also let you know about fake mints as well, which will help you formulate your battle plans more effectively.
Instead of trailing behind the whales and smart money, you can now act at the same time, meaning you're more likely to be a profitable NFT trader!
Get Started Today!
Compass is without a doubt one of the hottest NFT analytics tools, putting you back in the driver's seat and helping you become a profitable NFT trader, all the while reducing the time you need to spend doing homework.
You can scoop up a monthly, semi-yearly, yearly, or lifetime membership to Compass, meaning there's a plan for everyone from beginners to pro traders.
If you want to up your NFT game and start taking NFT trading seriously, then Compass is a tool that you need in your armory!