Introduction to Nansen
Nansen is a big name in the field of cryptocurrency analytics. Its core site analyzes billions of on-chain data points, millions of wallet labels, and thousands of crypto-related entities to present all the information that any crypto investor could possibly want, and more that they didn't know they wanted.
Nansen has an NFT-specific section which it says allows users to "compare activity, portfolio and strategies used by 'Smart Money' with your own investment profile." Nansen is clearly aimed at the more serious NFT trader, so let's see if it delivers and how the platform treats the casual user.
What's the Use of Nansen?
Nansen was started in 2019 with one core aim in mind – to know more about the wallets that are transacting on-chain. The team's pursuit of this goal has led to Nansen becoming a leading provider of data and analytics for the Ethereum network, with support for more blockchains emerging since, and with NFT analytics also built in.
Nansen offers some of the most comprehensive NFT market analysis, with its focus on individual wallets offering users a unique insight into the movements in the NFT market. Casual NFT collectors might find the amount of data overwhelming, but serious NFT collectors/traders will find a wealth of new information at their fingertips.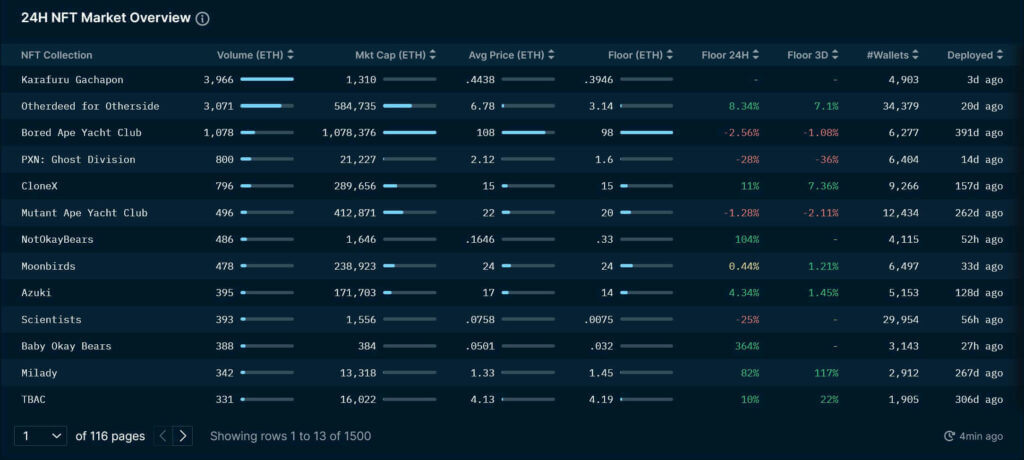 What is Nansen?
Nansen has three modes within its NFT section:
NFT Paradise – market overview, including 24-hour activity (e.g. volume, floor prices, buying activity), trending projects, smart money buys
NFT God Mode – collection-specific data (e.g. price, volume, transaction overview), hodler activity, wallet profiler, individual NFT profiler
NFT Indexes – Data on NFT indexes, including art, gaming, metaverse, blue chip and more
Separate from this is a 'projects' section that allows users an insight into numerous metrics on the popular NFT exchanges and projects, such as OpenSea, LooksRare, and Axie Infinity. This section shows data on user adoption, user behavior, trading activity and more.
Nansen even has a 'wash trading' filter which scans individual trades and builds strategies to identify suspicious activity, removing them from results when the filter is applied to offer a more realistic take on the market.
How Can I Get Nansen?
Nansen is available from Nansen.ai, with the NFT sector available, with a link to NFT Paradise available from the homepage. Make sure that you access Nansen through this link or through typing the address in directly – don't rely on Google links.
Nansen has four membership options, from Lite to Alpha. As the free option, Lite is only really suitable to those who want a more basic oversight of the markets, with more serious NFT collectors/traders perhaps more interested in the paid options: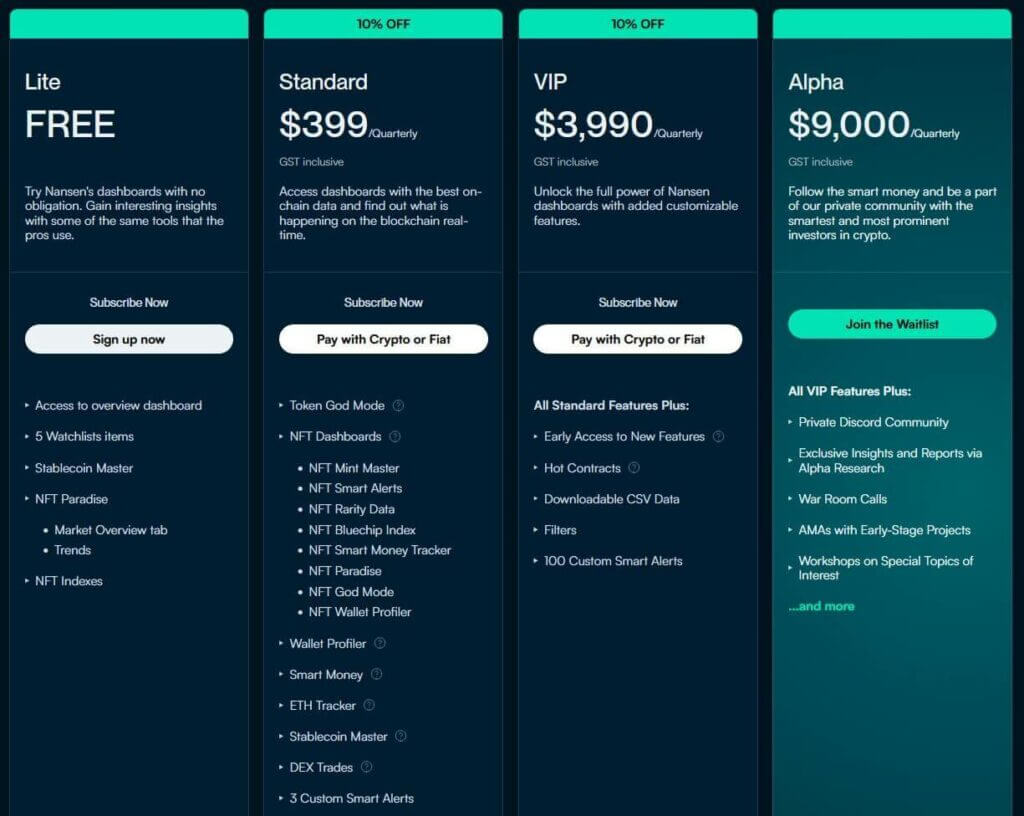 Whether you consider a paid membership good value for money depends on how serious you are about NFT trading/collecting: those who have the time and dedication to throw at the pursuit may find the extra insight invaluable, but most casual NFT collectors will find the free option more than adequate, with some areas even perhaps being too detailed.
What Will Nansen Help Me With?
Nansen is definitely of more use to NFT traders/collectors who are looking for an extra level of insight than they can find with free data analytics sites. It will be particularly useful to those who want detailed insights into particular collections or even pieces within a collection, and may well end up being the difference between a failed capture and a successful one.
Conclusion
Nansen is the pro's choice when it comes to NFT analytics, which is reflected in its prices. Pro NFT traders will find the insights very useful and unique, which could well help them snag a bargain. Lite users may find however that the information made available to them is still too niche, and if they have no intention of upgrading then they may be better off elsewhere.