What's the Use of NFTNerds?
NFTNerds is an essential tool for those who treat trading NFTs as a serious business. Built by mathematicians and coders, NFTNerds was designed to be the most comprehensive NFT tool in the space for serious NFT traders, stripping out the noise and offering key information on collections and the pieces within them. If you're a dedicated NFT trader, NFTNerds is certainly worth exploring.
What is NFTNerds?
NFTNerds allows serious NFT traders to get a real-time view of what's happening within a specific NFT project and the market as a whole. The dashboard offers a one-stop overview of a project's current performance, with some pricing changes even being reflected quicker than major exchanges such as OpenSea. NFTNerds also shows rarity rankings, crucial in allowing would-be buyers to snap up a bargain, without having to dig through menus to find them.
NFTNerds also highlights trending collections and new collections, as well as keeping you notified of gas prices and allowing you to customize them. The site also has a purchasing portal, making sure that you don't lose vital seconds in navigating to a third-party exchange to grab your NFT.
Unlike other NFT tools which only update a collection when users demand it, NFTNerds charts are always a reflection of live conditions, making sure you have the latest information to hand before you buy.

How Can I Get NFTNerds?
Make sure you access NFTNerds through either this link or by typing 'nftnerds.ai' directly into your address bar. Don't rely on Google searches, as you could fall victim to an impersonation site if you click on a rogue link.
While certain elements of NFTNerds are free to use, the site also has a premium offering for those who want to make the most of its powerful functions. Premium membership costs 0.15 ETH for a month or 0.5 ETH for six months and offers, among other things:
Direct 2-click buying process
Access to full data
Fastest possible listings and trades feed
Customizable filters
Reveal calendar
Live charts and stats, with rarity
This list of features is interesting to note, because it means the data that non-premium users are getting isn't the very latest available. This gives premium users the kind of edge that can be the difference between catching a Bored Ape and missing out on one.
However, if you're interested in an overall view of the markets and specific collections and not so much on up-to-the-second prices, then the free service will more than satisfy you.
What Will NFTNerds Help Me With?
NFTNerds is a great tool for those who are in NFTs for the financial gains rather than the utility. The range of data and insights on offer are exactly what an NFT trader would want, and certainly more than the average NFT holder would find useful. NFTNerds will help NFT traders keep bang up to date with the latest trends in the NFT market, quickly and easily identifying collections that are on the way up or the way down, affording insight into the rarity of pieces within collection at a glance, and allowing traders to trade directly within the site.
The site also has great additional features such as a reveal calendar so you know when the latest NFT collections are dropping, alerts for price drops and other things, as well as the customizable gas prices feature.
NFTNerds isn't just for experienced NFT traders however, as the projects' Discord has an 'academy' section that focuses on teaching users how the tool works, as well as an introduction into the NFT space as a whole. Just remember that as a free user you aren't getting the very latest information.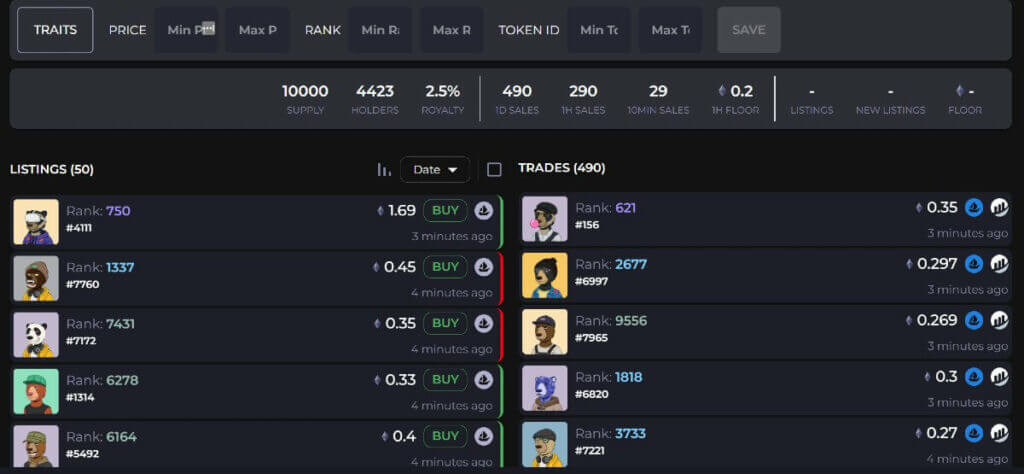 Conclusion
If you're serious about NFT trading, then NFTNerds is a great tool on which to base your endeavors. It's clear that a great amount of care has gone into making this one of the premium NFT data sites, with the UI and navigation matching the top quality information on offer.
With a responsive team and a lively community, NFTNerds is certainly one of the top NFT trading sites currently on the market, and one that serious NFT traders should try.