Binance NFT Review
Binance NFT is an innovative marketplace created and controlled by Binance. The platform is intuitive and easy to use. The result of its integration with the broader Binance ecosystem is that it provides its users with access to benefits that other NFT marketplaces cannot replicate.
Although Binance currently restricts minting on the platform to pre-approved artists, extensive NFT collections are available for trading, and the marketplace is buzzing with activity.
Through its Marketplace, Binance enables users to buy, bid on, and sell NFTs from creators worldwide while protecting creators by allowing them to have royalties from future sales of their works.
With Mystery Box, Binance offers users the opportunity to win a variety of NFTs, some of which may end up being assets of immense value if they have unique characteristics and high rarity levels.
With its innovative Initial Game Offering feature, Binance offers game developers an avenue to connect with players and derive unique income streams for their franchises. At the same time, it creates a means by which gaming enthusiasts can collect one-of-a-kind gaming assets that cannot be found on any other platform.
The restrictions on minting serve as a stumbling block, but Binance has been able to work around these to build an NFT marketplace buzzing with activity. By integrating the Binance NFT marketplace with the broader Binance ecosystem, Binance has unlocked a new channel through which it can continue to bring fresh users to its platform. These features, and more, give it a competitive advantage that few of its competitors can replicate.
What is Binance NFT?
Binance NFT is an NFT trading marketplace created by Binance. The project was launched in mid-2021 and warmly welcomed the NFT community. Although Binance NFT restricts minting services to a select few creators, all users are welcome to buy and sell NFTs on the platform as they would on any other platform.
Binance NFT's number one competitive advantage is integrating into the market saturation its parent company enjoys. This makes it easy for Binance cryptocurrency traders to easily test out the NFT side of the operation if they've never experienced NFTs or move their NFT trading activities to the platform to leverage Binance's security features and its large number of users.
How does Binance NFT work?
The Binance NFT marketplace has a futuristic look and focuses on handpicked NFTs from the visual arts, sports, music, and gaming verticals.
In terms of architecture, Binance NFT uses a dual-chain system, incorporating both the Binance Smart Chain (BSC) and the Ethereum Network into its infrastructure. This dual chain architecture allows users to access Ethereum-based NFTs in their Binance wallets, even though it is designed to run primarily on the Binance Smart Chain (BSC) due to its lower gas fees than the Ethereum Network.
The Binance NFT marketplace will use the same account structure as Binance.com, allowing users to interact with the NFT platform and the rest of the Binance ecosystem's services. Binance NFT's architecture is designed to support its aim of completely transforming the NFT business and becoming a leader in the field.
What features does Binance NFT have?
Marketplace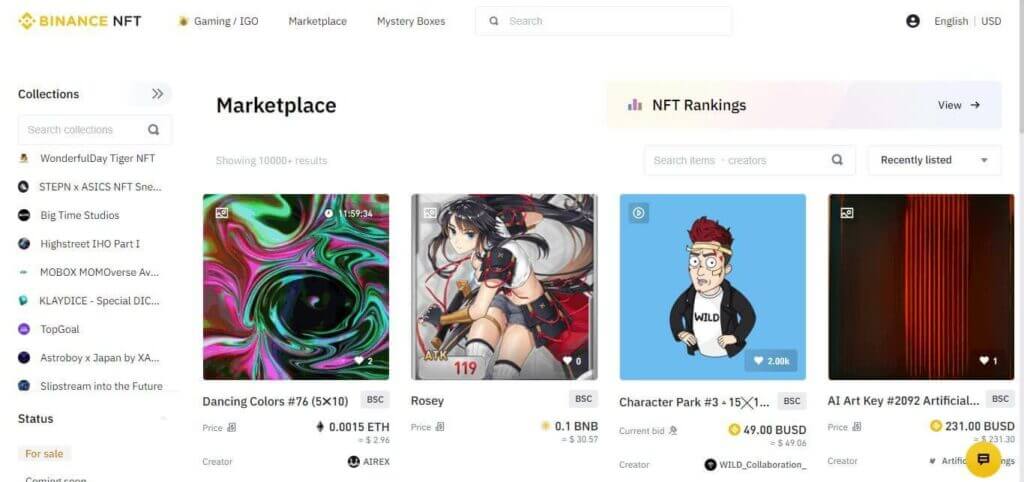 The Marketplace forms the core of the Binance NFT platform. It is the most used feature on the Binance NFT marketplace because it displays all of the NFTs available for sale.
The marketplace features the following categories of NFTs:
Premium
Art
Sports
Entertainment
Gaming
Collectibles
Esports
NFT for Good
Mystery Boxes
A Mystery Box contains a mix of NFT assets with varying characteristics and rarity. The user can choose to flip the Mystery Box by selling it to another user before opening it, or the user can unlock the box to reveal the NFTs inside it.
Initial Game Offering (IGOs)
Initial Game Offerings, or IGOs, are Binance NFT assets from top-tier gaming projects only available on Binance NFT. An auction, fixed price sale, or mystery boxes are options for game developers to launch assets.
All drop content will include in-game assets such as early-access passes, weapons and gear, exclusive Binance aesthetics, skins, and so on.
What wallets does Binance NFT support?
Binance NFT uses the internal Binance Funding and Spot wallets for trading.
Funding wallet: The Funding Wallet balance reflects a user's total crypto balance from P2P buy/sell orders, Binance Payment, Binance Card and Crypto Deposit/Withdrawal.
Spot wallet: Spot wallet is a non-custodial wallet where the user's funds are stored on the Binance platform before they trade.
Binance NFT operates differently than most other NFT exchanges in that it isn't a standalone site that allows third-party wallets to be plugged in. You can store your Binance NFT assets in a third party wallet but you will need to create a Binance account and send the assets to that account address in order to trade them.
How can I link my wallet to Binance NFT?
Since both the Funding and Spot wallets are owned and controlled by Binance there is nothing you need to do except make sure you have funds in there. To add funds log in to your Binance account, go to your account, select 'Transfer' from the boxes at the top of the screen. There you can switch funds between your 'Fiate and Spot' and 'Funding' wallets as necessary. You can also deposit crypto from an external source or even buy it with a bank card through Binance.
You may not be able to hook up a wallet to trade on Binance NFT but you can still withdraw NFTs to supported wallets, such as MetaMask and Trust Wallet. This can be done through the 'withdraw' option in your Binance NFT account.
How do I buy NFTs at Binance NFT?
Buying NFTs off Binance is very straightforward. You can acquire assets in one of two ways:
Auctions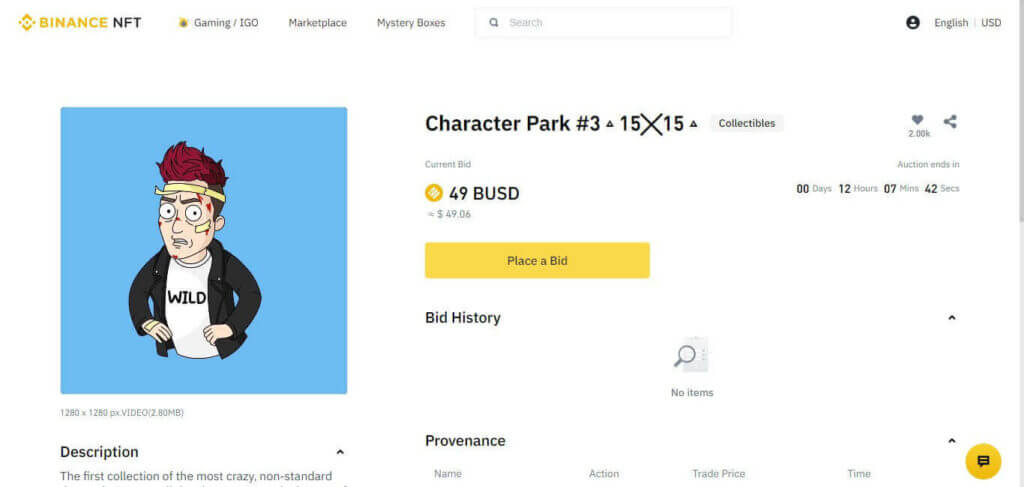 NFTs with this purchase feature allow you to bid on them in competition with other interested buyers.
The process is similar to typical auctions on other NFT marketplaces or platforms like Ebay. When the auction ends, the person with the highest bid will walk away with the NFT in their wallet.
Log in to Binance NFT.
Open the Marketplace tab.
Find an interesting NFT and click on it to load up the purchase page.
Click on "Place a Bid".
A pop-up window will appear, requiring the user to input the amount they would like to bid. Since the Binance NFT marketplace supports three different cryptocurrencies, the particular currency that the user will place the bid with may vary, so it is advisable to pay attention to what currency the seller is asking for.
Input bid amount. A minimum bid markup will be added to the amount.
Click "Place a Bid" to complete the process.
Monitor the auction and make new bids if necessary.
Once a bid is placed, Binance NFT locks the corresponding amount in the user's wallet while the auction is ongoing. If a user places a bid higher than the bid, the locked bid is unlocked or may remain locked until the auction ends.
Fixed-price NFTs
This process is straightforward and uncompetitive.
Log in to Binance NFT
Open the Marketplace tab
Find an interesting NFT and click on it to open the purchase page
Click on "Buy Now" and pay the total price
Once the purchase is completed, the NFT will appear on your Binance NFT inventory page.
The same processes apply to purchasing Mystery Boxes. The user can choose to buy the Mystery box instantly or Make a Bid for it. Each Mystery Box contains a variety of NFTs with different features and rarity.
How do I sell NFTs at Binance NFT?
Selling NFTs on Binance NFT is just as easy as buying them. To sell on Binance NFT, all a user needs to do is follow these steps:
Log in to Binance NFT
Click on the Profile icon
Click on "User Center"
Click NFT Asset or Mystery Box to select an NFT you own
On the page, hover over the NFT asset to be sold with the cursor
Click on "List Asset"
The NF's description page will load. The user will find a bold yellow button labelled "List NFT"
Click on "List NFT"
The user will be asked to select a sell method. There are two options:

Set price: The user will be asked to input the price, select the crypto they would like to be paid with, and the expiration date for the listing.
Highest Bid: The user will be asked to choose their preferred crypto, enter a minimum bid amount, and can also enter a buy-out price if they have a preferred selling price.

Click submit
Choose to either list immediately after review or at a custom list time
Click "Submit"
If the Binance NFT review time does not complete the listing review before the custom list time, the NFT will be listed immediately after approval.
How do I mint NFTs at Binance NFT?
Binance currently only allows pre-approved creators to mint NFTs using the platform, but it says that it promises to "open up the feature to other users in the future".
If you have been lucky enough to be a pre-approved Binance NFT minter, follow these steps:
Log in to Binance NFT
Ensure you have enough BNB to over the minting fee
Click "Create" in the top-right corner of the home screen
The "Create an NFT" page will load up
Add all necessary information to mint the NFT:

Preview
Collection Type:

Single NFT (BEP-721)
Series: (BEP-1155: with this format, the user can sell multiple versions of the collectible item while retaining a unique identifier for each one)

Name
Description
Fee

Click "Create"
Once the 'create' button has been clicked, Binance will create the NFT, and it will be available on the "Collections" page under NFT Asset.
Conclusion
With its dual chain architecture and user base, Binance NFT is well placed in its aims to bring additional liquidity to the world of non-fungible tokens and expand the reach of both famous and unknown creators by leveraging network effects and its reputation.
Since Binance NFT uses the same network as the Binance exchange, users can access the Binance NFT marketplace directly from their Binance wallet without signing up again. This is great for those who already have an account, but those who haven't signed up for one by this point are unlikely to do so now because of Binance NFT.
With standout features like the Initial Game Offering and a curated selection of NFT collections, Binance seeks to entrench itself firmly in the NFT industry and accrue more social capital to the Binance brand.
However, despite all these positives, we can't overlook the fact that this is an entirely centralized operation that requires users to pass AML/KYC and hold their NFTs on the exchange. This will be a bridge too far for many serious NFT collectors, meaning that Binance NFT may find that it only reaches a certain level of market penetration.