Complete review of the NFT Marketplace X2Y2
X2Y2 is one of the newest NFT marketplaces for NFT trading. It launched in February of 2022, and has taken the fight to OpenSea in a bid to decentralize the NFT market and bring useful features such as bulk buying and selling to its users.
X2Y2 has its own governance token of the same name that brings benefits such as profit sharing from market fees and this heavily incentivizes NFT trading on the platform.
So, without further ado, let us dive deeper into this young NFT marketplace and see how it holds up to titans like OpenSea.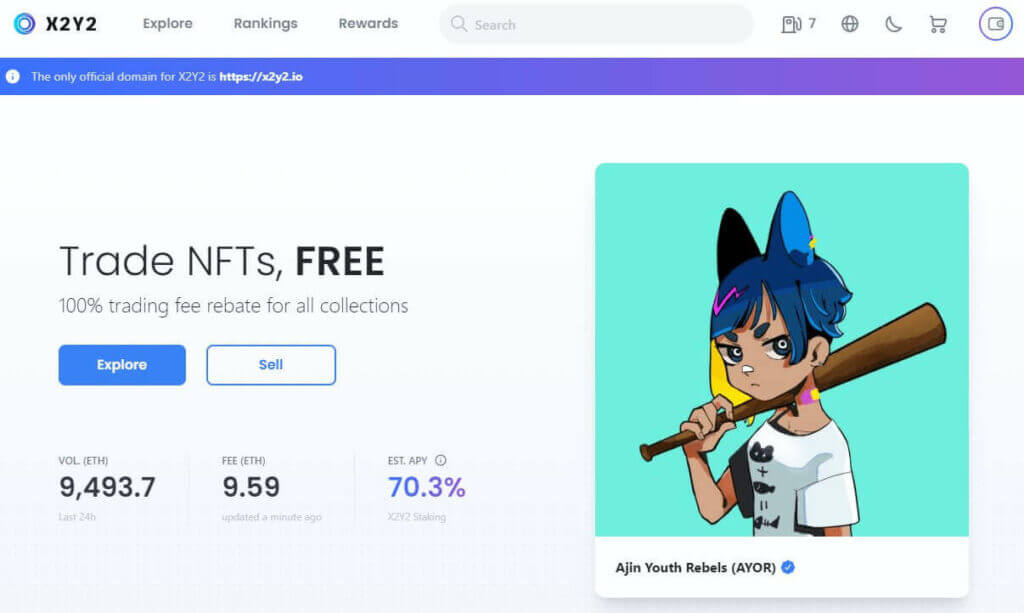 What is the X2Y2 NFT marketplace?
X2Y2 is an NFT marketplace that decided to shake things up a little in the world of NFT trading. It has a wide variety of useful and new features that sets them apart from the competition.
One of the main features is also the main benefit of using the marketplace: profit sharing. X2Y2 is in fact one of the first NFT marketplace to offer this. Users can stake X2Y2 tokens on the platform, and depending on how many tokens they stake they will receive a percentage of all fees from NFT trading on the platform. Loyalty really pays off here.
Are you tired of paying fortunes in gas fees for your NFT trades? Just about anyone is. But here X2Y2 offers a simple yet effective solution: bulk buying and selling. This means you can sell and buy as many NFTs as you want at the same time, only paying the gas fee once!
X2Y2 also makes it easy for you to keep track of what's going on with your listed NFTs. As soon as there is a bid or a direct sale on a user's NFT, they will receive an email notifying them of this. And if they themselves bid on something, they will also get an email notification if the bid is accepted.
If you're hunting for rare items, X2Y2 gives you the edge. X2Y2 features a very intuitive rarity tracker. This tracks the rarity for any NFT and it also shows detailed analytics and history of any NFT.
Which NFTs are on the X2Y2 marketplace?
The X2Y2 marketplace is only compatible with Ethereum mainnet NFTs. That means you will not be able to sell or buy NFTs from any other blockchains on the site.
In terms of available collections on X2Y2, you can find many similar collections to OpenSea such as Bored Ape Yacht Club, Azuki, and Akutars among many others.
You can also check out the "Hot collections" tab to see which collections are trending right now in terms of most-traded collections and other useful analytics.
This is a great way to keep track of how the NFT marketplace is developing, and for you to find interesting NFT projects to get in on while they trend.
At the time of writing this review, 125,894 unique items are listed on the X2Y2 marketplace, which is a pretty decent amount of NFTs. It doesn't come close to the levels OpenSea has available, but it is clear that X2Y2 is making a dent in the market.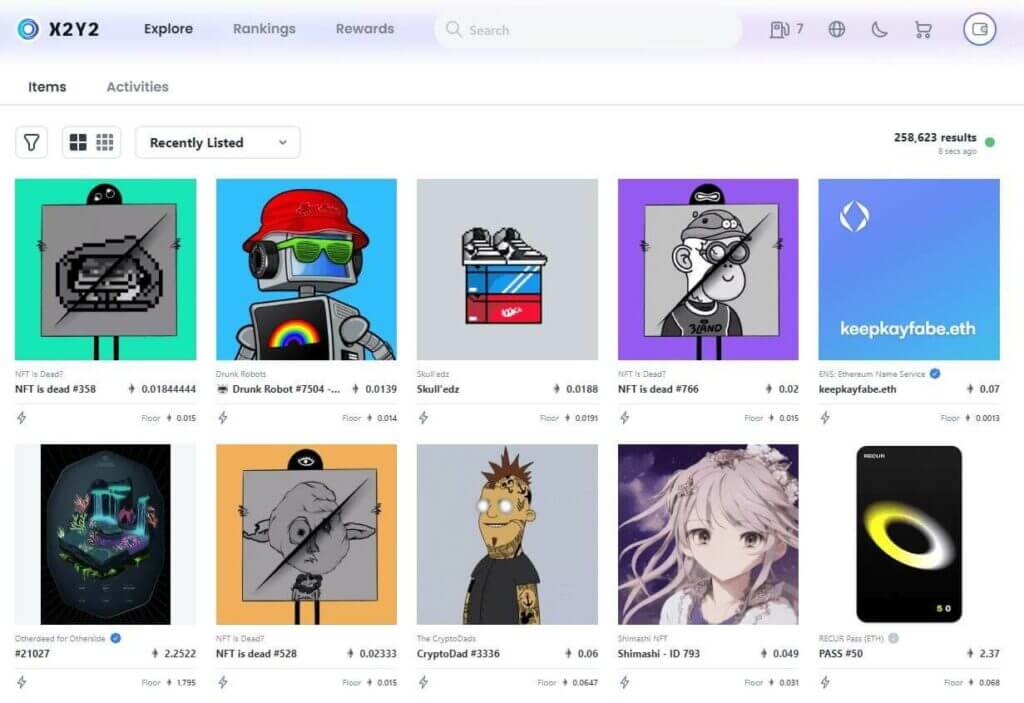 The X2Y2 token – How to get it and what to use it for
As mentioned earlier, X2Y2 has its own governance token of the same name. In more technical terms, it is an ERC-20 coin hosted on the Ethereum network. It launched along with the X2Y2 marketplace in February of 2022.
It was quite the big news in the NFT community at the time due its airdrops. In total, there are 1,000,000,000 (1B) X2Y2 tokens in existence. However, not all of them are in circulation yet. The fully diluted market cap will be $340 million when the circulation process is complete.
12% of the full X2Y2 token supply was airdropped to users who had listed an NFT on OpenSea. The trade volume did not matter in this instance which made it essentially accessible for everyone.
If you are eligible thanks to the reason above, you can connect your wallet to the X2Y2 website and claim your free X2Y2 tokens.
Once you have the tokens, you can decide to sell them for a nice little profit. But the smarter thing would be to stake them. This allows you to be a part of the X2Y2 marketplace's great profit sharing.
If you have X2Y2 staked, you will be able to earn a % relative to the staked amount of any trading fees for any NFT on the website.
X2Y2 tokens – Its price and the future
Seeing as the X2Y2 tokens are an essential part of the marketplace as a whole, it is a good idea to take a look at its price history and performance so far.
The price of X2Y2 peaked in February shortly after the release of the marketplace and the token. The price per token was at this time $3.7. The rapid increase in value is most likely due to the many OpenSea users who claimed their share of the X2Y2 tokens and sold them off immediately.
Now, the price is significantly lower, but it has remained very stable for months. At the time of writing this article, the price is $0.1. Looking at the price history so far, there is no reason to believe that the price will experience any significant changes in the near future unless something big happens.
X2Y2 tokenonomics 2.0
We've touched a good deal on the X2Y2 token so far, but soon they will be making changes to how these tokens will be distributed.
Previously, the tokens were airdropped to users who had made listings irregardless of whether they were sold or not. X2Y2 felt that this was not optimal as it encouraged the listing of items with a low chance of being sold.
Now, they will be moving to a scheme of trading rewards in a bid to encourage NFT traders to buy and sell quality NFTs and to reward their platform users for their loyalty.
Going forward, 624,902 X2Y2 tokens will be distributed daily to NFT buyers and sellers on the platform.
For current and future X2Y2 holders and stakers, this will prove to be a bonus. As the new trading rewards scheme incentivizes buying and selling, the platform is predicted to become more active. With more trades happening, you will earn more from your staked X2Y2.
How does X2Y2 hold up against OpenSea?
There is no doubt about OpenSea being the biggest player on the NFT marketplace. But that doesn't necessarily mean it is the best in every situation. This begs the question of how good X2Y2 is compared to OpenSea.
First of all we can touch on the visuals. Both platforms are very similar in appearance, so there should not be any problems navigating X2Y2's interface if you're used to OpenSea. X2Y2 is also very intuitive from a first glance, giving you just three simple tabs to browse: Explore, Rankings, and Rewards.
However, the real kicker lies in the features of the X2Y2 marketplace and the effect they have on the NFT community as a whole.
As mentioned earlier, X2Y2 has bulk selling. OpenSea does not. This means, in effect, that it can be much cheaper to trade on X2Y2 as you can bulk buy every NFT you are interested in and only pay the gas fee once.
OpenSea charges a fee for every transaction made on the platform. They then simply pocket the profits. X2Y2 shares the profits of all fees with the community, giving value back to the users through the use of the X2Y2 token. OpenSea doesn't have their own governance token, which is also one of the big differences.
And then there is X2Y2's position as a competitor to OpenSea. With most of NFT collections being sold on OpenSea, this has led to a heavy centralization of the market which is in direct opposition to what NFTs really are all about: decentralization.
X2Y2 wants to change that and decentralize the market. And with the useful features the X2Y2 marketplace comes with they might just be able to do so.
Closing thoughts
X2Y2 is an NFT marketplace with a user-friendly and intuitive interface and many useful features. One of the biggest of these features is the profit sharing that exists on their platform through their X2Y2 ERC-20 token. Going forward, the token will incentivize the buying and selling on the platform – breathing reinvigorated life into the marketplace.
While the X2Y2 marketplace is limited to NFTs exclusively from the Ethereum blockchain, there is still a large and significant amount of available items to purchase. Maybe they will expand to other blockchains in the future. Only time can tell.
Compared to giants like OpenSea, X2Y2 holds its own very well. A lot of the success lies in their alternative way of facilitating NFT trading on their platform. Now, the user is in the forefront, and they are rewarded for engaging with the NFT community and that's what it's all about in the end.