Like most NFT wallets reviewed on our website, the Prokey wallet started as a crypto wallet and is now used by many NFT enthusiasts for their needs. This product is owned and managed by a Malaysian-based company with years of experience in this field.

Prokey, or Prokey Optimum, to be more precise, was introduced in 2020 as a "hardware/offline wallet that provides the highest security". Today, it's used by thousands of people across the globe for buying, selling, and trading NFTs and crypto. To discover the ins and outs of this solution, check our Prokey wallet review.
Prokey Wallet Specifications
Type of NFT Wallet: Cold/Hardware
Market Place(s): OpenSea.io and others
Number of Currencies Supported: More than 3,200 coins and tokens
Security /Anonymity: Seed is offline and encrypted; secure firmware
Price: €63.55
Prokey Wallet Features
The Prokey offline/hardware wallet is used by many people across the globe. One thing that makes this product attractive is the number of coins and cryptocurrencies tokens supported by Prokey. We're talking about over 3,200 coins, including the most popular ones like Bitcoin, Ethereum, USD Tether, Dogecoin, USD Coin, Ripple, and Litecoin. Thanks to these cryptocurrencies, you can purchase and sell NFTs without hassles.
Furthermore, Prokey Optimum lets users connect their wallet to any NFT marketplace, DeFi app, and Web 3,0 apps and manage their assets fast. It also comes with excellent security features, which we will discuss below in another section of this Prokey wallet review.
Thanks to Prokey, users will access their accounts and coins with the help of a web browser. In this way, they will avoid the tedious process of downloading apps, extensions, or executable files required by other wallets. We should also note that this option works on Android, Linux, and Windows. Another good thing is that you can access a demo version of Prokey's platform for free.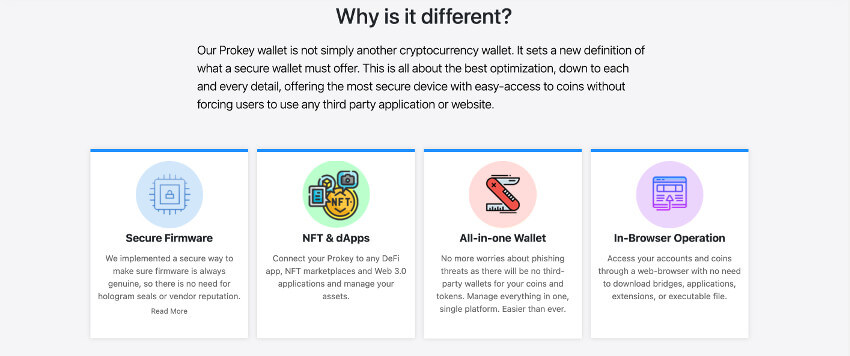 Is Prokey Wallet a Good Wallet for NFTs?
To answer this question, one must focus on the key features that an NFT wallet provides. In the case of Prokey, we have a safe hardware wallet with a reasonable price supporting hundreds of coins, for example.
Also, it comes with a modern design that makes it easy for users to find what they are looking for and take action without spending hours figuring out how to operate the wallet. As we said, it supports the most popular operating systems, and lets users manage their assets. The package comes with 2 USB cables, the wallet, and three recovery sheets.
Potential users will be happy to read that Prokey is an affordable NFT wallet. We're talking about a product that costs around €63.55 ($69), at least at the moment of writing this review. This is significantly lower compared to many other options found on the market.
As a hardware wallet, Prokey Optimum also promises a high level of protection and security to all its users. We dedicated a special section to these things. Still, we will mention that the device uses the latest encryption technology to protect users from hackers. Once again, we would like to emphasize that you can sell, buy, and trade over 3,200 coins or use them for NFT trading.
Regarding things that could be better in this wallet, we will mention the screen, which is a bit small. So, some users used to bigger screens will be a bit disappointed. On the other hand, the device is generally small, making it easier to store. Of course, this is not a huge issue, and most people will find the display acceptable.
Prokey Wallet Security
Security is one of the things that make Prokey wallet stand out. This hardware wallet is ideal for storing NFT assets and exchanging them. To support these claims, we will mention that every Prokey device requires firmware installation once you start the device. In this way, you can rest assured that the firmware you get is untampered and safe. There's an authentication process between the device and Prokey's servers to confirm this.
Also, you shouldn't worry about losing your device because you are safe as long as you have access to your seed combination of 24 words. Users can recover access to their assets with the help of the recovery sheet (you get three sheets like this with every device). Lastly, as with any other hardware wallet, Prokey stores your assets offline. You go online only when you need to purchase, sell, or exchange NFTs.

Prokey Wallet Customer Service
Although it's easy to use the Prokey wallet, there are times when you might need assistance. As one of the most popular NFT wallets, it's natural for this solution to provide customer support to all its users.
Unregistered (and registered) users can access a help center where they will find dozens of questions and detailed answers. The questions are divided into groups: getting started, troubleshooting, shipping and orders, security tips, Web 3.0, and FAQs. If you want to contact a customer support agent, you can use their email, or social media account on Twitter. You will usually get an answer in less than 24 hours.
| | | |
| --- | --- | --- |
| | Contact | Average Answer time |
| Email | [email protected] | 2 hours |
| Phone | N/A | N/A |
| Live chat | N/A | N/A |
| Social media | https://mobile.twitter.com/prokey_io | Less than 24 hours |
Prokey Wallet Conclusion
The Prokey hardware wallet is an excellent NFT wallet solution for users interested in higher protection for their assets. In addition to this crypto hardware wallet's encryption technology and safety protocols, you can also expect support for over 3,200 coins and a user-friendly interface.
If it wasn't for the small display (which is not uncommon for NFT wallets), we would give this device 10 out of 10 stars. Still, this affordable option should meet and exceed the expectations of the average NFT wallet user. You can always use the Prokey demo version available on the homepage to confirm our claims.