Those interested in a modern NFT wallet should definitely check the Ngrave wallet. This solution was revealed in 2018 when a team of three experienced crypto enthusiasts finally turned their ideas into reality. Today. Ngrave is competing against other well-established wallets used by people looking for the best way to store and exchange their NFTs and crypto assets.

More precisely, we're talking about the Ngrave Zero wallet supported by the Graphene and Liquid products which represent a backup solution and a mobile app. In any case, you're looking at a hardware wallet with exciting features that we will discuss in this Ngrave Zero review.
Like every product, the Ngrave crypto wallet (and NFT wallet) has strong and weak points. The good news is that you can expect much more positive than negative things when using this wallet. Our team analyzed and identified the most important ones among them.
Ngrave Wallet Specifications
Type of NFT Wallet: Cold/Hardware
Market Place(s): 10+
Number of Currencies Supported: Over 1,500 coins and tokens
Security /Anonymity: EAL-7 certified
Price: €398
Ngrave Wallet Features
The basic objective of the team behind the Ngrave Zero wallet is to create an exclusive, high-end product. This makes sense because many popular NFT/crypto wallets on the market look outdated. Of course, we're not talking only about its appearance, but also its features.
For instance, this is a 100% offline wallet, meaning it's "air-gapped" and lets users connect to it via QR codes. Furthermore, this is a rare solution that enables you to protect your ETH-based NFT offline. Also, it allows you to visualize your art collections on the Liquid product.
Thanks to the 4-inch screen, you can easily handle multiple wallets. The Ngrave Zero enables users to open up to 100 accounts and manage them from one place. This is also one of the rare options with biometric security. You should know that Zero has its own operating system developed by experts in this area.
As we already noted, we've seen NFT wallets providing support to more tokens and coins than Ngrave Zero. However, it's still a decent option with 1,500+ supported tokens and 10+ blockchains.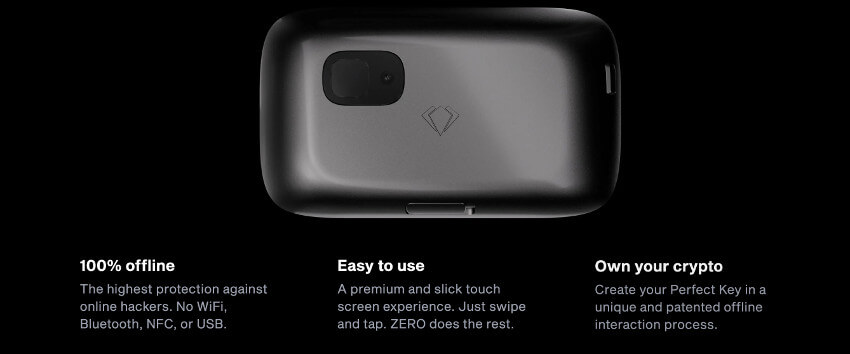 Is Ngrave Wallet a Good Wallet for NFTs?
When you look at the Ngrave wallet for the first time, you will know it's something different. Besides the interesting features, we will now highlight other reasons that make this NFT wallet a good option.
It's not an exaggeration to say that Ngrave Zero is the best-looking NFT wallet on the market, at least for now. So after wearing your buying pants on in some of the NFT marketplaces, it's a great wallet to store them. This hardware wallet has a modern design that makes it look better than some smartphones. It comes with a 4-inch color LCD touchscreen, and we want to remind users that many NFT wallets have monochrome screens.
The creators knew that such a screen requires more battery, so they added a 1200 mAH battery that doesn't consume much power. In other words, you can use this device for many days without charging it. The mobile app you can use is available on Android and iOS devices and has an intuitive design.
This is also a very secure wallet, which we'll discuss in the next section. Another thing you won't find in many other hardware wallets is the biometric sensor. The Ngrave wallet has a built-in fingerprint sensor.
The two things we would like to see improved in the future are the number of supported tokens and coins and the price.
Ngrave Wallet Security
You know that you're dealing with a high-end NFT wallet when it has a built-in fingerprint, but this is not the only thing that makes this solution safe.
First, we'd like to mention that this device works 100% offline. Bluetooth, Wi-Fi, NFT, or similar technology is not needed when using this wallet. All it takes is a QR code scan to store your precious NFTs.
Like other cold wallets, the Ngrave Zero has a secure key. Still, in this case, we're talking about the genuine Ngrave Perfect Key that lets you pick a passphrase for easier (yet safer) logging in. The latter is a 64-character alternative to the standard 24-word mnemonic phrase.
Even physical attacks can be prevented thanks to anti-tampering protection. The biometric security we analyzed relies on a biometric sensor for transaction signing and authentication. Thanks to the user's fingerprint, the device creates a unique Perfect Key that unlocks Ngrave Zero, and it's supported by an 8-digit PIN code.
This device has obtained several certificates, including CC EAL7 (the only NFT wallet with such certification), CE, RoHS, and FCC.

Ngrave Wallet Customer Service
When you have such a modernistic device in your hands, it's pretty natural to ask yourself – where can I get help if I get stuck? You can tell this brand takes good care of its clients by checking its website. There's a section dedicated to support on the homepage.
First, you can use the use and care guide, which provides several how-to videos. Next, there's a FAQ section available through the help center that lets users type a question in the search field and look for answers.
Finally, you can contact Ngrave's customer support agents via email. There's no live chat or phone support, but the email support option is effective and promises a response in less than 24 hours.
| | | |
| --- | --- | --- |
| | Contact | Average Answer time |
| Email | [email protected] | Less than 24 hours |
| Phone | N/A | N/A |
| Live chat | N/A | N/A |
| Social media | N/A | N/A |
Ngrave Wallet Conclusion
If we have to describe the Ngrave Zero wallet in two words, we will use "big potential". Truth be told, this is an expensive hardware wallet for NFTs, but it's also the best-looking one with built materials that vouch for long-term use. We like how the developers invested a lot in the security features of this device.
They include protocols and certificates that no other wallet has. Also, we like the mobile app and backup solution that can be pretty handy. We hope that this brand's profit is invested in the expansion of the coins, tokens, and blockchains it supports. From what we've seen, their number is regularly growing.
If you want to try something different for storing your NFTs and think security and design are more important than other things, Ngrave Zero might be a good option.