Ledger is one of the most recognizable brands in the world of cryptocurrency wallets. Of course, they are also popular among NFT owners because this brand was among the first ones that provided safe storage for this category of people.
Check out some cool NFT's from Rarible, OpenSea or some other great NFT Marketplaces!
It's good to know that there is four versions of Ledger wallets: Ledger Nano S, Nano X, Nano S and the latest version, Ledger Stax.

All options have a lot in common, but they also have unique features. These things will be discussed in our Ledger wallet review.
Ledger Wallet Specifications
Type of NFT Wallet: Cold/Hardware
Market Place(s): 1inch, Wyre, ParaSwap, Changelly
Number of Currencies Supported: Over 5,550 coins and tokens
In-App NFT Marketplace: Ledger Market/Ledger Live
Staking: Available for Eth2
Security /Anonymity: Cold storage, seed phrase with a pass
Fees: €12.5 per contract / 25%
Price: €149 (Nano X), €79 (Nano S Plus)
Ledger Wallet Features
The Ledger hardware wallet is one of the most famous and most used NFT wallets. It seems that the numerous valuable features make this option so popular. Before we analyze the features, let's mention again that
Ledger Stax, Nano S, Nano X and Nano S Plus
As mentioned earlier, there are three models of this wallet: Ledger Nano S, Ledger Nano S Plus, and Ledger Nano X.
Ledger Nano S introduced in 2016. Second, there's the Nano X introduced in 2019. Finally, the Nano S Plus was revealed in 2022. During the year of 2023 Ledger will launch their latest crypto wallet Ledger Stax.
They have many things in common, but when we discuss the features, in this review will focus on the Nano X model.
As expected, this NFT wallet enables players to store NFTs offline, which is a safer way to protect these assets compared to their online counterparts. One of the reasons why so many people pick this hardware wallet is its support of the best NFT collectibles. Even stable coins are supported by Ledger.
Thanks to this device's very high storage capacity, you can store over 5,000 coins. With its help, users can access over 100 applications. When using the Ledger wallet, regardless of its type, you can expect access to six main cryptocurrency and NFT trading platforms giving you plenty of chances to purchase and sell your assets. Finally, as an added layer of security, we have private keys that stay in the device.

Is Ledger Wallet a Good Wallet for NFTs?
The Ledger wallet is among the best wallets for NFTs on the market. People with experience in this field know that Ledger is also one of the best crypto wallet options. So, the guys behind it had experience with this type of commodity when they launched the NFT version.
One of the first things you'll notice about it is its user-friendly design. You don't need any special training to start working with it. Ledger works smoothly on any modern device regardless of its operating system. Of course, for the best experience, you should update your device's OS to the latest version.
Another thing that makes Ledger good is the price. As mentioned earlier, there are several models, but even the most expensive one is affordable compared to many other solutions. Also, the Nano X model lets you connect via Bluetooth and provides AES encryption for safe and sound transactions. It takes just a few seconds to complete these transactions. Finally, you can store multiple currencies and NFTs in one place.
It goes without saying that some things can be improved. For example, we would like to see the mobile-friendliness of this device to be improved in the future. However, if we analyze the pros and cons, we can say that the advantages outweigh the disadvantages, which is why we find the Ledger wallet a good option for NFT enthusiasts.
Ledger Wallet Security
This is one of the strongest selling points of the Ledger wallet. So, if you value security above anything else, this is probably the NFT wallet you want. First of all, you're looking at an offline wallet, considered one of the safest types of wallets for storing NFTs.
Even though it's an offline solution, users still need an internet connection to activate it to confirm their trades. Another thing that promises higher security is Ledger's utilization of a seed phrase consisting of 14 to 24 words used for authentication. This lets you come up with phrases that are virtually impossible to crack. Also, the online connection we mentioned earlier is needed only to register the transactions on the blockchain, which means your wallet will be online only for a brief period.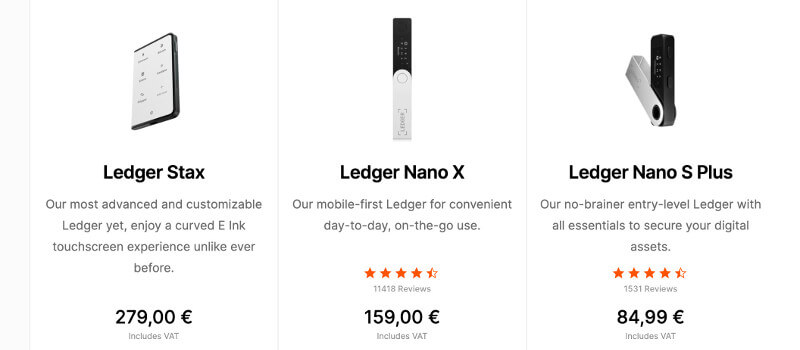 Ledger Wallet Customer Service
Some people may find this a bit odd, but the Ledger NFT wallet doesn't provide customer support via email, phone, or live chat. Of course, this doesn't mean that users are left on their own whenever they experience problems or have questions. On the contrary, they have a couple of options.
First, Ledger has a great help center where you can look for answers to dozens of frequently asked questions. A search box lets you look for questions/answers based on words or phrases. Second, you can also contact customer support via social media (Twitter)
| | | |
| --- | --- | --- |
| | Contact | Average Answer time |
| Email | N/A | N/A |
| Phone | N/A | N/A |
| Live chat | N/A | N/A |
| Social media | https://twitter.com/Ledger_Support | 15 minutes |
Ledger Wallet Conclusion
Suppose security is your primary concern, and you want your NFTs to be safe from hackers. In that case, the Ledger wallet is a great option regardless of the version of the wallet you choose. Generally, you're looking at an inexpensive hardware wallet that supports various devices and currencies. It's also easy to use and provides solid customer support via social media. If you ask for our opinion, we will say that the Ledger wallet is worth trying.