Looksrare NFT Summary
Looksrare NFT marketplace has a different ethos to many other NFT exchanges, with its community-first approach winning a loyal band of followers. It is built just as well as more reputable (and better funded) NFT exchanges, while its completely decentralized structure is ideal for those who want to trade in private.
Looksrare is powered by Looksrare's $LOOKS token, which is the primary way in which users are rewarded, with tokens awarded to those who buy and sell on the platform. Looksrare also offers a staking mechanism through which users can earn up to 75% APY. However, the token is subject to the wild whims of the greater crypto market, and abuse of this reward system is known to have taken place, and potentially still be occurring.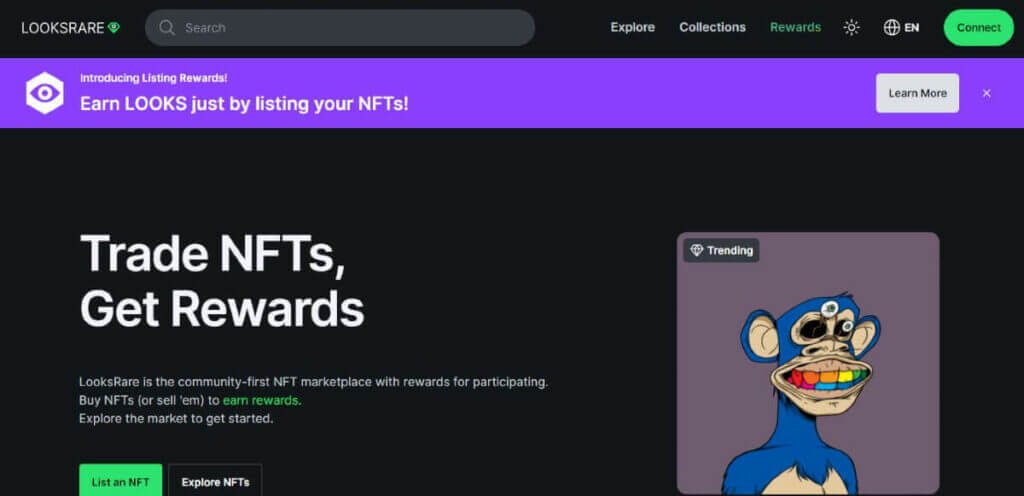 Looksrare NFT Review
Looksrare positions itself as a community-first NFT marketplace. To reinforce this, Looksrare operates a decentralized platform and distributes 100% of revenues from activities on the platform among $LOOKS stakers.
The rewards-based business model has enabled Looksrare to attract almost 80,000 traders since it launched, executing over $23 billion worth of transactions (although it is unknown how much of this was genuine and how much was wash trading).
Looksrare has become a favorite NFT exchange for those who want an alternative to the big players such as OpenSea, Binance NFT, and Rarible. However, it has attracted criticism for the lack of a mobile app, the lack of an NFT minting process, and the fact that the all-important $LOOKS token is subject to wild volatility, which reduces the incentive to stake.
What is Looksrare?
Looksrare NFT marketplace is an NFT exchange that facilitates the buying and selling of NFTs on the Ethereum blockchain, rewarding users of its platform with its $LOOK token – users earn trading rewards whenever they buy or sell NFTs on Looksrare, collect points for listing NFTs from selected eligible collections, and take a share of the revenues Looksrare shares with stakers.
Looksrare distributes the rewards once a day, with users able to hold, sell instantly on a number of cryptocurrency exchanges, or stake for up to 75% APY.
By taking a community-first approach, Looksrare distinguishes itself from the competition, which takes the shape of primarily centralized platforms owned and controlled by a corporation, and it has carved out a niche as the most popular decentralized NFT marketplace out there.
How does Looksrare work?
Looksrare NFT marketplace is built on Ethereum, so it operates with a single-chain architecture. Looksrare has indexed every NFT on the Ethereum blockchain, which means that users of Looksrare can purchase any Ethereum-based NFT directly from the site, including those on more popular platforms like OpenSea.
$LOOKS rewards are based on 24-hour trade volume, with higher trading days resulting in higher rewards for users. Its staking program allows users to compound their gains, although with the value of $LOOKS tokens being decided by the market, this may not turn out to be a financially sound idea – the $LOOKS token dropped from highs of $6 in January 2022 to just $0.50 just five months later.
Transactions on the Looksrare platform are executed through various digital wallets using two currencies, ETH and wETH (Wrapped ETH) tokens, or a combination of the two. Initially, only purchases with $LOOKS tokens were possible, but this policy has been scrapped. All NFTs purchased on Looksrare can be listed on secondary marketplaces.
What features does Looksrare have?
Explore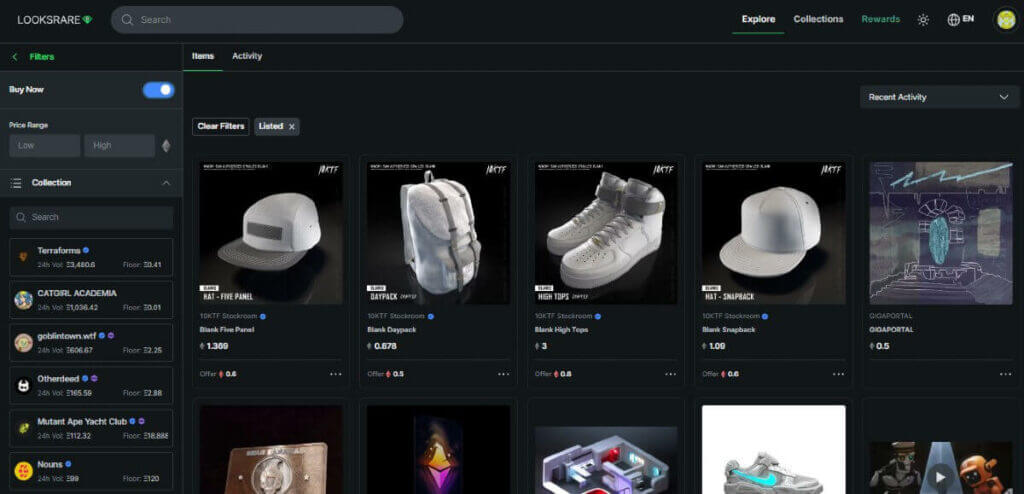 The explore page is divided into two sections:
Items: a list of all NFTs available for purchase
Activity: real-time updates on trading activities on the platform
Looksrare's Explore page features a variety of tools to aid the user's search. They are:
Buy Now: displays NFTs with only the "Buy Now" purchase method.
Price Range: isplays NFTs within a preferred price range.
Collection: the user can search for a particular NFT collection with the search bar. A list of the most prominent NFT collections on the platform is displayed beneath the search bar.
Collections
The collections page features a ranking of all NFTs on Looksrare, ranked by floor price, volume, and other metrics. The collections page allows users to filter the rankings to display all the collections or just the verified ones.
Rewards
The rewards page serves as a portal through which users can compound or stake their $LOOKS token. It is divided into two segments:
Staking: this segment houses the following rewards mechanisms –

Looks Compounder: users can use this earning mechanism to auto-compound WETH rewards into more $LOOKS.
Looks Staking: users can stake their $LOOKS and WETH for a percentage return (currently 56% APY).

Listing & Trading: the Listing & Trading page contains information on the following earned rewards –

Trading Rewards: how much trading rewards the user has earned from buying and selling NFTs on Looksrare
Listing Rewards: how many points the user has earned by listing NFTs from eligible collections.
What wallets does Looksrare support?
Looksrare supports three wallets at present:
MetaMask Wallet
WalletConnect Wallet
Coinbase Wallet
While there is no publicized desire to expand this wallet selection, decentralized platforms often do end up offering more wallet choices than centralized entities, so we may see more options become available over time
How can I link my wallet to Looksrare?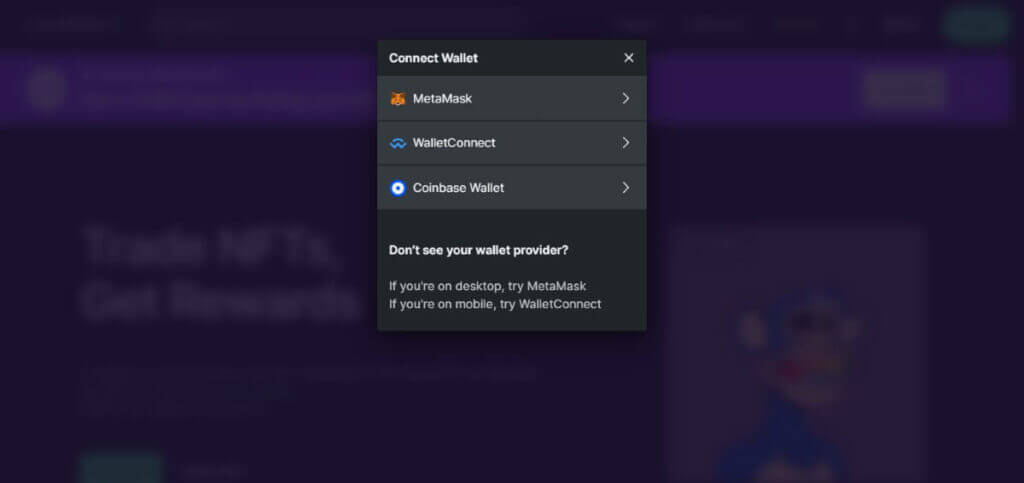 Open up the Looksrare website in a browser
In the top-right corner, click "Connect"
A pop-up menu will appear with the three wallets Looksrare supports. Select a wallet and authenticate the connection to Looksrare
The wallet is now linked to Looksrare, and a profile is automatically created
All wallets will deal with authentication slightly differently, but all will have a pop-up prompting a sign in, so just follow those instructions. It is important to ensure that the Looksrare site being signed into is the real one.
How do I buy NFTs at Looksrare?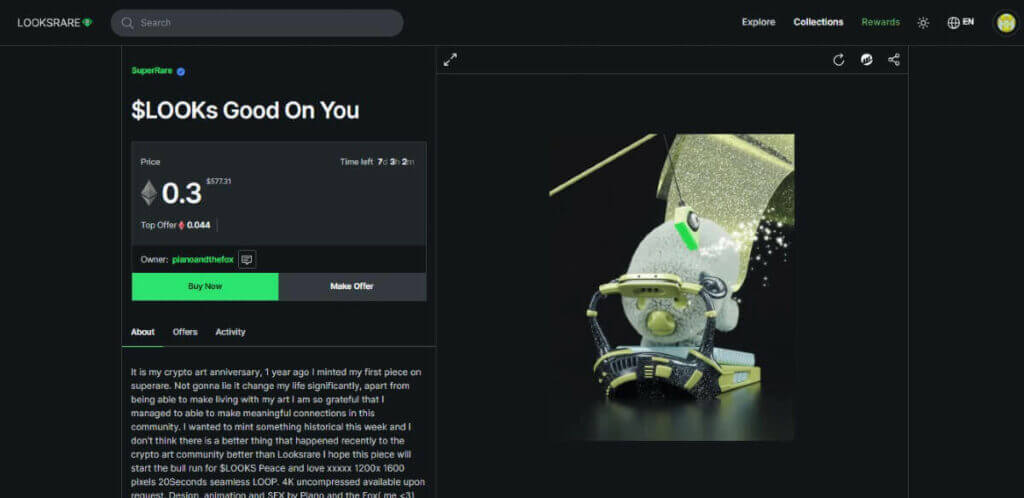 Once an NFT has been spotted, follow these steps to purchase it:
Click on the NFT.
Looksrare allows you to "Buy Now" or "Make Offer", or a mix of both.
To make an instant purchase with the "Buy Now" option:

Click on the "Buy Now" button.
A checkout popup will appear with the cost of the NFT. Choose to pay with WETH or ETH.
Click "Buy Now" and follow the prompts to authenticate and complete the transaction.

To buy the NFT with the "Make Offer" option:

Click on the "Make Offer" button.
A pop-up will appear with the cost of the NFT. Users can only make offers in WETH.
Input your offer in the "Input price" bar.
Click "Make Offer" and follow the prompts to authenticate and complete the transaction. Wait for acceptance or rejection.
How do I sell NFTs at Looksrare?
Selling NFTs on Looksrare is just as easy as buying:
Click on the profile icon in the top-right corner.
In the slide-in menu, click on "My Items".
Find the NFT to be sold and click on it. On the NFT's page, click on "Sell" in the top-right corner.
A pop-up menu will appear. The user can either sell the NFT at a fixed price or an auction.
Input the desired sale price.
Schedule the sale or sell to a specific buyer if desired.
For first time sellers, the site will ask the user to approve the collection for trading. Click "Approve".
Follow the prompts to authenticate the transaction and complete the listing.
Conclusion
Although it is relatively new to the NFT scene, Looksrare takes a unique approach to how an NFT marketplace can be structured and how users can get rewarded for participating in platform activities. Looksrare is cheap and easy to use, and it provides users with an extra source of income by allowing them to stake their tokens to earn passive income, albeit at the whims of the crypto market.
Looksrare has indexed all the NFTs available on the Ethereum blockchain, so users will not lack options if they choose to use the platform. However, with the competition adding NFTs from other blockchains, Looksrare could suffer if it doesn't follow suit, or at least do something original.
Looksrare has its core of fans, and indeed in its early days it even overtook the trading volume of market leader OpenSea. However, it was revealed that much of this was down to wash trading to accumulate $LOOKS tokens and dump them at the peak, which has harmed Looksrare's reputation – indeed, accusations of wash trading for this purpose still afflict the exchange.
Looksrare is the most popular decentralized NFT marketplace, but unless it can find a solution to its wash trading problem, and potentially look at expanding the blockchains it supports, it may find its crown slipping in the not too distant future.