SafePal S1, or simply SafePal, is a hardware wallet founded in 2019. It's used by crypto and NFT sellers, buyers, and traders worldwide. The company behind it is headquartered in an exotic location in Seychelles.

This NFT wallet is often advertised as one of the safest you can use for this purpose. Of course, it also includes many other features, which we will analyze in our detailed SafePal wallet review. Let's begin!
SafePal Wallet Specifications
Type of NFT Wallet: Cold/Hardware (App and Browser Extension available)
Marketplace(s): Rarible and others
Number of Currencies Supported: More than 10,000 coins and tokens
Security /Anonymity: No KYC or registration required; EAL 5+ independent secure elements; self-destruct mechanism; mnemonic phrases
Price: €45.94 ($49.99)
SafePal Wallet Features
Let's start by noting that in addition to the SafePal S1 hardware wallet, the same brand offers a browser extension and a mobile app that you can use independently. Our review is focused on the hardware wallet. As the name of this product suggests, the safety of its users is the top priority here. We have dedicated a special section to this topic that you can find in our detailed SafePal wallet review below.
Another thing we like about this wallet is that you can exchange, buy, and sell more than 10,000 coins and tokens like Binance, Dogecoin, Ethereum, Bitcoin, Ripple, Solana, and Cardano. They can be used for trading, selling, and buying NFTs on various marketplaces.
Next, SafePal S1 comes with cross-chain compatibility enabling users to find and interact with hundreds of DApp and check DeFi projects. This is a user-friendly solution where everything is managed from one easy-to-use application.
Every user gets support in 15 languages. They can expect customer care to be available 7 days a week, 24 hours a day. The good news is that you get a 1-year warranty for the hardware wallet. As for the battery life, the device lasts 20 days if you use it for around 10 minutes a day (which is excellent).
We will note that SafePal Wallet is also available as an extension for Mozilla Firefox, Google Chrome, and Microsoft Edge and as a software mobile wallet on Android and iOS.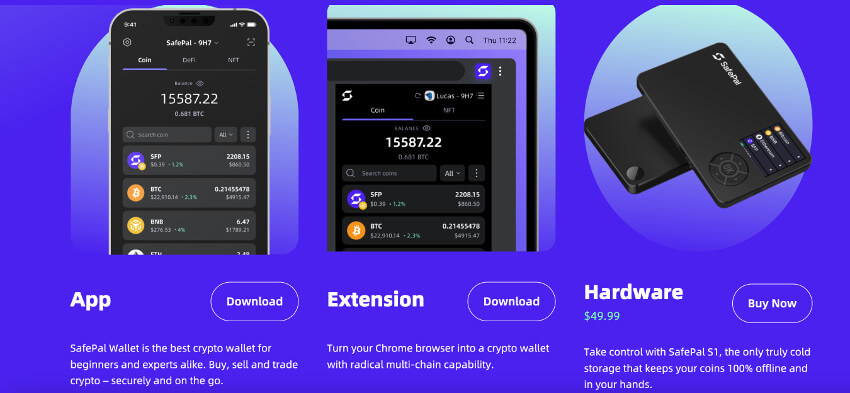 Is SafePal Wallet a Good Wallet for NFTs?
In most cases, SafePal is used as a crypto wallet, so it's natural for readers to ask if this is a good wallet for NFTs. SafePal has a user-friendly interface that makes it easy for users to manage their cryptocurrency assets. Analyzing the crucial features of this product will provide an answer that can help any NFT users looking for a solid wallet.
First of all, we will mention the design. SafePal S1 is as big as a credit card, meaning you can put it in your pockets without any hassles. As a result, the display is a bit small. Still, it's a solid LCD display that features everything you need for a seamless NFT trading experience.
Setting up the SafePal NFT wallet is a straightforward task which is another bit plus for users. We're talking about a three-step process: downloading the SafePal wallet app on Google Play or App store, creating a wallet, and pairing the wallet and app together.
In addition to the SafePal S1 hardware wallet, the package includes a cleaning cloth, two stickers, three mnemonic phrase cards, a user manual, a download app card, and a USB cable. This wallet can operate in temperatures between -20 and 70 C and has a battery of 400 mAh.
Compared to many other NFT wallets, the SafePal wallet is pretty affordable. You're looking at a product that will cost you €45.94 ($49.99). It comes with a 1-year warranty, which is proof of this wallet's reliability.
As mentioned earlier, the SafePal crypto and NFT wallet is a safe and secure option. These things will be analyzed in the section below this one. After that, we should not forget that you can trade, buy, and sell more than 10,000 coins and tokens.
As for the things that can be improved, we will note that the display is a bit small, but it's still very accessible. No KYC policy is involved, and users don't have to complete a registration process to conduct activities.
SafePal Wallet Security
With the SafePal wallet, you can expect several layers of security that will protect your assets differently. Thanks to the device authentication process, you can rest assured that the device you get has not been tampered with or used before. Once you activate the wallet, you'll get a 6-digit code confirming that the device is genuine.
Furthermore, SafePal relies on an air-gapped signing mechanism. This technology enables crypto/NFT transaction signing without needing a physical connection or radio frequency. You only need QR code communication with your SafePal app on your mobile device. Remember that an internet connection is not required.
Instead of the classic seed phrase, SafePal uses the term mnemonic phrase. You can expect a list of words (between 12 and 24) that you must type in the same order as they were provided. Simply put, this unique code confirms your ownership, protecting hackers from stealing your assets.
We also like that SafePal upgrades let you upgrade the firmware from time to time, promising even higher security by improving the wallet's features.

SafePal Wallet Customer Service
We already mentioned that it doesn't require special knowledge or training to use the SafePal NFT wallet. However, there are still situations when some users might need help. This is where the customer service provided by SafePal comes into play.
Every visitor to the brand's homepage can access the help center and search for questions/answers by keywords. They can also browse the page by different categories and find what they are looking for.
If you have more specific questions, you can submit a request by stating your issue. In most cases, you will get an answer in no more than 24 hours. SafePal also has a chatbot that can be pretty useful.
| | | |
| --- | --- | --- |
| | Contact | Average Answer time |
| Email | N/A | N/A |
| Phone | N/A | N/A |
| Live chat | N/A | N/A |
| Social media | https://twitter.com/safepal_support | Less than 24 hours |
| Ticket | Can be found on their website | Less than 24 hours |
SafePal Wallet Conclusion
If you are looking for a good NFT wallet, then you should consider SafePal wallet. This is especially true if you value anonymity and security above everything else. With SafePal, you can expect several levels of security that provide the best protection on the market.
This is also a cheap wallet that accepts more than 10,000 tokens and coins. On top of that, we have a modern design, regular updates, and solid customer service. So, our advice is to try SafePal wallet for your NFT trading, selling, and/or purchasing needs.