Introduction
Newcomers to the NFT space are spoilt for choice when it comes to NFT aggraegators, which can make things a little confusing. Icy.tools wants to make things simple and efficient, providing key information to those who want it quickly, with a premium offer for those who want to conduct deeper analysis.
With so much competition, how does Icy.tools stack up? Let's find out.
What's the Use of Icy.tools?
Icy.tools is great for identifying trending Ethereum NFT collections and real-time floor prices, volume, average sales prices, and more. This makes it a great tool for beginners, with a straightforward representation of the data allowing a handy market overview.
Icy.tools has a minimalist approach that will suit all but the most data-hungry users, and it can act as a great starting point for those looking to expand their exposure to the NFT market. The platform currently only covers Ethereum NFTs, but multi-chain support is coming soon.

What is Icy.tools?
Icy.tools may look a little plain and undecorated, but this is intentional – it was set up with directness in mind, which means that information is presented with no fuss and the interface is easy to navigate. The layout is very user-centric and not cluttered with charts and stats.
Icy.tools lets users scan useful data such as sales volume and history, discover the latest NFT trends, check transaction history, and search for portfolio balances on any wallet address. Hooking up your own wallet opens up these basic datasets for you, but if you want more detailed stats you're going to have to go premium – for a fee (more on this later).
Clicking on a specific NFT collection brings up a wealth of information, such as floor price charts, recent activity, holders, and more, which is great if you're looking to do a deeper dive into your new favorite collection. However, it stops short of allowing you to easily compare the rarity of the pieces, which is a shame, given that this information is readily available from other free tools.
As well as the usual key info on the NFT market and collections, Icy.tools has a calendar feature so you can keep on top of what's coming in the space, and the site also has an API feature for developers.
How Can I Get Icy.tools?
Icy.tools is available from their website, where you will be met with a 'trending' dashboard and access to all other sections. Users should make sure they access the site through our link or through typing the address in, not by clicking a link in a Google search.
Icy.tools offers a portion of its products for free, which is fine for beginners, but more advanced NFT traders might want to consider Icy.tools premium which offers the following additional insights:
Real time and historical analytics on collections
Floor, mint, and sales alerts by contract or wallet
Customized real time feeds, filter by whales and other tags
Customizable watchlists to stay on top of favorites
Icy.tools premium costs $75 per month for one month or $62 per month if you sign up for a six month subscription, with the ability to pay in crypto or by card. Compared to other premium subscriptions, Icy.tools is reasonably priced, but more in-depth data is available from other analytics sites, albeit at a higher price.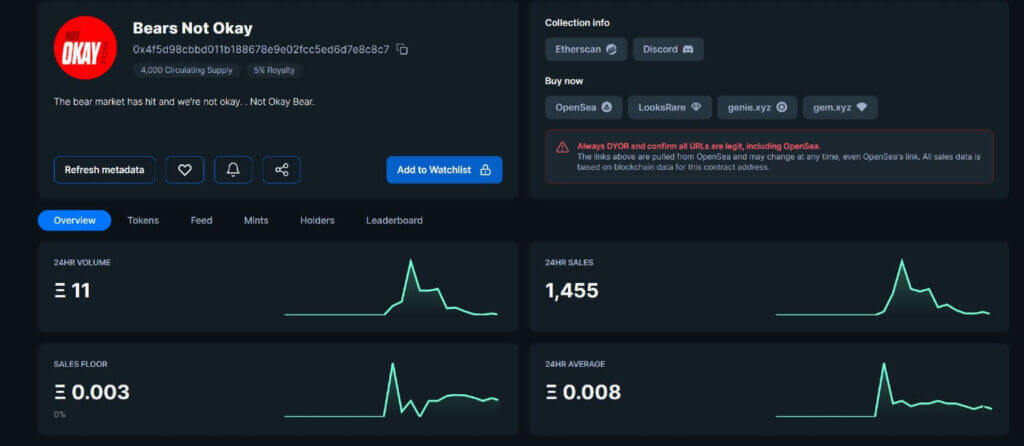 What Will Icy.tools Help Me With?
Icy.tools is a good tool for keeping track of your own NFT portfolio, keeping on top of the market, and identifying new mints, which is a nice combination for beginners. Its minimalist feel also helps newcomers feel quickly at home, with the ability to dive into collections also a boon.
The premium option adds a worthwhile level of extra data and nice customization features to really help you follow NFT trends easily, and it also offers an insight into individual collections and how they are performing.
Conclusion
Overall, Icy.tools is a nice halfway point between a basic aggregator for absolute beginners and something like Nansen, which is for professionals and caters for the entire Web 3.0 space. Naturally its full functionality is only unlocked with a premium purchase, so those who find that they want more than the free version has to offer might want to take advantage of the one-month Icy.tools subscription to see if the extra datasets are of benefit to them.