MAGIC EDEN: In Summary
Magic Eden is a Solana NFT marketplace whose goal is to make minting and trading NFTs easy, low cost, and super fast. The marketplace, which launched in early 2019, holds a majority share of the NFT market on Solana.
Magic Eden is recognized as the best and most popular independent Solana NFT marketplace, with the exchange claiming to have over 10 million unique monthly visitors, boasts over 4,000 NFT collections and 100,000 daily wallet connections, and supports some $1 billion in secondary trading volume.
The exchange offers its users a wide range of features, including the most popular new and upcoming Solana NFT collections, a launchpad, a trove of statistics, an auction feature, and a thriving community. However, Magic Eden suffers from a lack of variety in the NFTs for sale, while the website itself can be buggy. There is also the concern over a forthcoming integration of Solana NFTs into the world's biggest NFT marketplace, OpenSea, that could also take traffic away from Magic Eden.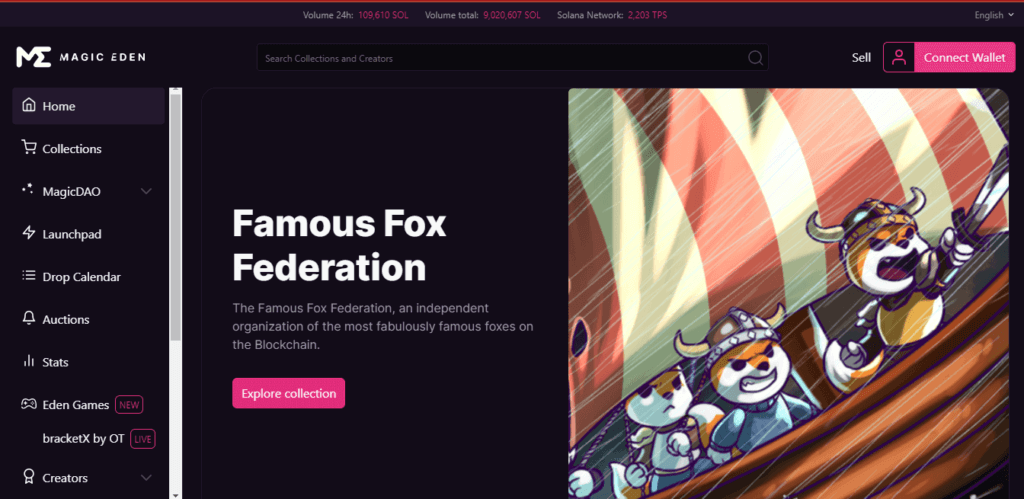 Magic Eden Review
NFTs present an opportunity for creators to monetize their creations and build a community around their art. To date, Ethereum has been the blockchain platform of choice for NFT marketplaces which is why it is the core offering for NFT marketplace giants like OpenSea, but that has begun to change.
As transaction costs balloon and transaction times slow on Ethereum, creators and traders have craved faster speed and lower costs. This demand has spurred the rise of NFT platforms that leverage other blockchains' speeds and low costs. One such blockchain is Solana, with its premier NFT marketplace Magic Eden ranked as the number two NFT Marketplace after OpenSea in terms of volume.
Aside from offering the aforementioned benefits, Magic Eden also solves the issues that limit competing platforms by incorporating a Launchpad minting process, which filters for the most viable projects to add to its exchange. It has also positioned itself as a much more accessible NFT Marketplace by selecting projects that are more affordable that the likes of OpenSea.
Magic Eden has simplified the minting and trading process for NFTs, opening the floor to creators and traders to experiment with this new asset class. By offering a simple and intuitive interface, low costs, and an easy to navigate NFT categorization structure, backed up with great support, it's no surprise that Magic Eden has built a community of eager enthusiasts and does such a roaring trade.
What is Magic Eden?
Magic Eden launched in early 2019 as a decentralized application (DApp) NFT exchange built on top of the Solana blockchain, utilizing Solana's fast transaction speeds and low fees. Magic Eden's backers include Coinbase Ventures, Solana Ventures, and Alameda Ventures with Sequoia Capital also taking a stake in the project, giving them a strong financial base from which to build.
Magic Eden allows users to buy, sell, and mint NFTs, which can represent anything from digital artwork to gaming items. Since its launch in 2019 Magic Eden has seen a steady influx of new and returning users, with daily wallet connections now regularly in excess of 200,000 and close to $1 billion worth of transactions taking place per month on the platform.
NFT transactions on Magic Eden are similar to Ethereum-based marketplaces like OpenSea, with the major exception being that Magic Eden leverages the low costs of the Solana blockchain to offer users a package that includes a 0% listing fee of only 2% for transaction fees. Such low operating costs reduces the entry barrier for novice and seasoned NFT buyers and creators, while the project's Launchpad feature ensures that this doesn't result in low grade work flooding the platform.
What is Magic Eden's Launchpad feature?
Magic Eden's Launchpad is a screening mechanism for new NFT projects and was the first such process within the NFT exchange sector. The Launchpad filters out poor quality projects and ensures that only projects that adhere to certain criteria are listed on the Magic Eden marketplace. The requirements are as follows:
Completed submission form: Without a completed submission form you aren't going to make it very far with Magic Eden. The platform automatically rejects forms with omitted answers.
Full collection minting: The Magic Eden marketplace does not support pre-mint campaigns or whitelisting, so creators have to launch their entire collection at once.
Randomized fixed price minting: Magic Eden allows creators to set a total price for their collection, which the platform then spreads across the number of NFTs in the collection.
A clear roadmap: Magic Eden Launchpad requires creators to submit a roadmap to prove they have a long-term vision for the project.
Community-focused: Creators must show how their project benefits the Magic Eden/Solana communities rather than simply being a route to riches.
Should creators clear this hurdle they then meet with the Magic Eden team to discuss next steps and launch details. Magic Eden also insists on a test launch on devnet to ensure the collection has no technical issues prior to launch. Only once all these stipulations have been met can a project launch on Magic Eden, which results in a marketplace that is robust and reduces the risk of a 'rug pull' as much as possible – where creators take swift profits before abandoning the project.
It hasn't managed to avert these entirely however. The first rug pull on Magic Eden was the King of Chess NFT collection, which was supposed to be an NFT chess game. The project launched in January 2022, but instead of putting investor funds towards building the game as was promised, the developers stole 645 SOL, worth $58,000 at the time.
A second such event happened a month later with the Balloonsville NFT scam, which saw the developers disappear with 5,000 SOL following their abandoned project, worth $600,000 at the time.
Following this second scandal, Magic Eden paused its Launchpad service and upgraded its security features to ensure such scams do not occur in the future. One such feature is the stringent Know-Your-Customer (KYC) requirements that developers must now undergo to privately identify themselves to the company.
Secondly, the developers will have to sign a partnership agreement with Magic Eden upon approval.
Magic Eden also began to:
Focus on fewer launches per week to improve the quality of projects on the platform
Require that the developers prove they are experienced enough to be running an NFT project with real social engagement.
Require developers to submit a whitepaper and "realistic" roadmap
Hold investor funds in escrow for at least 24 hours and encourage developers to increase the escrow period to 14 days for developers who want to go the extra mile to prove their authenticity
What Features Does Magic Eden Have?
Popular Collections: This is a curated list of the hottest projects on the Magic Eden platform. This feature is in its own category, meaning that users don't have to search endlessly or tweak search filters to find the trending projects on the platform. With this feature, users can easily browse, learn about, and invest in the hottest projects on Magic Eden.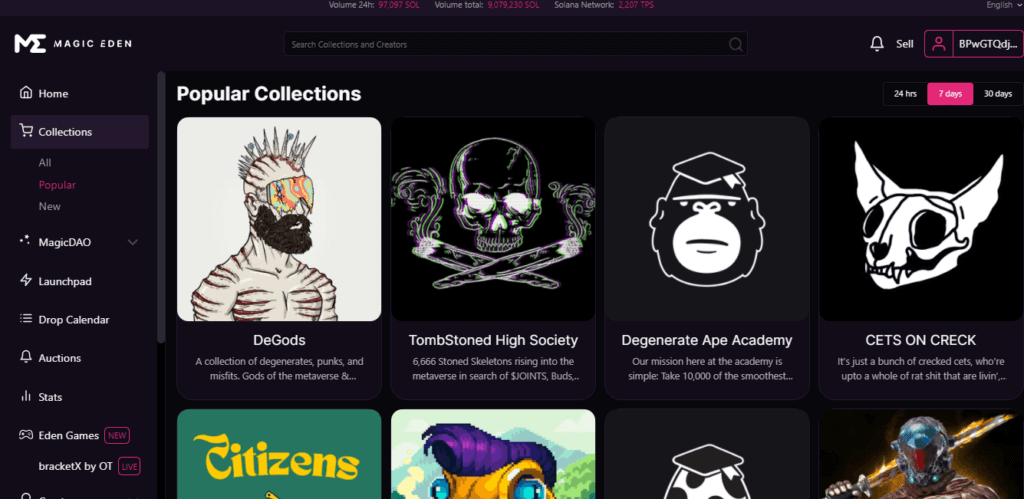 Upcoming Launches: With this feature, Magic Eden provides users with a curated list of upcoming launches to lookout for. The marketplace links directly to the Twitter pages of the projects to make research that much easier.
Launchpad: As already alluded to, the Launchpad function is one of the most interesting features of Magic Eden, with the exchange being the first to offer such a mechanism. Launchpad empowers users to create NFTs in minutes without prior NFT or development experience while also ensuring that only genuine NFT creators get a berth on the exchange.
Attributes Filter: Like the filters on other platforms, Magic Eden's attributes filter allows users to filter for the most exciting features in the NFT collection they are browsing through.
Stats: Magic Eden lets users instantly see the complete supply, category, and overall worth of their digital assets once they have connected a wallet.
Auction: Magic Eden has a standard auction feature which allows users to bid on NFTs reflecting what they perceive the true value to be. The holder is then alerted and can either accept or reject the bid.
Community: Magic Eden is community-centered. It places a lot of value on feedback and suggestions from its community, which has been reflected in the announcement of a Magic Eden DAO in February 2022 which will allow the community to guide the project once it is fully established.
What Wallets Does Magic Eden Support?
Magic Eden supports a number of Solana wallets, including:
Solflare
Sollet
Torus
Phantom
Slope
Sollet
Clover
Coin98
Solong
MathWallet
Glow
How Can I Link My Wallet to Magic Eden?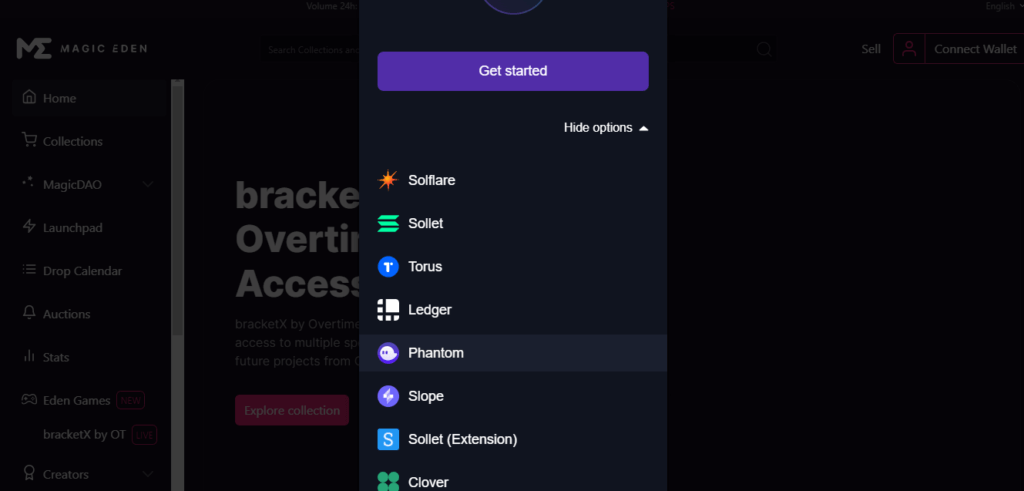 To connect a wallet, follow these steps:
Click on the "Connect Wallet" button in the top right corner of the screen.
In the tab that appears, click on the "Options" button to choose your preferred option.
Follow the prompts to register your wallet and make any necessary downloads.
Once you've created your wallet, return to Magic Eden's homepage and click the "Connect Wallet" button again.
The system should detect your wallet. Click on the wallet to connect it and create your Magic Eden profile.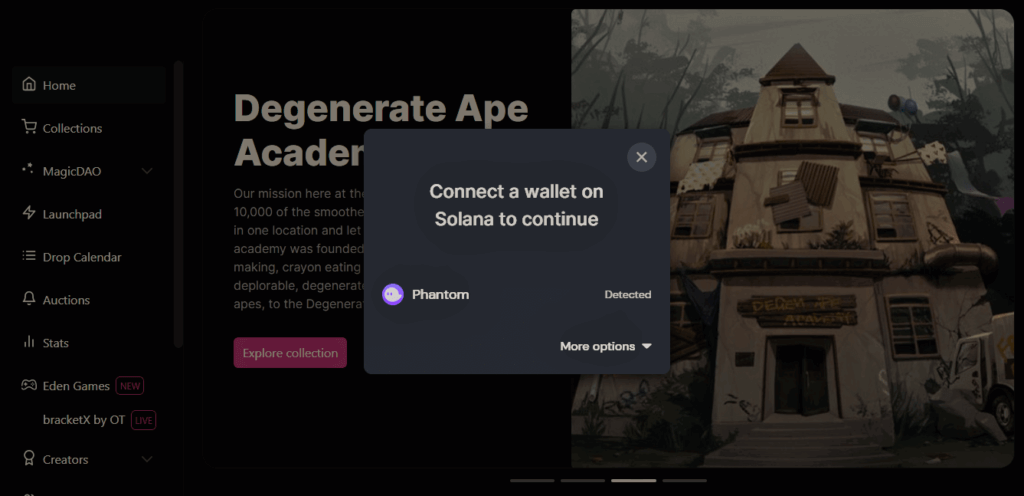 How Do I Buy NFTs at Magic Eden?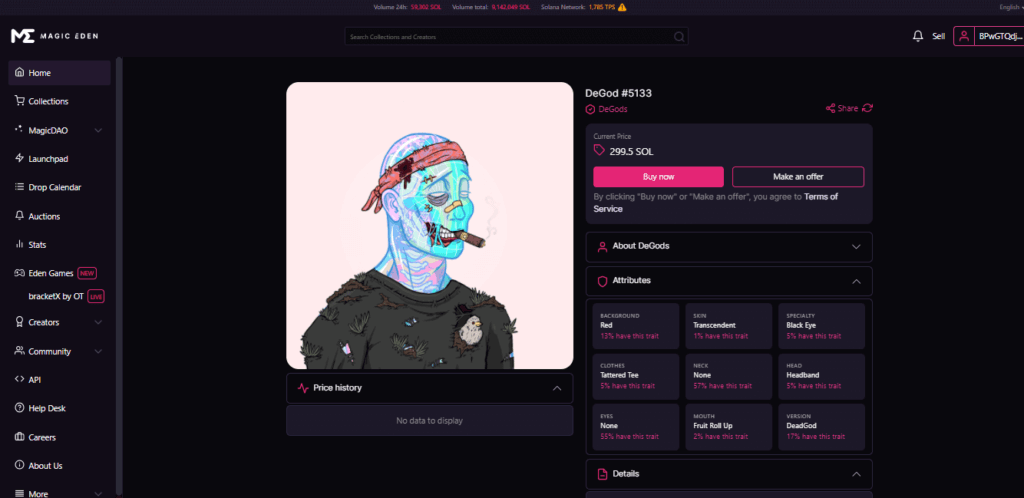 In order to buy Solana NFTs at Magic Eden you first need to connect your wallet. You will find the "Connect Wallet" button in the top right corner of the screen. Follow the prompts to connect your wallet. You may find that it takes several attempts to connect your wallet – perseverance is the key. This is a small but annoying but that really could do with ironing out on this otherwise bug-bree Solana NFT marketplace..
You will now find the "Collections" button on the menu in the left corner of the screen. There is a shopping cart image right beside it. Clicking on it will activate a drop-down menu that includes the following collections: "All," "Popular," and "New."
Since most users are looking to buy Solana NFTs that will grow in value, the "Popular Collections" tab is the best place to start. It isn't clear if the collections are listed by popularity, but instinct suggests that they are.
Once you click on the collection of your choice, a page will open up that includes all the items for sale in that collection. You will find two tabs below the collection information at the top of the screen. One tab is titled "Items," where all the NFTs in the collection are displayed, while the other tab is titled "Activity." In the Activity tab, you will find information on previous sales that have been made for that collection.
On the left side of the screen you will find the filters menu. You can activate filters based on price or attributes to find the NFTs that meet your specifications.
Once you have found an NFT that you like, click on it, and you will be brought to the page for that particular listing. Here, you have two options – you can "Buy Now" at the seller's asking price for an instant purchase or to "Make an Offer" to the seller. Be aware that if you want to buy Solana NFTs on Magic Eden you need to offer at least 50% of the listed price.
If you choose to make an offer, you will have to wait for the seller to see it and respond to it before proceeding. If you choose to buy instantly however, a notification on your wallet will pop up with details on the transaction, including the transaction fee and the NFT's details.
Once you click "Approve," your transaction will be approved within three seconds, after which another popup will appear at the top of your screen, stating, "Congrats! Your purchase is fulfilled."
Now you can find your NFT in your wallet and on your Magic Eden profile.
How Do I Participate in NFT Auctions at Magic Eden?
The Auction feature presents a different way for you to buy Solana NFTs. Participating in auctions on Magic Eden is, as with everything on the site, intentionally simple. Look for the "Auctions"tab listed on the menu on the left side of the screen. Click on it to access the Auctions page. On the Actions page you will find some NFTs listed there for auction, with the White Walker shown here as an example:
When you click on it, the Auction page for the NFT will be opened, and it will present you with information on the attributes of the NFT, its creator, and a live feed detailing all the bids made for the NFT.
Making a bid is a simple process, but there are some conditions, one of which is that you must make a bid at least 0.25 SOL greater than the current bid. The instructions on the page also state that your SOL will be automatically returned if you are outbid.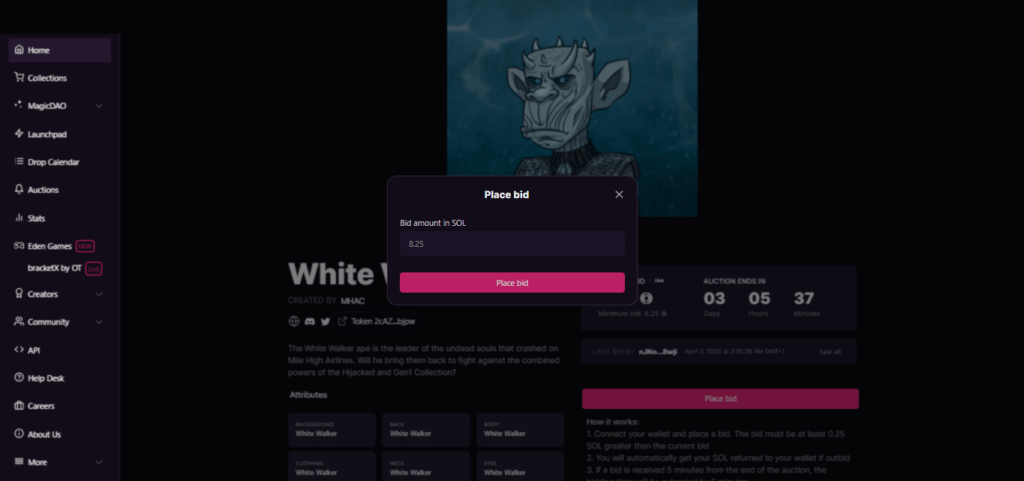 On the other hand, if you have the highest bid when the auction countdown ends, the NFT automatically becomes yours. All you need to do is click the "Claim Item" button, and it will be added to the list of items you own.
How Do I Sell NFTs on Magic Eden?
As one might expect, to sell Solana NFTs on Magic Eden is just as easy as buying. You will find a "Sell" button beside the profile icon in the top right corner. Click it, and it will bring you to the "My Items" tab in your profile, where all of the NFTs you own are listed.
Click any NFT, and the NFT sale page will be opened. The page contains all the details concerning the NFT, including fields you can fill to list your NFT on the marketplace.
Right beneath the NFT image you will find a price chart that illustrates the historic price trend for the NFT. In the Details tab you will find information on the mint and token addresses, your address, the artist's royalty, the 2% transaction fee, and the listing/bidding/cancellation fee.
You will find a tab right beside the image of the NFT, which contains a field in which you will fill in the price you want for your NFT. For a pricing guide, review the historical price activity to understand how the value of the NFT has grown over time and check out similar NFTs on the marketplace and study recent sale prices.
Once you have decided what price is right, input it into the field and click "List Now." Your wallet will notify you that it has started the listing transaction. Don't forget that you will need some SOL tokens in your wallet to be able to pay the 2% transaction fee that gets leveraged when you sell Solana NFTs on Magic Eden.
To complete the process, click on the "Approve" button in your wallet and the item will be listed on the marketplace.
Once the item is listed, it will no longer appear in the "My Items" tab; it will now appear in your profile's "Listed Items" tab. If you click on it, it will open up the listing page, and from there you can choose to either cancel the listing or copy the link to the listing to share it.
If you choose to cancel, the NFT will be returned to the "My Items" tab, and the transaction fee that was deducted will be returned to your wallet. If you go ahead with the sale, the NFT will no longer appear in your profile once it is paid for. All you will have is the deposited SOL in your wallet.
Conclusion
Magic Eden stands out from the crowd because of its unique features, which have proved immensely popular with the NFT-buying public. This is testament to its vision, build quality, and community strength.
The Launchpad is the platform's flagship feature, with other NFT marketplaces sure to follow Magic Eden's lead in protecting users. Widespread use of correctly implemented Launchpad features, or something similar, will severely reduce, if not eliminate, the number of NFT scams in the space. Like all platforms, Magic Eden has experienced a couple of these, but it has bounced back quickly from such scandals and used the lessons learned to strengthen its platform and further protect its community.
The only cloud on the horizon for Magic Eden is the integration of Solana NFTs into OpenSea, which could well see Magic Eden's traffic leaving for its rival. However, the Magic Eden user base seems very loyal to this Solana NFT marketplace, and considering its mix of features, the affordability of its NFTs, and the enhanced trust that results from knowing that projects listed on the platform have been thoroughly vetted, there is a very good chance that Magic Eden will continue to more than hold its own in the battle of the NFT marketplaces.