The Complete Guide to Alpha Gang
Alpha Gang is a hip hop and artist themed generative NFT collection with a supply of 5555 unique and special NFTs. By owning an Alpha Gang NFT you obtain access to their Curated Alpha, Alpha Bots, Discord integrated trackers, NFT alerts, smart contract minting bot, and $GANG marketplace. Let's dive deeper into Alpha Gang together. Are you ready?
What Are Alpha Gang NFTs?
Alpha Gang is a community focused NFT project with the aim of providing mass utilities to all of their holders. These utilities include Alpha, tools, and bots that help you on your quest to find new and exciting NFTs!
Owning an Alpha Gang NFT allows you to stake it to earn $GANG utility coins. These can be used at the $GANG marketplace for a bunch of cool rewards. These include access to a whitelist marketplace, a free NFT marketplace, exclusive merchandise as well as airdrops plus a bunch of other cool things.
The Alpha Gang NFT collection is based on famous hip hop artists such as 50 Cent and DJ Khaled. When you purchase an NFT from this collection, you gain fractionalized ownership of these legendary artist NFTs.
The project was founded by Canadian pro-gamer and YouTube streamer RJ Souqi. Joining him are cofounders Iryna Frantsuz (a master of finance), the Luu Brothers (Asian Canadian actors, heading a celebrity and influencer marketing agency), and Gabrielle Lasporte (a modern Batik artist and surface designer with 25+ years of experience). Together they form a powerful quartet of competence and innovation.
The OG Alpha Gang collection includes 3 unique NFTs with a supply of 669. This will be bumped up to 5555 with the new collection that includes a massive new roster of famous artists. The new collection is set to come out in May 2022.
How Are Alpha Gang NFTs Made?
Alpha Gang NFTs is a generative NFT art collection. They are computer generated characters based on hip hop artists from the real world, and to make them really stand out, they are defined by 250+ hip hop, web3, and NFT partnership related traits.

Once a character is designed, that will be the only iteration of it. This means that, for example, the 50 Cent Alpha Gang NFT only exists as its baseline with no variation. This is because you will only obtain fractionalized ownership of the NFT, having to share the full ownership with others.
The OG Alpha Gang collection only contains 3 characters. When the new collection is released you will have access to an additional 43 legendary artists to invest in.
With every NFT that is created there will be an exquisite and unique background included to really make them stand out from the crowd.
How Do I Mint Alpha Gang NFTs?
To mint an Alpha Gang NFT you have to navigate to their website. On the front page there will be a button called "Mint". When a mint is available, you will be able to click it and be redirected to the subsection of the page that'll allow you to proceed.
To mint you will need to connect your crypto wallet, such as Meta Mask, to the site that pops up and make sure it contains enough Eth to cover the minting and gas fees.
Once that is done you will be the proud owner of a fractionalized part of an Alpha Gang NFT.
Once you own one of these parts, you can stake it from the website to start earning $GANG utility coins to spend in the $GANG marketplace.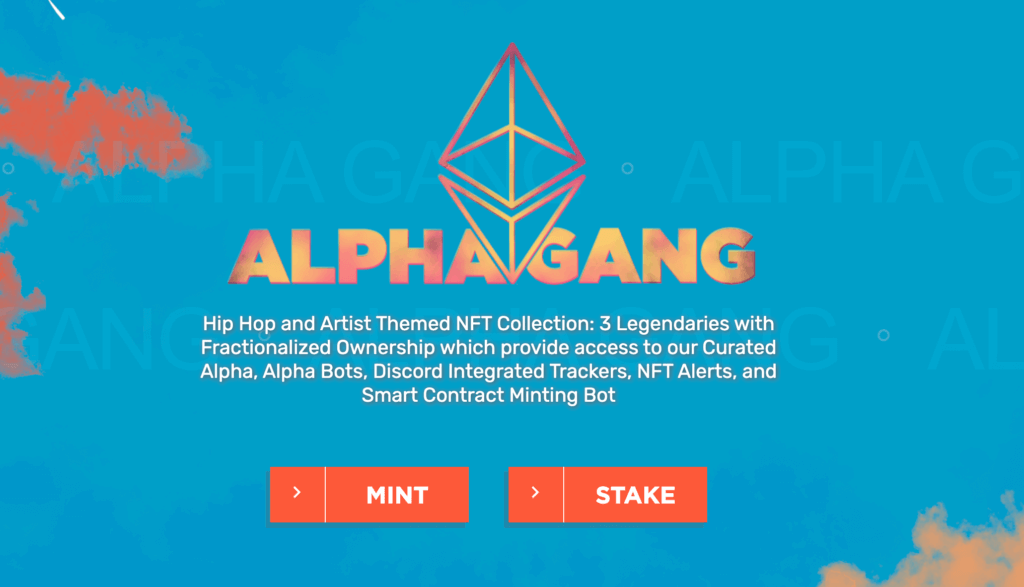 How To Buy Alpha Gang NFTs
If you want to purchase an Alpha Gang NFT after the mint, then you can do so on OpenSea.
On OpenSea you will be able to see every available Alpha Gang NFT that you can purchase a fractionalized part of. At the time of writing this article, the floor price for this is 0.72 Eth plus the gas fee.
Navigate to the specific NFT you want to be a part of and press "Buy Now". You will need to have an OpenSea account with your crypto wallet connected to it. Fill it up with the required amount of Eth and complete the transaction.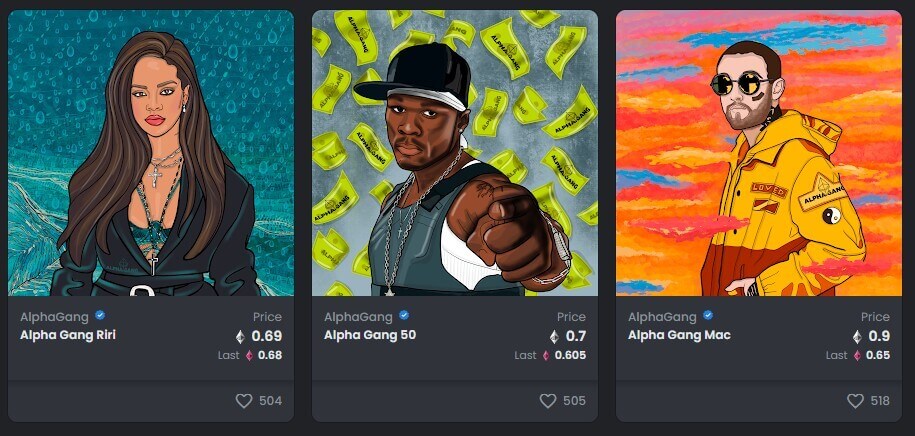 Conclusion
The Alpha Gang NFT is not just an NFT collection that depicts cool versions of famous hip hop artists. It is also a trove of great utility that opens many doors to other NFT projects where you can obtain access to exclusive whitelists.
With the collection set to grow much larger very soon, there is no better time to get involved than now.