Complete guide to Arcade Land
Arcade Land is a collection of 10,000 plots of digital land which together make up the Arcade metaverse, a world of fun and adventure that Arcade Land NFT holders can explore and play exciting mini games in. Arcade Land has already partnered with several other NFT projects, including Mfers, Phanta Bear, and Starcatchers, and many more in the works. Holding an Arcade Land NFT grants the owner the ability to earn rent, advertise, launch stories, and create items with their land's resources to maximize its potential.
The Arcade Metaverse is being built by Yuga Labs, the creators of the Bored Ape Yacht Club empire, so it's clear to see why there is such excitement about this innovative project. The Arcade Metaverse itself is still under construction, and Arcade Land plots were only revealed in early April, so this project is literally just getting started.
What is Arcade Land?
There are four different plot sizes available in Arcade Land, each with a different supply:
Standard: 5,000
Large: 3,000
X-Large: 1,900
Mega: 100
The different land sizes offer different rewards, such as tokens, resources, unique land items, and other perks. As for what holders will eventually be able to build on their Arcade Land plots, this hasn't yet been revealed, but we do know that as well as allowing them to make the most of the Arcade metaverse, holding an Arcade Land NFT will give holders access to future drops containing tokens, other NFTs, and game resources.
Don't mistake a lack of information for a lack of features however – the Arcade Metaverse, and the Arcade Land that goes with it, looks like it could be very feature rich when it launches.
What are the traits of Arcade Land?
The Arcade Land collection has just three different trait categories sharing a total of 13 traits between them:
| | |
| --- | --- |
| Trait | Trait count |
| Area | 5 |
| Size | 4 |
| Underground | 4 |
We have already discussed the four different sizes of Arcade Land on offer, but there is a nice variety of environments available under the 'area' category (jungle, dystopia, frozen, volcanic, and moon), with the plots also sporting some interesting subterranean features. We don't yet know how these different traits will impact the owner's experience in the Arcade Metaverse, but it will be fascinating to see!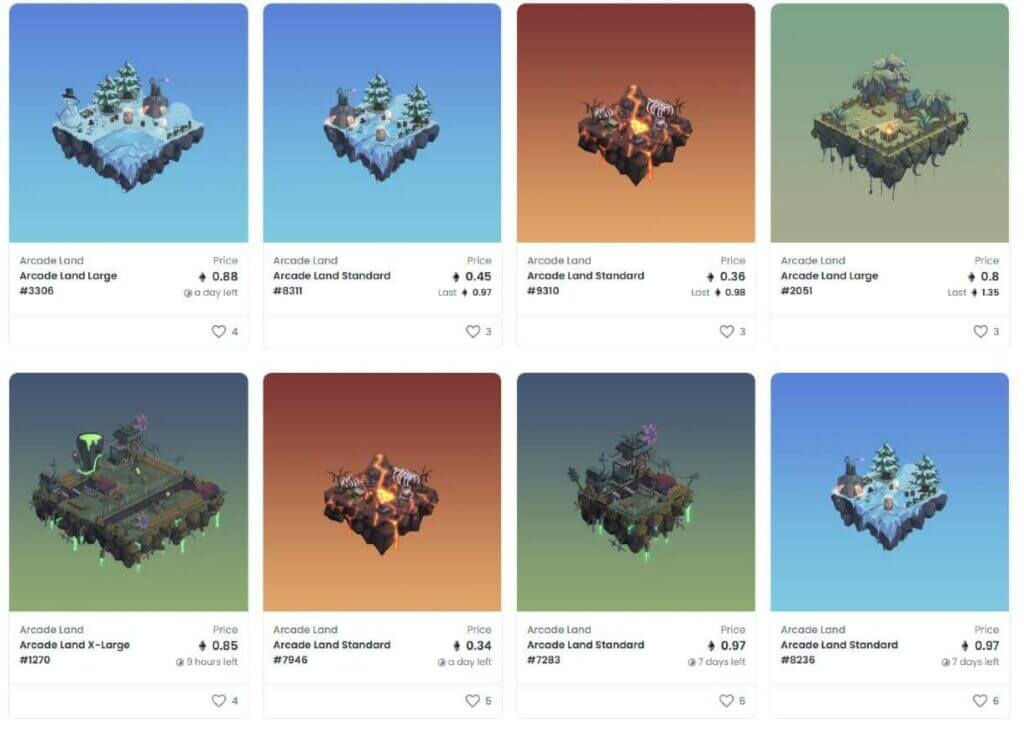 How does the trait combination impact Arcade Land value?
It won't be a surprise to hear that size is everything – the top 40 or so biggest selling Arcade Land plots to date have all been 'mega' sized. Buyers can pick up an extra large plot for 0.5 ETH, but they will have to shell out a whopping 15 ETH for a mega sized one. This is explained by the fact that there are only 100 mega sized plots while there are 1,900 extra large.
How can you trade Arcade Land?
Arcade Land NFTs can be purchased on the secondary market through OpenSea and LooksRare. The floor price is a very attractive 0.25 ETH, although for this obviously you will be picking up a 'standard' sized plot, the smallest available. However, there is no reason you won't be able to enlarge and develop this as the game expands.
What was the most expensive Arcade Land NFT?
The highest selling Arcade Land plot to date has been Arcade Land Mega #82, which sold for 99 ETH ($322,700) on April 9, 2022. This mega sized plot is only the sixth rarest in the collection with one of its brothers, Arcade Land Mega #54, the fourth rarest, being the second highest seller at 50 ETH on the same day. The same buyer picked up both. Like we said, size is everything.
How can you find Arcade Land for sale?
OpenSea and LooksRare are the two marketplaces where you can find Arcade Land NFTs today. A standard sized plot will set you back around 0.25 ETH, while a large plot, the next size up, will cost you a little more at 0.31 ETH. The prices for bigger plots explained above.
How can you buy Arcade Land?
OpenSea and LooksRare allow interested buyers to either purchase an Arcade Land NFT plot outright, providing it's for sale, or place a bid if it's not. If an NFT is for sale you can just hit 'buy it now' and have it delivered to your wallet instantly, or you can choose the 'make offer' option to tempt the holder into a lower sale price.
Conclusion
While much of the Arcade Land and Arcade Metaverse project is still under development, what we have seen so far is enough to generate a fair amount of excitement, as is the fact that Yuga Labs is behind it. The team behind the Arcade Metaverse is seeking to deliver where other similar projects have already failed, targeting a gap in the Web 3 market – inclusivity, simplicity, fun, and the pure enjoyment of gaming in the metaverse.
While the project might look great it needs to play great too, and if it can manage that then even the standard Arcade Land NFT plot buyers could be sitting pretty.