The Complete Guide to Azuki
Are you a fan of anime? Or perhaps you're dreaming of a decentralized future without any of the annoying middlemen that scams us of our hard-earned money? Or maybe you just want to get in on an NFT project that has outperformed Bored Ape Yacht Club?
If that is the case, then we have an exciting NFT project for you right here: Azuki! Azuki is a lively and relentless NFT collection that has grand visions and plans. They promise a lot of really neat things so let us take a moment together to find out what it's all about. Let's go!
What is Azuki?
Azuki is an NFT collection consisting of 10,000 unique and cool anime skateboard characters that launched on 12. of January 2022 with a mint price of 1 Eth. In just three minutes, the entire auction was sold out. It is safe to say that Azuki changed the world of NFTs on that day.
However, Azuki is really much more than just a cool anime character. There is plenty of cool utility to be found here. After all, one of the core mission statements of Azuki is to develop a community in the metaverse that is by the people and for the people – not a world made by many, owned by the few.
By owning an Azuki NFT you gain access to what they call "The Garden". This is the project's virtual space where artists, builders, and web3 enthusiasts come together to create a new decentralized future for everyone to prosper on their own terms.
Furthermore, Azuki holders also gain access to a good variety of niche bonuses. These include exclusive drops, experiences, and more.
They are also starting a fractionalizing process. Once that process is complete the team will be looking into making a full-fledged game with proper scalability and appeal for the masses.
In the future, Azuki will turn its gaze towards the physical world. One of their main visionary goals is to become the largest decentralized brand of the future. So, there are many things to come yet for Azuki. For example, they plan on designing and releasing exclusive merchandise for holders of an Azuki NFT.
Eventually, they will try to bridge the physical and virtual worlds through a combination of interactive experiences and games.
They are also looking to enter into fruitful partnerships with other companies that will help them create a DAO and then eventually a $BEAN token. This will be the currency of their Azuki-verse.
How are Azukis made?
Azukis are made as computer drawn characters in their own and unique anime cartoon style. In the creation of an Azuki there are many different factors that determine its look. And some of these are incredibly varied. Here is the list of traits and features an Azuki NFT can be comprised of:
Type
Special
Clothing
Offhand
Hair
Headgear
Face
Neck
Eyes
Mouth
Ear
All of these traits are then mixed around to create truly unique NFTs. You'll basically own your very own anime character. Seeing as Azuki is also planning on releasing their very own anime in the future with the NFTs as the show's characters, maybe yours will be featured in it!
The amount of traits also means that every Azuki NFT is vastly different from each other. The complexity of their compositions is leagues ahead of many other NFT projects.
There is a different project called Beanz, which is the continuation of the Azuki story. If you own both an Azuki and a Beanz, you can merge them together to create something even more unique!
How do I mint Azukis?
The mint for Azuki NFTs took place on the 12. of January 2022. You could get in on it through the Azuki website. Here you had to connect your crypto wallet of choice to the site, and make sure you had 1 Eth plus enough for that day's gas price to make the purchase.
However, the mint finished a long time ago. It only lasted a couple of minutes before every single one of the 10,000 Azuki NFTs had been minted and became owned by people from all over the world.
How to buy Azuki
With the mint finished, you will have to turn to a secondary listing to find an Azuki NFT for sale. And this place is good old OpenSea – one of the most popular and active marketplaces for all of your NFT needs. If you're looking for something, they have it.
At the time of writing this article, the floor price for an Azuki NFT is 9,15 Eth. This is a massive sum of money and it only testifies to the fact that Azuki has become one of the biggest and most successful players in the world of NFT's. Considering the fact that around 1000 NFT projects launch every month, this level of success is astonishing.
To purchase an Azuki NFT from OpenSea you will need to register an account on the site. Then you have to connect your crypto wallet of choice (such as MetaMask, for example) and make sure it contains enough Ether to pay for both the NFT and the day's gas price.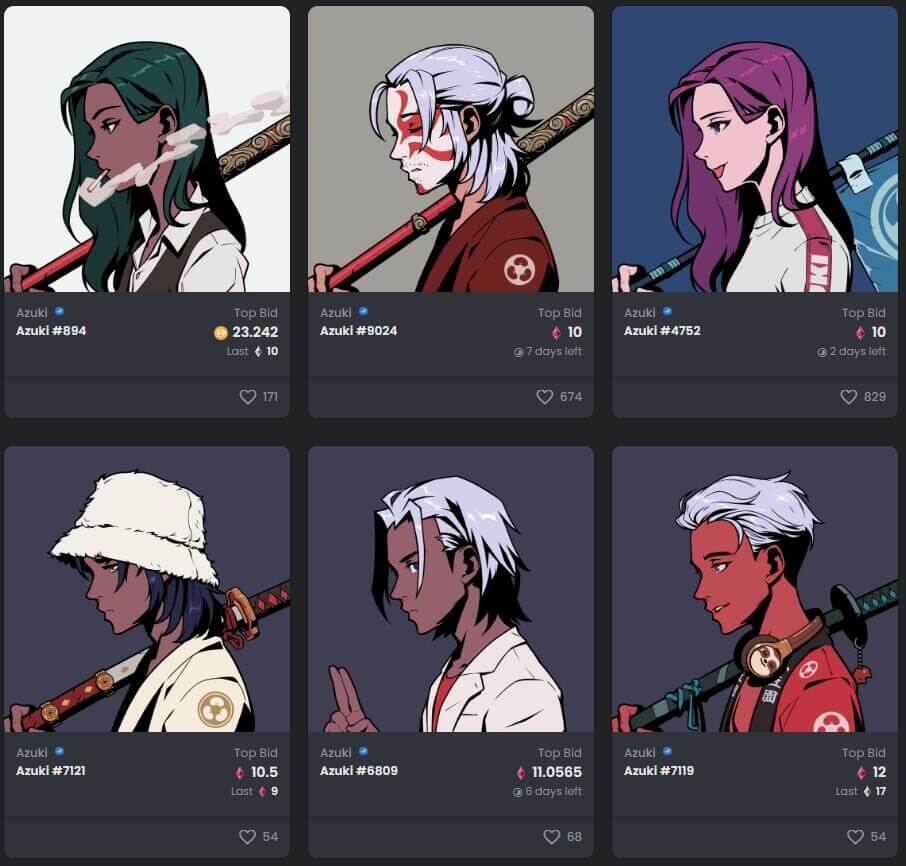 Once that is all in order, all there's left to do is to press buy. Voila, the NFT is yours!
How to sell Azuki
If you hold an Azuki NFT and decide that it is time to sell it, then you will be relieved to find that it is just as easy as buying it.
Azuki NFTs can be sold on OpenSea like most other NFT projects these days. All you need to have is an account on the site and a wallet connected to it. Just keep in mind: if it's your first time selling on OpenSea, you will need to initialize your wallet first.
Once that is done, click on the profile icon in the top right of the site, and select profile. Now choose the NFT from your wallet you want to sell.
Indicate whether it should be a timed auction or a fixed-price sale. For a fixed-price sale, you simply set the price you want for your NFT. No bidding. It is also possible to set a duration for the sale according to what you prefer.
If there is a specific person you want to sell to, it is also possible to make a reserved sale for that sale. That way, only they can purchase it.
Then you just have to confirm the listing through a simple transaction and voila: your NFT is now on the market!
Just note that to sell on OpenSea there will be certain fees you will need to pay. OpenSea takes a cut of 2% from the revenue for their services. You will also possibly have to pay a royalty fee for the sale.
Why should you consider investing in Azuki?
Now, with a lot of the technical aspects of the Azuki NFT collection sorted, we can start discussing the reasons behind wanting to invest in this particular NFT project.
Of course, questions like these are always hard to answer. After all, it is largely a subjective matter and there can be an ocean of answers. But with any NFT, there are some core elements that make them especially interesting for certain people.
Azuki is incredibly fixated on promoting a more decentralized world where there is room for everyone to express and articulate themselves in whatever way they want. They are also incredibly focused on trying to bridge the physical and virtual world together to create a strong, community-owned brand.
If you're the type of person that wants to see the metaverse further explored and have its possibilities unlocked, this is definitely for you.
If you want to be an owner of something that will potentially show up in a game or an animated show, then this is also an exciting opportunity to get involved.
From a purely financial aspect, Azuki is also a very lucrative NFT project. Having very quickly outperformed some of the biggest players on the stage of NFTs, Azuki in itself holds a lot of value. That makes it a great addition to any portfolio if you have the money to acquire one.
If you're a fan of anything anime, then Azuki is a great choice to get involved with. Their unique take on the anime style coupled with the mindblowing variety of the traits and features each NFT has makes for a cool collector's piece for any occasion.
Conclusion
The Azuki NFT collection has virtually blown everybody in the NFT community away. Being one of the fastest and top-selling NFTs out there is a very impressive achievement to have for a project that is still so young.
With a great vision of creating a more decentralized world and giving people the space and opportunities they need to activate their inner potential with a brand that wants to bridge two worlds, we have a truly unique and revolutionizing project in the works that is poised to change the game for good.
It's hard to beat something of these proportions, so to see how Azuki will fare in the future going forward will be very exciting.