Complete guide to BEANZ
BEANZ is the second NFT project from Azuki, a new brand with a strong anime connection. Azuki launched its first eponymous NFT collection in January 2022, featuring 10,000 hand-drawn characters designed for the metaverse, and quickly gathered a huge following.
The BEANZ collection was an airdrop for Azuki holders that landed on March 31 and was revealed to the world a little over a month later. Designed around the Japanese adzuki bean, these loveable characters, with varying personalities, were matched to the holder's Auki NFT and quickly proved to be almost as big a hit as their 'human' cousins.
What is BEANZ?
Hype for BEANZ started on March 31, 2022 when Azuki holders each received two NFT airdrops during the Azuki NFT LA party. The airdropped items went through several phases, including a crate and a pile of dirt, before Azuki teased two BEANZ, Tosh and Gus, on social media. The full reveal came on May 5, when BEANZ finally sprouted:
Toshi and Gus were revealed to be just two of the 12 BEANZ handed out to Azuki holders, with holders able to use their BEANZ as their portfolio pictures or pair them with their Azuki to make a "dynamic duo". The reveal took the Azuki community by storm, with owners of the rarest ones amassing six figure incomes through the secondary market.
What are the traits of BEANZ?
The BEANZ collection has 13 different trait categories sharing a total of 501 traits between them:
| | |
| --- | --- |
| Trait | Trait count |
| Background | 8 |
| Traits count | 9 |
| Eyebrows | 10 |
| Special | 13 |
| Type | 16 |
| Face | 19 |
| Shoe | 26 |
| Eyes | 27 |
| Mouth | 46 |
| Headgear | 57 |
| Hand | 74 |
| Offhand | 90 |
| Clothing | 106 |
As we can see, there is much more variety in the clothing and accessories, such as headgear and clothing, than physical traits, all of which helps potential buyers find a bean that truly reflects their style.
How does the trait combination impact BEANZ value?
Certain traits can make a huge difference when it comes to the value of your BEAN. For example, the handful of BEANZ with the 'fire – :(' trait in the Mouth category have a floor price of 300 ETH, while those with 'golden toothpick' for their Offhand enjoy a 250 ETH floor price. At the other end, more common mouths such as 'Open Mouth, 'Drool', 'Nom', or ':O' have a floor price of just 4 ETH, which will likely drop further if the floor price itself does.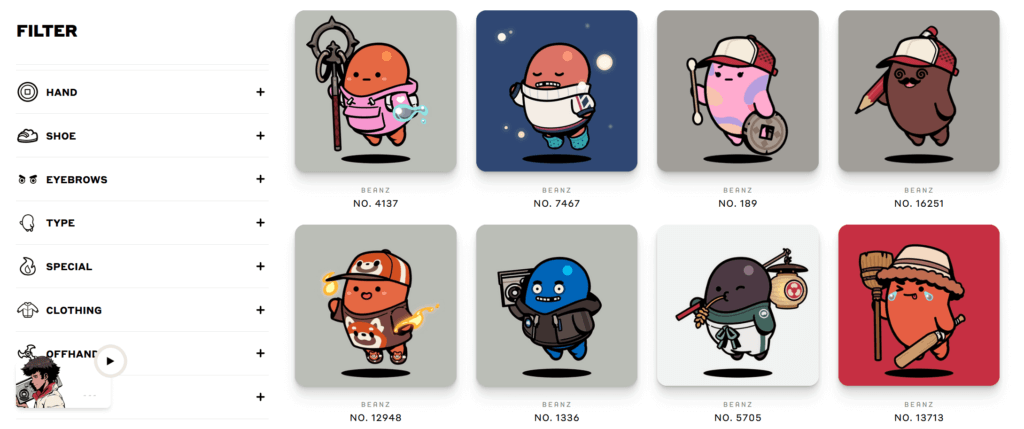 How can you trade BEANZ?
BEANZ NFTs can be purchased on the secondary market through OpenSea. Azuki NFT holders who received their BEANZ airdrop have made at least $11,500 at current prices given that the floor price is 4 ETH, although of course recipients of rarer ones have made much more on the secondary market.
What was the most expensive BEANZ NFT?
The highest selling bean to date is #4096 which sold for 90 ETH ($247,255) on May 5, 2022, the day of the full launch. This bean is the 17th rarest in the BEANZ collection with eight of its traits being shared by 1% of the collection or less. It is also an ultra rare Earth Bean, a trait it shares with just 0.05% of the collection.
How can you find BEANZ for sale?
OpenSea is the chief marketplace for BEANZ buyers, where the floor price is 4 ETH. Make sure you are viewing the official BEANZ collection, which you can check by looking for a verification mark next to the name, to avoid accidentally buying an unofficial BEANZ NFT.
How can you buy BEANZ?
OpenSea lets interested buyers either purchase a BEANZ NFT outright, providing it's for sale, or place a bid if it's not. This is easily done through the 'buy it now' or 'make an offer' options that appear next to your selected BEANZ NFT. Make sure you have ETH in your wallet to pay the transaction fee.
Conclusion
Plenty of Azuki holders have already fallen in love with their BEANZ, and it's easy to see why. The BEANZ airdrop is a great addition to the Azuki collection and is a fitting reward for early Azuki supporters, and with plenty more utility in the pipeline, BEANZ could very well strike out on its own as a very desirable NFT collection.