Birdez Gang Genesis is a wacky and fun NFT collection, based on the Ethereum blockchain, and brought to us by BirdezGangDev.
It's the first of the Birdez Gang NFT collections and it has a maximum supply of 1333 unique NFTs.
Birdez Gang Genesis provides many interesting benefits for its holders, so let's dive deeper into Birdez Gang Genesis!

What Is Birdez Gang Genesis?
Birdez Gang Genesis launched at the end of December 2021, and has since then been soaring to the moon.
Birdez Gang Genesis is dedicated to bringing innovation, inspiration, and education to just about anyone regarding NFTs.
They want to accelerate the pace at which the world is transitioning towards NFTs and crypto currency, so that everyone may live a happy and joyful life. Sounds pretty inspirational!
By owning a Birdez Gang Genesis NFT you gain access to an Alpha Mastermind Group, where you can grow as an NFT collector, find projects early, and meet founders of other projects in a great NFT community.
You also get access to giveaways and exclusive whitelists for other projects BirdezGangDev collaborates with which might just give you an edge on new and upcoming projects. It also acts as a pass for their annual conference in Las Vegas.
A Birdez Gang Genesis NFT also generates its own virtual currency for the NFTs ecosystem. It is called $EED that you can use for a wide array of cool benefits such as breeding another NFT: a Baby Birdez. Every day for 10 years, you can collect 10 $EED per. Birdez Gang Genesis NFT you own.
And finally, each Birdez Gang Genesis NFT allows you a free mint of a Land NFT on the metaverse for your Birdez Gang Genesis NFT to live and interact with others.
How are Birdez Gang Genesis made?
Birdez Gang Genesis is a computer generated and pixelated collection of cool, unique, and fearless birds. Their badass style includes crazy hair, amazing weapons and powerful wings. It's safe to say, they're here to save the day.
As mentioned, every Birdez Gang Genesis is unique based on the configurations of their common and rare traits, and they bring their own take on badass styles that simply radiate OG cool energy. So, it is safe to say that it is not difficult to stand out in the crowd with one of these.
However, you are also able to add your own touch to these cool birds. With the currency, $EED, you can customize their names and bios. You're even able to purchase properties in the Birdez Kingdom for them.
How do I Mint Birdez Gang Genesis?
All 1333 Birdez Gang Genesis NFTs have already been minted, so you won't be able to do it fresh. When the mint happened you were able to access and proceed with it from their website by connecting your wallet and paying 0,07 Eth per. Birdez Gang Genesis NFT.
Some lucky users were whitelisted for the mint and therefore had early access to these fearless birds. This included special Legendary Birdez Gang Genesis NFTs whose value has since skyrocketed.
Birdez Gang NFTs in general can ONLY be minted through their own website, so keep that in mind for future collections.
How to buy Birdez Gang Genesis
Since the mint of Birdez Gang Genesis is already over, you'll have to buy them from a marketplace, if you want your very own badass pixel bird.
The best and only place to do this is on OpenSea. You can currently find a wide array of different and wild Birdez Gang Genesis NFT's on there.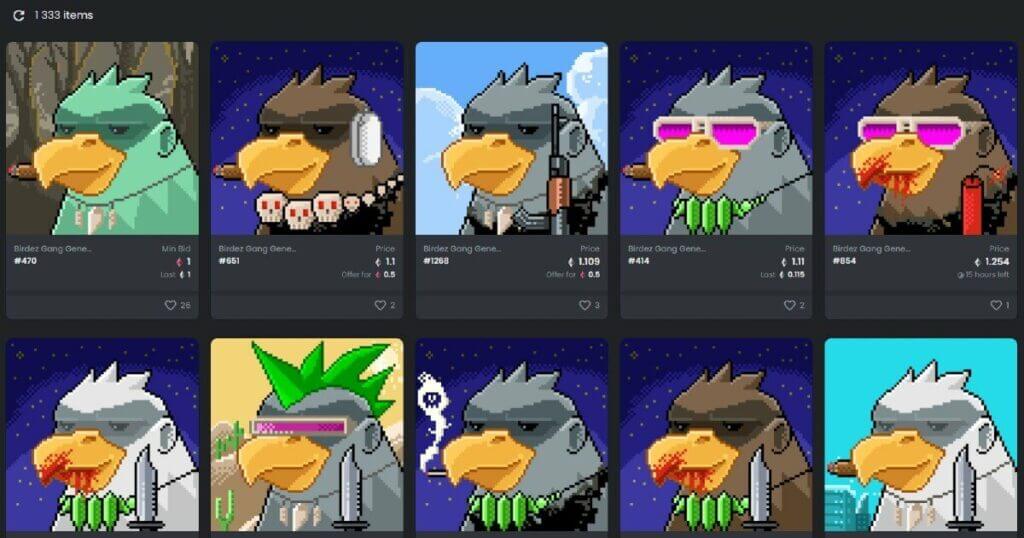 To purchase a Birdez Gang Genesis NFT, you'll need to have some Eth loaded in your crypto wallet. Make sure you also have enough to process the gas fees!
Conclusion
Not only is Birdez Gang Genesis a stunning and cool looking NFT collection, it is also one bursting with utility that'll boost you along on your NFT journey with a great and dedicated community.
Their design is unique, fun, and exciting, which is very fitting considering their mission: to fearlessly advance the use of NFTs in the world.
If you're crazy about NFT's and want something special, Birdez Gang Genesis is one of the must-haves.