The complete guide to Cyber Snails
The Cyber Snails project is an NFT collection that launched early in 2022. It is a project that seeks to set itself apart from the rest of the community by becoming one of the top alpha communities on the metaverse.
So, which utility tools and functions does this ambitious NFT project offer, and what can you use them for? Read along as we explore this project further. Buckle your seatbelts!
What are Cyber Snails?
The Cyber Snails NFT project was established by a group of seasoned NFT traders. Their entire goal is to create a space and a community solely dedicated to making the best NFT trades as possible – getting in early, getting out big, essentially.
By owning a Cyber Snails NFT you will unlock access to a bunch of really useful features that make you a better NFT trader.
For example, if you own a Cyber Snails NFT, you can stake it to earn @UPLOAD tokens. These are ERC-20 utility tokens with no financial value on their own. However, in their slice of the metaverse they are very useful.
You also get access to the Snails Alpha Service where founders, staff, and members share research and profitable moves to enhance your trading game.
There is also a community wallet managed by the founders that each member will have access to. It will provide great value for everyone involved.
Finally, post mint, there will be access to alpha tools such as automated monitoring and trading solutions to help the community trade more effectively.
How are Cyber Snails made?
Cyber Snails is a computer generated, 3D pixel art NFT collection depicting snails. To make them unique, each Cyber Snails is a randomized creation of a bunch of different traits over the standard snail body formula.
For example, the snails can be different colors, have different backgrounds, effects, and they may be organic or mechanical.
This allows for a wide variety of different snails, and this explains the quite large supply of 3300.
How do I mint Cyber Snails?
To mint a Cyber Snails NFT, you had to navigate to their website and connect your wallet containing enough Eth to mint the NFT.
If you owned the Cyber Key NFT before the mint, you were allowed onto a whitelist for the Cyber Snails NFT project so you could skip the line.
How to buy Cyber Snails
Considering the minting period for Cyber Snails is now over, you have to try your luck with a secondary listing to get your hands on one.
Luckily for you, there are plenty of them available on several marketplaces. You can buy Cyber Snails from OpenSea, LooksRare, and X2Y2.
To purchase a Cyber Snails NFT from these marketplaces, you need to register an account on your preferred marketplace and connect your crypto wallet to it. Load it up with enough Eth to cover the listing price as well as the gas fee and then press "buy".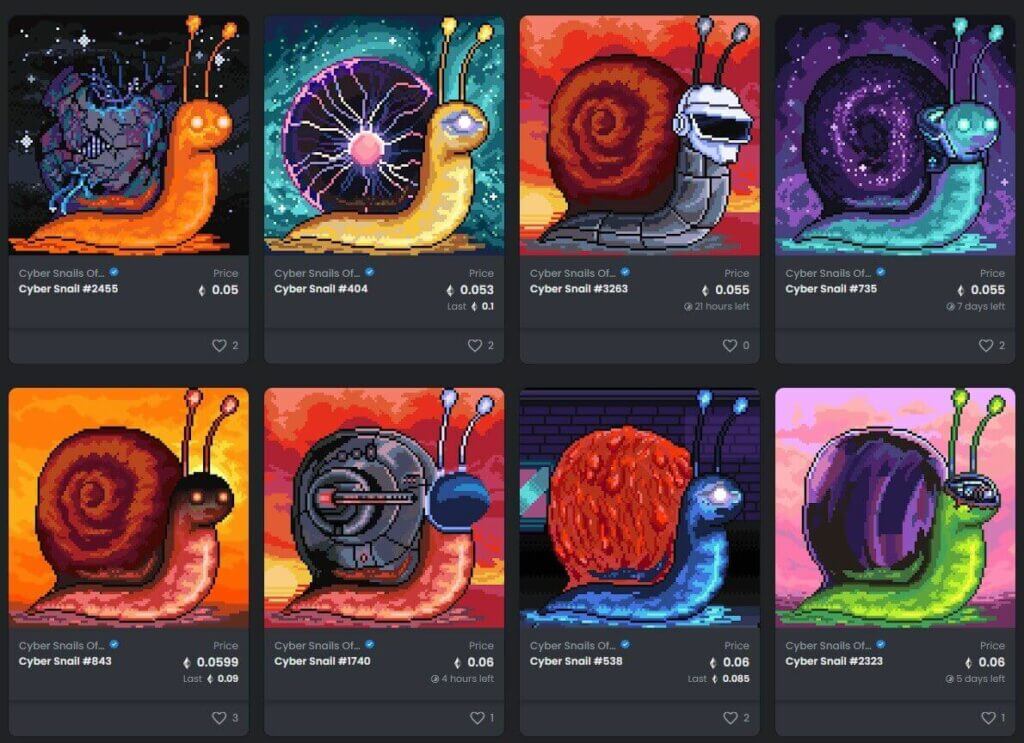 At the time of writing this article, the floor price on OpenSea is 0.039 which makes it very accessible to most people interested in buying an NFT.
Conclusion
If you're curious about how you can become a better trader that makes more profit from your purchases and sales, Cyber Snails is a project that has a lot to offer you.
With their aspirations of becoming the biggest high-alpha NFT community on the web, you will enter a community with very motivated and competent traders.