Complete guide to CyberBrokers
CyberBrokers calls itself a "first-of-its-kind art collectibles ecosystem", with each NFT providing access to and membership of different kinds of metaverse experiences. CyberBrokers caused something of a stir in March 2022 when it moved its entire project on-chain from the InterPlanetary File System (IPFS) at a cost of 91.04 ETH, worth about $250,000 at the time.
Designed by long time NFT creator Josie Bellini, CyberBrokers comprises a series of 10,001 unique and programmable cryptoart collectibles with varying traits, jobs, and perks, designed for use in the metaverse. Owning a CyberBroker will give the holder membership in MirrorWare, a metaverse-native fashion brand that Bellini is currently working on, although the precise functionality of the NFTs is yet to be revealed by the team.
However, this lack of clarity hasn't stopped the project from gaining a select band of keen followers, mainly thanks to Bellini's prowess in the space, with more information coming in 2022.
The CyberBrokers NFT collection is the brainchild of Josie Bellini, a digital artist who has been creating NFTs since 2017 and has a huge following, as well as her own collection of NFT artworks, producing pieces that typically sell for tens of thousands of dollars.
While the actual implementation of CyberBrokers has yet to be revealed, what we do know is that the NFTs will facilitate the project's 10,001 collectibles, while the metaverse will facilitate the experiences and growing ecosystem around these collectibles. What little information we do have as to the role of the CyberBrokers can be found through a three-part fictionalized explainer on Bellini's newsletter, as well as a few comments from an AMA, most notably that the team will not be publishing a roadmap but that buyers should know that they are purchasing "quality art with innovative tech that stores these 100% on-chain."
In March 2022, the CyberBrokers team put every element of the collection on the Ethereum blockchain, breaking the SVG items down into components, compressing them, and storing them as individual layers on Ethereum. This offers more protection than the vast majority of NFTs out there, which only store partial data on-chain – in the case of CyberBrokers, the actual constituent parts of the artwork are on the blockchain, which are then reconstructed directly from the assets using an on-chain transcoder.
CyberBrokers, which are full body NFTs with a range of appearances, ranging from neo-punk to robots, were minted in March 2022.
What are CyberBrokers traits?
The CyberBrokers collection has 36 trait categories and a total of 713 traits:
| | | | |
| --- | --- | --- | --- |
| Trait | Trait count | Trait | Trait count |
| Knees | 2 | Species | 14 |
| Body | 3 | Back | 16 |
| Mind | 3 | Jumpsuit | 16 |
| Soul | 3 | Facial covering | 16 |
| Boots | 3 | Hat | 18 |
| Apron | 4 | Belts | 18 |
| Dress | 4 | Hands | 18 |
| Bracelet | 5 | Helmet | 19 |
| Markings | 5 | Necklace | 22 |
| Facial piercing | 5 | Head accessory | 22 |
| Class | 6 | Mask | 23 |
| Bodysuit | 6 | Accessory | 27 |
| Robotic arms | 7 | Eyes | 37 |
| Underwear | 10 | Pants | 47 |
| Shoulders | 12 | Outerwear | 48 |
| Traits count | 12 | Talent | 51 |
| Vest | 13 | Tops | 64 |
| Sling | 14 | Hair | 120 |
The division of traits is interesting in the CyberBrokers collection, which enforces rarity on a tiny fraction of the NFTs. For example, there are three body types, low (58.66%), medium (40.49%), and high (0.85%). The huge imbalance is repeated in the 10 trait categories with the lowest number of traits in them – one or two traits in the category are present in just a fraction of a percent of the NFTs, with the remaining 99% spread out equally among other other trait categories.
Presumably the relevance of this imbalance will be made clearer as the project develops, but it's certainly an interesting feature and one that has the potential to lead to some extraordinary prices.
How does the trait combination impact the price of the CyberBrokers collection?
The traits of CyberBrokers are handled differently by marketplaces than others, in that they are divided up into properties and levels: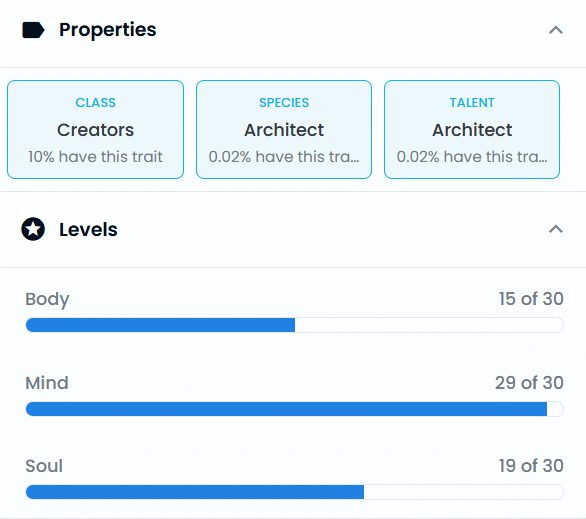 This gives us both a percentage and a scale to work with when looking at price versus traits. What we can see is that on the scale, the 'mind' trait is more relevant to price than the other two: of the top five most expensive CyberBrokers, all have at least 22 out of 30 for 'mind', whereas 'soul' ranges between 2-7 and 'body' between 13-21. This makes the 'mind' rating more valuable than the other two.
With the 'properties' scores, 'species' and 'talent' seemingly have more of an impact on price than 'class', seeing as the former two never go above 0.09% of rarity in the top five big sellers whereas the second most expensive CyberBrokers NFT to date shares its 'class' rating with 10% of the entire collection.
How can you trade CyberBrokers NFTs?
CyberBrokers NFTs are available to buy and sell on OpenSea and LooksRare, where the floor price is 3 ETH. CyberBrokers NFTs had a minting price of 0.35, meaning that minters are sitting on a near 10x profit.
What was the most expensive CyberBrokers NFT?
The most expensive CyberBrokers NFT ever sold was Gnash (#3113), which sold for 150 ETH ($492,000) on March 31, 2022. Gnash is the 8th rarest CyberBroker in the set which helps explain the price, and it was sold to a holder of over 2,000 NFTs, including 31 other CryptoBrokers!
Where can you find CyberBrokers NFTs for sale?
OpenSea and LooksRare are the marketplaces where you can pick up a CyberBrokers NFT right now. However, less than 10% of the collection is up for sale right now, meaning that if you've stumbled across a new favorite elsewhere there's only a 1 in 10 chance of you being able to buy it, unless you're willing to part with a lot of ETH.
How can you buy CyberBrokers NFTs?
The minting of the CyberBrokers NFT collection took place back in March 2022, so the secondary market is the only place to pick one up now. OpenSea and LooksRare allow you to either buy listed CyberBrokers NFTs at the price the seller is asking, or you can place a bid to see if the seller can be moved.
Once you've found a CyberBrokers NFT that you like (and made sure it's for sale), confirm you have enough ETH/WETH in your wallet to buy it and pay the gas fee for the transaction. With your wallet connected, click on the image of your target NFT and see which options are open to you. If you can 'buy now', a quick confirmation in your wallet is all you need to ensure it transfers to you.
If it's not for sale, click 'make offer' to see if you can tempt the owner to part with it. You'll be notified in your wallet if it was successful.
Conclusion
Not much is known about the CyberBrokers project at the moment, with the team intentionally keeping quiet, but there is certainly a lot of hype around it. Its relatively low floor price may be due to the lack of publicized use cases to date, but just once announcement could confirm that the hype is real and send the floor price soaring.
For now then, CyberBrokers remains something of an unknown quantity, but it may not stay this way for long.