Monster Racing League is an exciting, Play-2-Earn multiplayer racing game that combines skill and strategy. Similar to other Kart racing games, the game is extremely fun to play. Whether you're letting off some steam during your coffee break, settling a friendly wager over who's getting the next round, or hosting a competitive tournament with your community, Monster Racing League has got all the tools you need!
You'll even want to play it without the Play-2Earn rewards!

The unique design of the Monsters is unlike anything else in the NFT space and alone would make a great PFP. With up to 6 NFTs in every container including 2 with legendary opportunities and the chance of 1 of 20 passive earning tracks, this is more than just a normal NFT mint.
Holders will be given a choice of whether to mint and hold their assets on Polygon or Ethereum. The game is being built on Polygon for optimal gas and users will need to have the assets on Polygon for game utilities. The assets can be bridged between Polygon and Ethereum networks easily, via the website. This innovative solution allows users to have a choice as to which network they'd prefer to hold their assets on.
Developed by award-winning game studio, Flightless in New Zealand.
Check out the latest NFT news here and see what's coming!
What you get
Minting soon are 5,000 containers for Phase 1 of the sale.
Each container unlocking between 4 and 6 NFTs once opened.
Origin Monster – Chance of 8 Legendary Monsters
Vehicle Cosmetic – Chance of 95 Epic or 5 Legendary
1-2 Tribe Abilities
Boost pack of 20,50 or 100 cards
Chance of 1 of 20 passive earning tracks
Mint
2,500 available to mint on Polygon
2,500 available to mint on Ethereum
Whitelist 24th June – 30th June
$200 USDC (Polygon or Ethereum)
Max 2 Per Wallet
Public Sale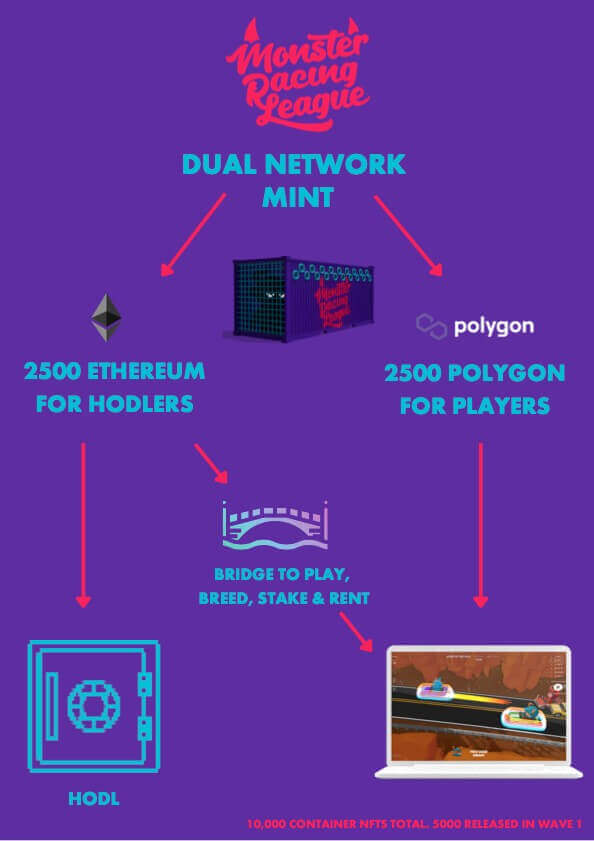 Full Breeding program with a proprietary chromosomal breeding system to attain monsters with different speed, skill, smart stats, different colors, and visual traits.
Origin monsters are only available from containers and come with the unique benefit of being able to integrate supported VX/3D rigged collections to bring other NFT projects into the game, on their own track.
Key Points
Demo game available now.
Full game launch in Q3 2022.
Holders will get access to the 3D versions of their monsters.
The monster artwork is flexible allowing for new game modes beyond only racing cars.
Breeding, Staking, and Renting before game release.
Ongoing development and release of tracks, vehicles, cosmetics, etc.