Complete guide to Mutant Ape Yacht Club
The Mutant Ape Yacht Club is another spinoff of the massively popular Bored Ape Yacht Club brand, airdropped to Bored Ape NFT holders in August 2021. This collection of over 19,000 mutated apes were the final stage of the first Bored Ape Yacht Club roadmap released by creators Yuga Labs.
The collection has gone on to be hugely popular in its own right, with the floor price never dropping below 4 ETH following the launch before its popularity surged in late 2021, driving the floor price up to the 40 ETH mark.
With Yuga Labs' Otherside metaverse project gathering momentum ahead of the launch, the members of the Mutant Ape Yacht Club will continue to be just as sought after as their less mutated cousins.
What is the Mutant Ape Yacht Club NFT collection?
The Mutant Ape Yacht Club NFTs were developed with two different mutant strains – M1 and M2. For every Bored Ape Yacht Club held, owners were airdropped a vial of M1 or M2 serum, which, if they chose to, they could apply to their original Ape, generating a Mutant Ape that held the same characteristics as the original.
Unlike other projects that impose a time limit on such events, no time limit has been applied to Bored Ape holders, meaning that serums are still available on the secondary market for those who want to engage in the mutation.
In addition to this, an extra 10,000 Mutant Apes were made available for the public at the end of July, 2021. Released without fanfare, a random Mutant Ape of either strain could be minted via Dutch auction starting at 3 ETH. Mutant Apes started appearing on the secondary market a week later.
What are Mutant Ape Yacht Club traits?
Mutant Ape Yacht Club NFTs have nine trait categories, sharing 360 traits between them:
| | |
| --- | --- |
| Trait | Trait count |
| Trait count | 5 |
| Name | 12 |
| Earring | 13 |
| Background | 17 |
| Fur | 39 |
| Eyes | 47 |
| Mouth | 67 |
| Hat | 73 |
| Clothes | 87 |
In some cases the traits are evenly spread, such as 'fur' which has 39 traits with a minimum rarity of 10.18% and sees the traits fairly evenly distributed. Others are highly concentrated, such as 'earring', with the 'none' trait featuring in 70% of the collection and the other 12 traits split across the remaining 30%.
How does the trait combination impact the price of the Mutant Ape Yacht Club collection?
While some traits are hard to isolate in terms of price impact, others certainly aren't. This throws up some interesting oddities. For example, most NFT collections see a higher trait count as being more valuable for the NFT in question, but with the Mutant Ape Yacht Club the top ranked apes all have a trait count of just 1, the lowest rating possible. Nevertheless, the NFTs within this category that have changed hands have all done so for at least 222 ETH.
For Mutant Apes those that have more than one trait, it pays to have one whose traits are generally under 1% in rarity, although fur and background can be over 2.5% and still be very rare. Those matching these credentials typically change hands for over 100 ETH.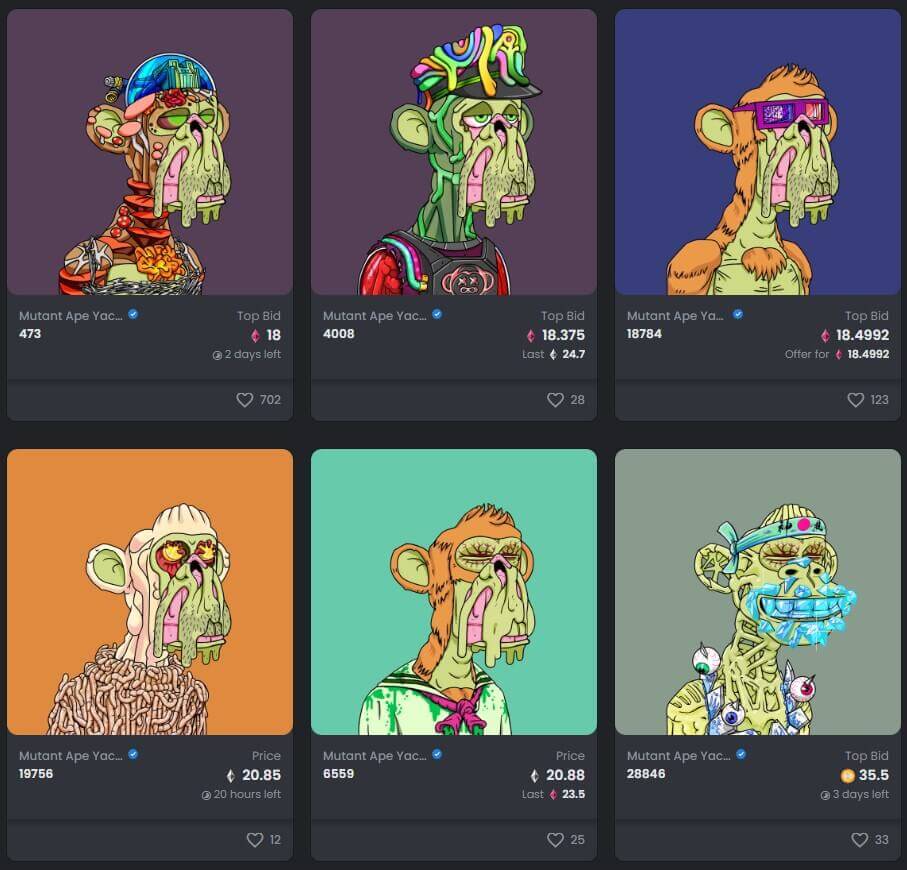 How can you trade Mutant Ape Yacht Club NFTs?
Mutant Ape Yacht Club NFTs are available to buy and sell on OpenSea, where the floor price is 21 ETH. Given that all the Mutant Ape Yacht Club NFTs were airdropped to BAYC holders for free, this presents a very nice payday for recipients, on top of the other assets they have been gifted by Yuga Labs.
What was the most expensive Mutant Ape Yacht Club NFT?
The most expensive Mutant Ape Yacht Club NFT ever sold for 350 ETH ($835,590) on August 29, 2021, almost the moment the collection went live on OpenSea. This was #4849, one of the 11 Mutant Apes ranked in the top category for rarity. This helps explain the high price, although it is also likely that the buyer vastly overestimated the early valuations of the collection, which were 10 ETH in the opening days, dropping down to 4 ETH within two weeks.
Where can you find Mutant Ape Yacht Club NFTs for sale?
Mutant Ape Yacht Club NFTs can be picked up from OpenSea, where the 21 ETH floor price is not putting off punters – Mutant Ape NFTs are still changing hands on an hourly basis. Check for the blue verification mark to make sure you're viewing the authentic collection before you buy
How can you buy Mutant Ape Yacht Club NFTs?
Mutant Ape Yacht Club serums were airdropped to all Bored Ape Yacht Club NFT holders in August 2021, so the secondary market is the only place where you can pick up a Mutant Ape now. If you fancy stumping up the floor price for the basic model without any bells or whistles, or you've got more to throw at a deluxe version, head over to OpenSea and connect your ETH wallet.
Once you're all hooked up you can either choose the 'buy now' option to secure your Mutant Ape right away or the 'make offer' option to tempt the seller with a lower bid. Sign the transaction in your wallet and your ape is yours.
Conclusion
The Mutant Ape Yacht Club has proved to be a popular spinoff of the original Bored Ape project, with kudos going to Yuga Labs for the way it was implemented. No doubt when the Otherside metaverse gets going Mutant Apes will have their place, and the persistently impressive floor price is testament to the regard with which the collection is held.