The Complete Guide to Premint Collector Pass
If you're an avid NFT collector or if you're finding it hard to find exciting and new NFT projects that are minting right now, Premint Collector Pass might just be the NFT you're looking for.
This exciting new pass unlocks a powerful NFT dashboard and software for you to use in your quest to find the next big hit. But what exactly does this dashboard and software give you access to, and what can you expect from it in the future to come? That is what you and I shall explore together today!
What is a Premint Collector Pass?
The Premint Collector Pass NFT collection is a collection of passes that gives you early access to the powerful and evolving Premint premium collector software. Essentially, this is a must-have tool for anyone deeply invested in the world of NFTs.
The Premint collector software has a wide array of really useful features that can help you get ahead of everyone else in the race to finding the next big NFT drop.
At the moment, these features include:
The multi-wallet beta

This allows you to connect and designate a minting wallet (hot wallet) to the platform.

The inbox

The Premint inbox will show you all the lists you've registered for, which raffles you've won as well as providing reminders of upcoming mints.

The calendar feed

Here you can subscribe to a personalized calendar that includes every mint you've registered for. It also sends you alerts for the mint when something happens.

The collector newsletter #1

A newsletter spreading awareness of new lists you might find interesting to join.
In the month of May 2022, they're planning to release the explore & leaderboard. Here you will be able to explore ALL publicly available premint lists. You can sort by popularity, trending, and more.
For June 2022 they're planning on adding the eligibility dashboard. This dashboard will be able to show you which NFT collections you're eligible for based on your current collection. It also makes it easy to get on the list of these projects.
So, overall, the Premint Collector Pass gives you access to an amazing dashboard that helps you stay organized in your NFT quest.
In the future more passes will be released. This Premint Collector Pass unlocks access to the benefits that are added and developed in 2022 and 2023. Once we reach 2024 you will need to acquire another pass to get early access to those now unspecified features.
For this reason, we highly recommend you keep a good eye on their roadmap to stay alert on any new developments and features that are planned to be added.
It's a project in constant development, so there is without a doubt much in the pipeline coming.
How are Premint Collector Passes made?
The Premint Collector Passes, while being an NFT, is not one in the traditional sense that we understand it.
Typically you have various designed characters with different traits, backgrounds, poses, and more. The Premint Collector Pass is not like this.
Seeing as it is a pass that unlocks a powerful NFT collector software, it doesn't need to have this graphical aspect for them to obtain value such as an Akutars or Birdez Gang NFT would have.
They're all identical and provide the same benefits as each other. So, we can't talk of an aspect of rarity. There aren't different tiers that unlock special benefits for the passes either.
How do i mint Premint Collector Passes?
The mint for the Premint Collector Passes took place on April 1. 2022. With 10,000 passes available, these could all be minted straight from the Premint website.
All you had to do was connect your crypto wallet to the website's interface. Then it had to be loaded with the required amount of Eth to start the minting process and you'd be the proud owner of a Premint Collector Pass (or as many as you'd like).
Currently, all passes have already been minted.
How to buy Premint Collector Passes
Now that the mint for the Premint Collector Passes is finished, you will have to purchase it from a secondary listing. This can be found on OpenSea.
OpenSea is one of the biggest NFT marketplaces around, and if an NFT project is for sale, this is typically where you'd be able to find it.
When you navigate to the OpenSea listing for the Premint Collector Pass, make sure to check for the blue checkmark. This is to verify that you're at the right place.
At the time of writing this article, the floor price for a Premint Collector Pass is 1.04 Eth. However, the price fluctuates significantly and this is prone to change.
To buy the Premint Collector Pass from OpenSea, you need to register an account at the website. Then, you connect your crypto wallet of choice to OpenSea. Finally, make sure it has enough Eth loaded to pay the price for the listing as well as covering the gas fees.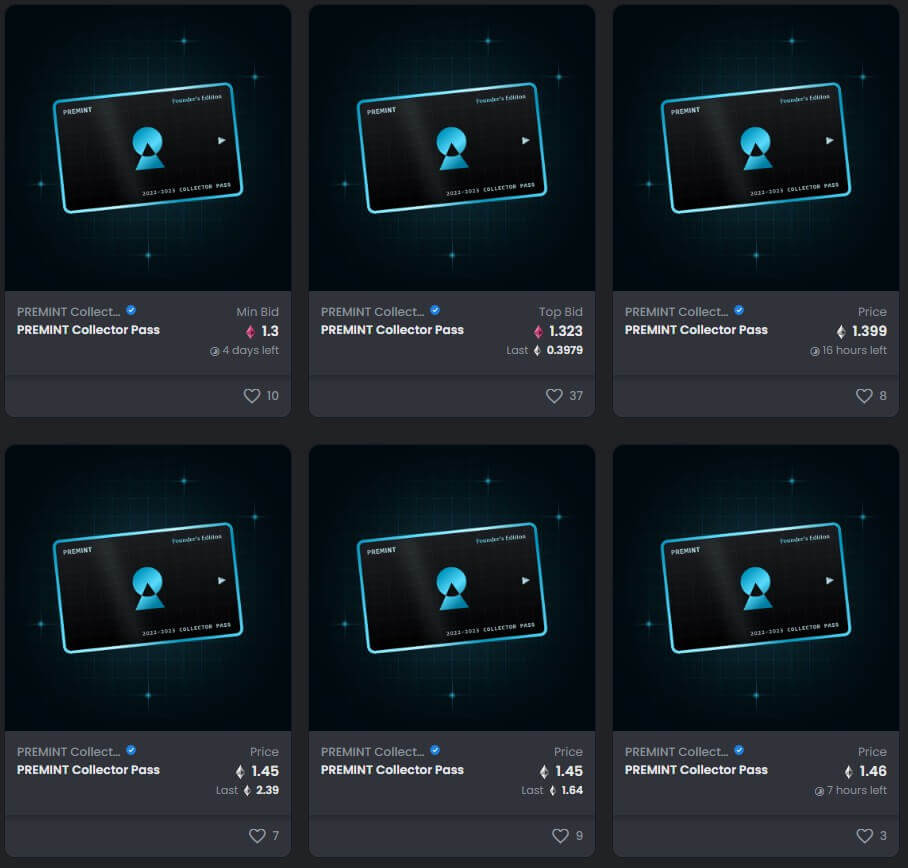 Once that is all done, all you have to do is press buy and the pass will be yours so you can unlock the powerful features of the Premint collector software.
Conclusion
NFTs are increasing in popularity every day, and this means more and more projects and collections launch. With the volume of NFT projects out there it gets very difficult to sort between what you'd be interested in and what you wouldn't be.
With the Premint Collector Pass you get early exclusive access to a powerful piece of software that makes it much easier for you to keep track of what you own, which lists you are eligible for, and which new mints that might pack a punch in your NFT portfolio.
If you want to take your NFT game to the next level, acquiring such a pass and unlocking the software's features is a pretty great way to go about it. The project is in continuous development, so it is a gift that keeps on giving.