Complete guide to Psychedelics Anonymous Genesis
Psychedelics Anonymous Genesis is one of four sub-collections under the guiding hand of Psychedelics Anonymous, a group of seven individuals headed by Lewis Gale, Managing Director of digital branding agency Voltura and founder of its Web 3 offshoot, Voltura Labs.
The inspiration for the collection is mental health, and in particular psychedelic-assisted therapy, or the utilization of psychedelic substances, such as hallucinogenic drugs, as part of a treatment program to tackle mental health issues. Gale says that the goal of the Psychedelics Anonymous project is "educating, helping, and furthering research into mental health issues", which he himself suffered from for many years in his youth, and he has stayed true to this belief – Psychedelics Anonymous is working with Mind Medicine Australia to facilitate metaverse-based one-on-one sessions with specialist clinicians to provide psychological support services, gender-specific support groups, and specialized workshops regarding psychedelics.
These services, and more, will only be accessible exclusively to Psychedelics Anonymous NFT holders, which gives buyers even more reasons to hold, alongside the brilliantly designed NFTs themselves.
What is the Psychedelics Anonymous Genesis NFT collection?
The Psychedelics Anonymous Genesis NFT collection was designed by Psychedelics Anonymous lead artist Joshua Connelly and gives token holders exclusive access into limited-run merchandise in the physical world as well as wearables in the metaverse, although the core offering is access to the various services that Psychedelics Anonymous is working to build.
The pieces themselves are digital 3D busts of various characters with a sci-fi, dystopian feel, all with a very different appearance and inspiration behind them. The sheer variety of these faceless, vaguely threatening individuals will be very appealing to those who appreciate artistic endeavors in this sector, and so it has proved, with over 94% of the collection taken off the table by holders.
Of course, the rewards are as important as the design in terms of appeal, probably more so in fact, and the Psychedelics Anonymous Genesis team has promised additional rewards to Psychedelics Anonymous Genesis NFT holders in the future, imbuing them with "…the most prestigious level of Psychedelics Anonymous membership." It is known that this will include access to VIP metaverse and IRL areas, staking, and future DAO membership allocations.
What are Psychedelics Anonymous Genesis traits?
The Psychedelics Anonymous Genesis collection has 18 traits which determine rarity:
| | | | |
| --- | --- | --- | --- |
| Trait | Trait count | Trait | Trait count |
| Background | 45 | Mask | 186 |
| Clothing | 2 | Masked Head | 87 |
| Drawstring | 52 | Neck | 75 |
| Element | 45 | Pin | 29 |
| Eyelets | 14 | Shirt | 57 |
| Head | 111 | Sweatshirt | 96 |
| Hood | 92 | Tie | 59 |
| Jacket | 74 | Type | 2 |
| Lapels | 73 | Zipper | 43 |
As we can see, despite the fact that there are almost 6,000 NFTs in the collection there are only two types of clothing: hoodies and suits. Don't let this fool you however – the sheer variety of design when it comes to these two clothing types has to be seen to be believed. And when you factor in the sheer number of different heads (111) and masks (186), the fact that there are only two clothing types and two types of design overall (masked and unmasked) doesn't impact the variety.
How does the trait combination impact the price of the Psychedelics Anonymous Genesis collection?
From the sales that have taken place so far, it doesn't seem that specific traits are more or less sought after as opposed to the overall rarity score. Neither of the two most expensive Psychedelics Anonymous Genesis NFTs sold to date have any traits shared by more than 0.78% of the collection, with many being far lower. This suggests that overall rarity is prized over selective traits.
Part of this could be down to the fact that individual differences aren't all that important to the utility of a Psychedelics Anonymous Genesis NFT, in contrast to gaming NFTs whose traits are crucial because they can impact the odds of victory. However, with every Psychedelics Anonymous Genesis NFT having the same utility, it is likely that rarity of traits plus personal preference for the design have more of an impact on price.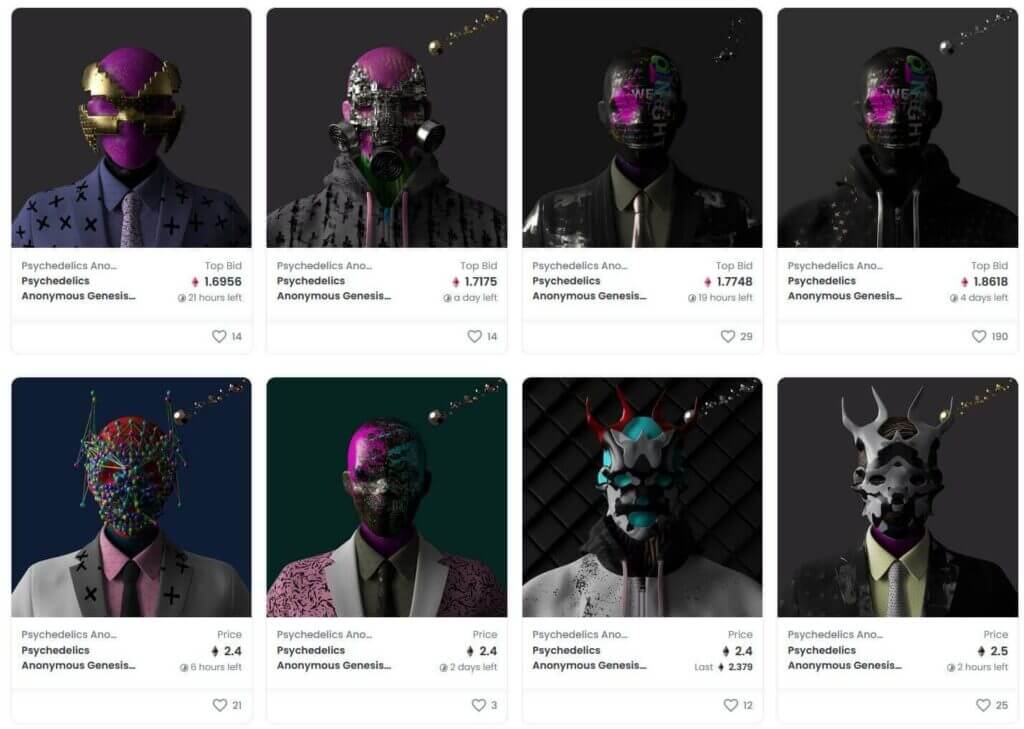 How can you trade Psychedelics Anonymous Genesis NFTs?
Psychedelics Anonymous Genesis NFTs are available to buy and sell on OpenSea and LooksRare, where the floor price is 2.4 ETH. Psychedelics Anonymous Genesis NFTs may be so distinctive that you may think you've definitely got the right collection when browsing, but make sure by checking that the 'verified' stamp appears next to the collection or creator name.
What was the most expensive Psychedelics Anonymous Genesis NFT?
The most expensive Psychedelics Anonymous Genesis NFT ever sold was #2958, the 19th rarest NFT in the collection. This item went for 40 ETH ($117,200) on February 14, 2022, which is not surprising since it shared its most widely shared trait with just 0.39% of the entire collection. This shows how important overall rarity is to the price of a Psychedelics Anonymous Genesis NFT.
Where can you find Psychedelics Anonymous Genesis NFTs for sale?
OpenSea and LooksRare are the marketplaces where you can pick up a Psychedelics Anonymous Genesis NFT right now. However, with only 6% of the collection up for sale it pays to not fall in love with one before you've selected the 'buy now' or 'on auction' filters before browsing to avoid disappointment.
How can you buy Psychedelics Anonymous Genesis NFTs?
The minting of the Psychedelics Anonymous Genesis NFT collection took place back in December 2021, so the secondary market is the only place to pick one up now. OpenSea and LooksRare let you either buy listed Psychedelics Anonymous Genesis NFTs outright at the price the seller demands or you can place a bid on the few that are put up for auction.
Once you've found a Psychedelics Anonymous Genesis NFT that you like (and checked it's for sale), make sure your wallet contains the right amount of funds (plus the gas fee) and connect it to your exchange of choice. Next, click on the image of your target NFT and see which options are open to you – you can either 'buy now' at the listed price, which means the NFT will be yours instantly, or you can select the 'make offer' option and see if it is enough to tempt the buyer to sell.
Conclusion
The Psychedelics Anonymous Genesis NFT collection is a very interesting idea with a very noble concept. Creator Lewis Gale is clearly very keen on bringing the subject of mental health to the next generation of digital natives, educating them on the danger signs and allowing them to get help in the metaverse.
The fact that he and the rest of the Psychedelics Anonymous collective have chosen to do this through an undeniably impressive collection of artworks with more variety than you can shake a gold mesh-wrapped head is even more pleasing, and its low floor price compared to other less impressive and noble NFT collections is certainly worth your consideration.