The complete guide to PXN: Ghost Division
PXN: Ghost Division is a fresh NFT collection with a supply of 10,000 NFTs depicting cool anime resistance fighter characters. The project launched 13. of March 2022 and brings with it some quite new and intriguing ways to organize and engage an NFT Community.
Owning a PXN: Ghost Division NFT brings with it plenty of cool utilities, so join us on our journey to learn more about this project!
What is PXN: Ghost Division?
PXN: Ghost Division is an NFT collection entirely about shaping and forming a unique and engaging web3 experience that allows its users to view the world through a different lense.
The project is still young, but the goal is to craft a network of utilities that'll enhance your experience in the web3 environment through their platform.
The collection is based on a series of anime characters that are part of a mysterious resistance force fighting against an enemy that seeks to thwart their goals and aspirations.
In this resistance there are 100 regiments composed of 100 ghosts under a Phantom's command. You, the owner of the NFT, will be part of one of these regiments.
Each regiment will act independently from each other, and what each regiment will do is based on the personalities it is composed of.
Each regiment also gets a stipend of the project's very own token: $PXN. The phantom can distribute these to ghosts who do something beneficial for the regiment. You also gain these tokens passively as part of a regiment, and the higher your rank is, the more $PXN you earn.
$PXN can be spent on customizing your NFT as well as subscribing to useful PxN platform tools. You will even gain access to whitelist spots for other great NFT projects.
The team behind the project is anonymous, but they go by the names Rei, Pants, X4, and Dex. Together they form a formidable team of skill and vision.
How are PXN: Ghost Division made?
PXN: Ghost Division NFTs are computer drawn anime characters that have a wide variety of traits that are then randomized to create very unique characters that you can identify yourself with.
These traits include skin color, hair style, hair color, weapons, clothes, backgrounds, background color, and all other kinds of accessories. The details of these many traits are really quite numerous and well-developed which allows for the characters to have individual souls and their own touch.
Earlier, these characters received criticism due some of them possibly being plagiarized from popular anime shows and mangas. This has since been rectified so that all characters are as original as can be.
How do I mint PXN: Ghost Division?
You were able to mint a PXN: Ghost Division NFT through an old fashioned Dutch auction set up by the team. 4,000 of these "ghosts" were minted this way at a price of 2 Eth. For every 15 minutes the auction lasted, 0.05 Eth was cut off the price until the price hit 0.10 Eth. There was a limit of 2 NFTs per wallet for the auction.
The other 6,000 NFTs were reserved for a whitelist-only mint at half the price of the public auction. Here, the cap was 1 NFT per wallet.
How to buy PXN: Ghost Division
Since the mint is over, you will have to find other ways to get your hands on a PXN: Ghost Division NFT. Fortunately for you, it is quite easy!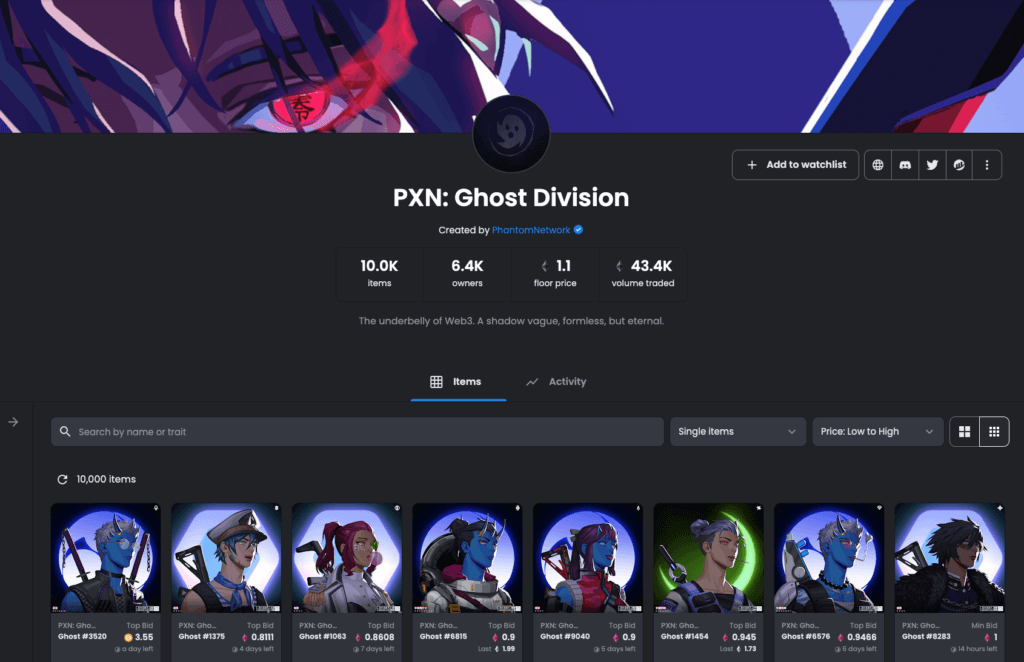 The simplest method is for you to navigate to OpenSea – which is the largest NFT marketplace. Then you will need to create an account on their site, connect your wallet, and purchase a PXN: Ghost Division NFT of your choice. At the time of writing this article, the floor price is 1.144 Eth.
It is also possible to purchase a PXN: Ghost Division NFT from Looksrare if you prefer that marketplace overall. The process of purchase is largely the same as on OpenSea. At the time of writing this article, the floor price is 1.15 Eth.
Conclusion
PXN: Ghost Division is still in its early stages, but everything looks very promising so far. Not only does the team have pretty big aspirations for what they can do to enhance the web3 experience, but they also have crafted an intriguing backstory for the project that is impossible not to be captivated by.
This NFT project also has a very unique and interesting way of organizing its community in order to give it a purpose and a goal that drives the whole project forward. If this sounds engaging and exciting for you, this project is right up your alley!