The Complete Guide to VeeFriends Series 2
VeeFriends Series 2 is the next step in the VeeFriends NFT collection. With brand new characters and older characters updated, VeeFriends founder Gary Vaynerchuk is taking the VeeFriends community to the next level and helping people cultivate their business and creative passions more than ever before. Let's explore this new collection and see what it is all about!
What is VeeFriends Series 2?
As mentioned, VeeFriends Series 2 is the next step in the VeeFriends NFT collection, and so it is a continuation of founder Gary Vaynerchuk's vision. VeeFriends Series 2 was made to build a community around Gary Vaynerchuk's creative and business passions through the use of NFT technology and its smart contract capabilities.
VeeFriends Series 2 consists of 55,555 NFTs and is based on the Ethereum blockchain. The NFTs are generated based on 251 VeeFriends characters, 55 backgrounds, and 6 poses. VeeFriends Series 2 contributed 15 new characters to this impressively varied list.
The man behind it all and the driving force behind VeeFriends Series 2, Gary Vaynerchuk, believes that to truly understand something, you have to get involved with it. That is why he decided to create his very own NFT collection and use it to create an environment of learning and passion. When Vaynerchuk isn't spreading NFTs to the masses he's a practitioner and operator, focused on keeping people at the top of their health.
How are VeeFriends Series 2 made?
VeeFriends Series 2 is a completely hand drawn collection of NFT's that consists of 251 special characters, 55 backgrounds, and 6 different poses. Each VeeFriends Series 2 NFT is unique as these three elements then get randomized to create a wide variety.
So, let's say you've taken an interest in a specific VeeFriends character. That character will exist in 6 different poses and 55 different backgrounds. This allows you to purchase the NFT that looks exactly how you want it to.
Each character represents human traits that Gary Vaynerchuk admires or is curious about. And Vaynerchuk specifically focused on those traits he believes will lead to happiness and success. Quite inspirational! Additionally, some of the characters are also cool pop culture references.
Gary Vaynerchuk called his characters for "Friends". This is because he believes that doing business with friends can be fun, and together you can build a community around common interests that supports each member through kindness and empathy.
How do i mint VeeFriends Series 2?
There were different ways to go about minting a VeeFriends Series 2 NFT and all of it took place on the VeeFriends website.
On April 5th 2022 VeeFriends drew wallet addresses and their mint allocations for their Friends List. The Friends list is VeeFriends Series 2's version of a whitelist. To get on to that list you had to own Book Games tokens. 32,000 NFTs were minted in this process on April 18th.
The same day, owners of a VeeFriends Series 1 also got a free claim for their very own Series 2 token. 10,255 NFTs were minted in this process.
On April 25th, the auction went public with a supply of 10,000 VeeFriends Series 2 NFTs.
Two days later on April 27th, 15 new characters to the collection were auctioned off with a supply of 3,300. To obtain one of these you had to win a raffle and be one of 214 lucky winners. Then you'd be able to burn Book Game tokens and receive a corresponding NFT.
How to buy VeeFriends Series 2?
With the mint now over, you will have to buy a VeeFriends NFT from one of the many owners.
This is done through OpenSea – one of the most popular NFT marketplaces around.
The VeeFriends Series 2 collection can be found there. It is denoted by a blue verified mark to confirm you're at the right place. Always check for this mark before buying from any collection.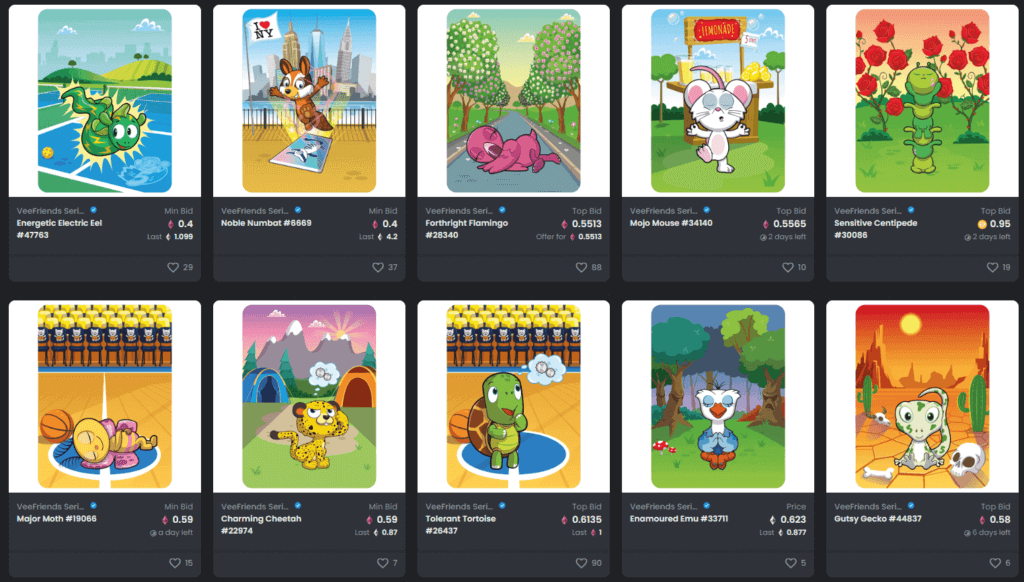 The current floor price, at the time of publication of this article, is 0.64 Eth plus the gas price for the transaction. Therefore, you will need a crypto currency wallet such as MetaMask and have it loaded with the required amount of Eth to process the transaction.
Conclusion
VeeFriends Series 2 is an exciting new step in the story of VeeFriends. As it promotes an environment of business and learning among friends, this NFT can help you broaden your horizons and learn more about the huge business world out there.
The NFT's themselves are cute and represent something wholesome – perfectly in line with the general message of VeeFriends: to learn and cultivate your business passions. If this sounds like a community you want to be a part of, you should get it!