Earlier this year, Starbucks made headlines for its new NFT project that would bring the magic of blockchain to its customerbase. This brought a lot of excitement to NFT lovers as it meant that one of the biggest consumer brands in the world was publicly endorsing the technology.
Now, it seems that Starbucks is not the only major coffee franchise getting in on the NFT action. This comes as Costa Coffee, a popular coffee chain, has announced a new partnership with Artisan Lab, a sneaker company, for its new NFT project. This partnership saw the two release sneakers as part of National Espresso Day celebrations on November 23, 2022.
Costa Makes a Splash
This new project merged the two companies' offerings, coffee and sneakers, in a unique way. On social media, there has been a trend of people dying their sneakers using coffee and this collaboration is tapping into this. As such, Costa and Artisan Lab have released 20 pairs of coffee-dyed sneakers called 'The Drip 1' which can be won by entering a contest.
The contest is being run on the official Costa social media pages and not only will winners get their hands on one of the sneakers but they will also get an NFT as a certificate of authenticity. The sneakers were dyed with, and are being used to raise awareness for Costa's Mocha Italia Blend and is a part of the ongoing 'Costa-Misation' campaign. This campaign was designed by the digital agency, AnalogFolk London.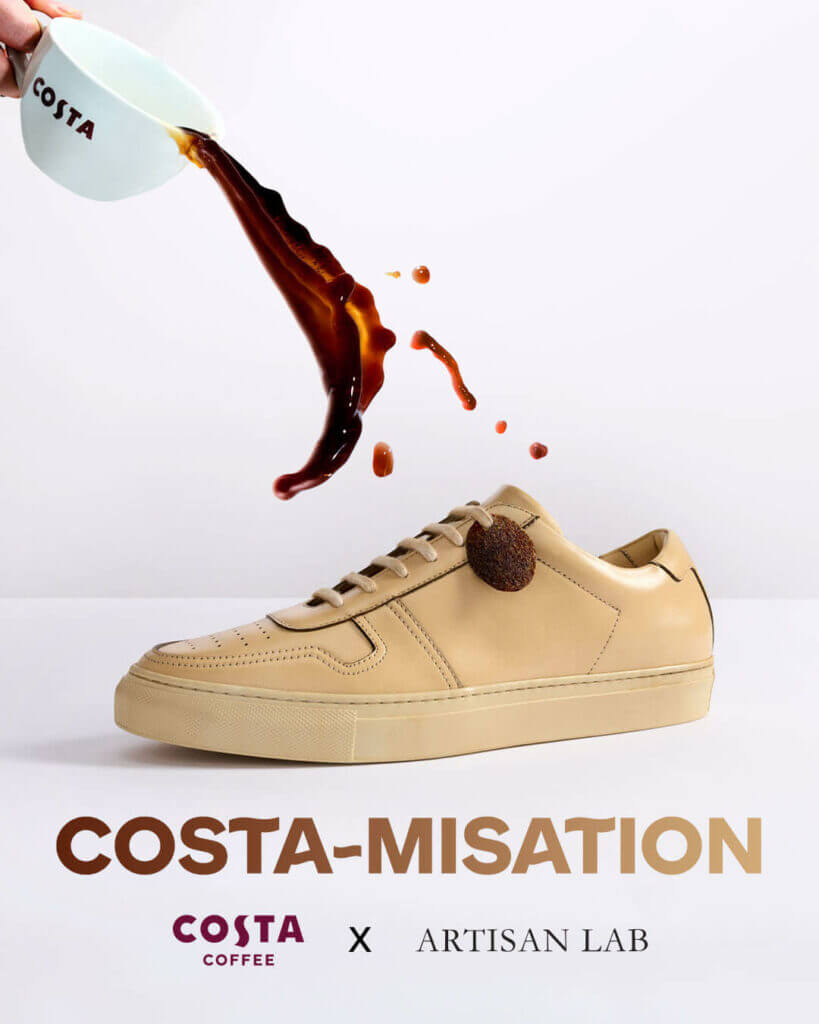 The NFTs which are being given out along with the sneakers are based on the Hedera Blockchain and represent one of the more interesting applications of NFTs in a consumer brand's promotions. According to Riccardo Gismondi, Founder and Creative Director at Artisan Lab, the company's italian heritage and shared values were at the core of this collaboration.
"Italian heritage, premium quality and authenticity are the DNA of Artisan Lab. Sharing the same core values with Costa Coffee, we couldn't be happier to create this amazing collaboration. A perfect celebration of what we both stand for and work hard every day to deliver," he said.
Not only is this project being promoted on social media but physical posters have also been put out in the real world as part of National Espresso Day celebrations.
NFTs in Branding
This project also shows how NFTs can encourage brand collaboration. Coffee and sneakers are two things that usually would not go together. But by creating these sneakers and authenticating them with NFTs, two worlds can be brought together.
As Amandine Fabian, Creative Director at AnalogFolk London says, "We're really proud to have been working on this exciting collaboration. Artisan Lab and Costa Coffee is an unexpected but natural match as two brands that share similar values of quality and craftsmanship. The coffee dip adds an edgy touch to the sneakers that will for sure please the fashion community and brand fans."
Here's hoping more brands decide to follow in Costa's example.