Couple weeks ago, former US President Donald Trump made history after he released his first NFT collection based on the Polygon blockchain. These NFTs came in the form of trading cards that saw Trump as several different personas. In a post on the social media platform Truth Social, Trump said that the NFTs would likely sell out quickly. 
"These limited edition cards feature amazing ART of my Life & Career! Collect all of your favorite Trump Digital Trading Cards, very much like a baseball card, but hopefully much more exciting… Only $99 each! Would make a great Christmas gift. Don't Wait. They will be gone, I believe, very quickly!" he said at the time.
In the days following the NFTs' release, however, they have been panned by critics and have even been accused of being plagiarised.
New Developments With Trump's NFTs
One thing that is evident about this NFT collection is that it has been financially successful. It sold out within hours of its release and is reported to have brought in about $5 million for the ex-president. But the fact that it was successful doesn't mean that it was well-received by the mainstream. In fact, many across the world panned the collection as being a cash grab, unoriginal, or just silly.
Late-night host Kimmy Kimmel, for example, implied that the NFTs were not offering any value and were not worth the $99 price they commanded.
"Trading cards! Not even real trading cards – digital trading cards. Which is another way of saying nothing. At least last time you got a red hat, now he's selling you nothing," he said.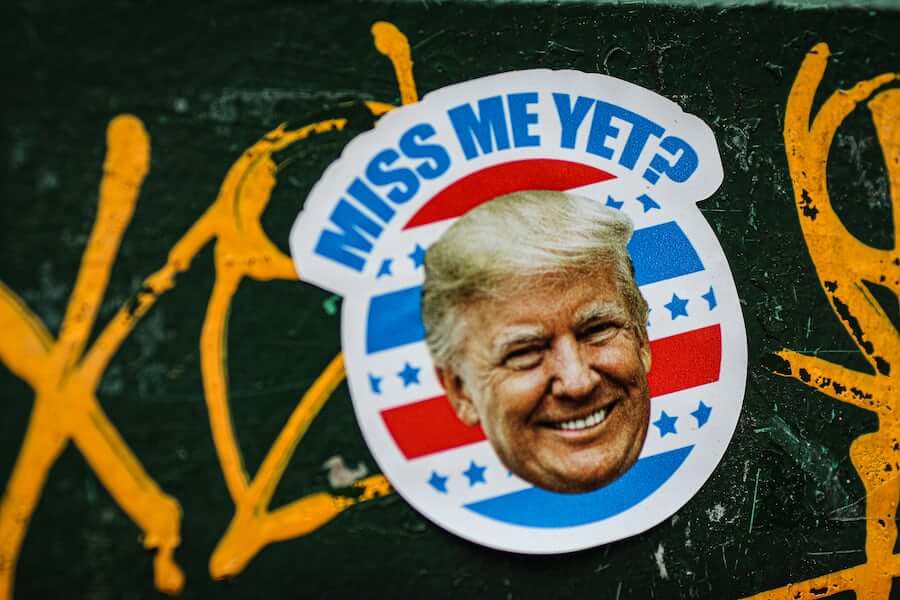 Another late-night host Stephen Colbert accused Trump of being opportunistic in a recent monologue.
"That's right, you read that right. The ex-president of the United States, the ex-most powerful man in the world, has launched a line of trading cards […] He's a business genius, jumping in on the NFT market when it's at his hottest," Colbert said.
But being mocked by late-night hosts and on social media is not the only challenge that this project is facing. The trading cards show Trump photoshopped in a number of scenarios such as in Camo and it was assumed that they were done with some sort of photoshop application. But according to a story by Gizmodo, the images were plagiarised from a number of small businesses with Trump's face superimposed on them. This was apparently revealed through a Google reverse image search.
Perhaps as a result of all these scandals, the price floor for these assets has fallen sharply from its initial peak of d 0.84 ETH. Many had rushed to list the assets on the resale market but demand for them seems to have cooled over time.
The Last of Trump NFTs
While this venture, like many things relating to Trump, has been highly controversial, it is likely not the last time that we will see Trump release NFTs. Given his wife's multiple NFT ventures and the initial success of this one, we might get another drop soon enough.