It seems that every other week, another football club announces its entrance into the NFT world. Just weeks after Leed City FC announced an NFT collection in support of Ukraine, another club has moved forward with plans to release its own collection, this time in collaboration with PUMA.
On May 10, 2022, Manchester City Football Club announced that a new NFT collection would be released in collaboration with PUMA as part of the 10th anniversary of the club's first Premier League title.
An NFT Moment in History
Along with celebrating Manchester City's first Premier League title, this collection is also in celebration of the team's '93:20' moment and will be titled '93:20'. The first release in this project has been designed by the artist Musketon and chronicles the club's success in three drops.
This NFT features a clockwork environment, the Manchester City logo, and the PUMA boot that scored the winning goal 10 years ago. Altogether, the artwork symbolises 93:20, which was when the winning goal was scored.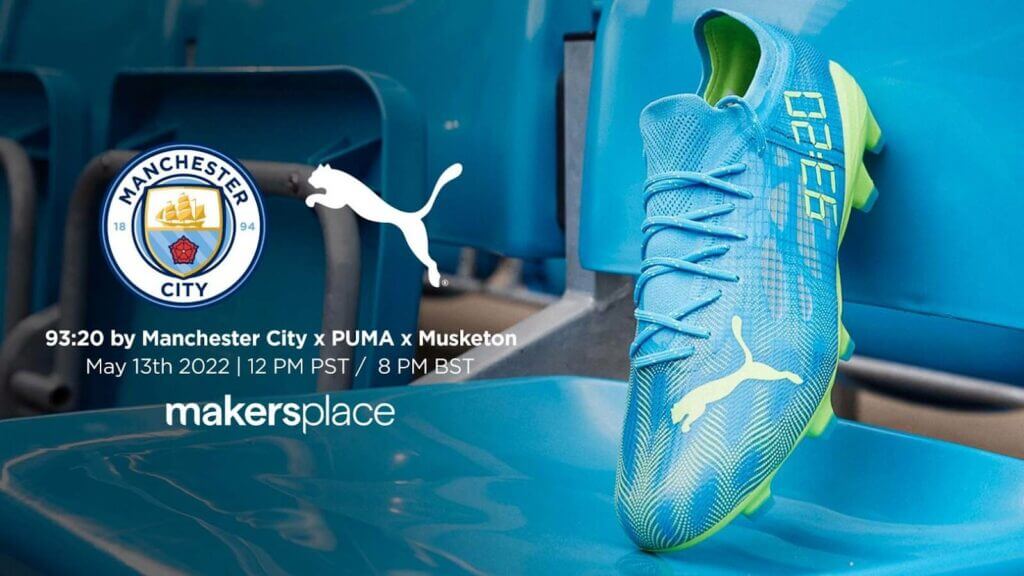 Finally, the artwork features the PUMA ULTRA Football Boots which will also be released as NFTs. Only 120 pairs will be released on May 13, 2022, on MakersPlace, and will have the same colour scheme as the boots worn by footballer Sergio Aguero when he scored the goal.
Other iconic details to be added are the "Manchester City are still alive here" commentary and the 'Agueroooooooo!' chant. This piece serves as not only Manchester City's continued presence in the NFT collectable world but also as a celebration of a historical moment for both the club and football as a whole.
"We are incredibly pleased to be launching our unique 93:20 piece in collaboration with PUMA, following the success of our three collections to date. This exciting piece continues to demonstrate our ongoing commitment to the NFT and blockchain space, and shows our eagerness to collaborate with renowned talented creators, as well as with our club partners," says Don Dransfield, Chief Strategy Officer at City Football Group.
It is also remarkable just how many elements of the iconic Premier League title are being incorporated into this NFT. These include the boots worn to score the goal, the exact minute when the goal was scored, the Manchester City logo, and different memorable lines from the match itself.
A Place for NFTs on the Pitch
This new collection clearly shows NFTs' use as commemorative collectables. Usually, such a celebration as Manchester City's 10th Premier League anniversary would be marked with a physical collectables launch.
The fact that NFTs were chosen, and the previous success that the club's NFT collections have seen, show how popular they have become among football fans. Should the use of NFTs by football clubs keep up, we could very well see them become the standard for digital fan merchandise.
By the next time that a football club wants to commemorate a special event, NFTs could be part of the mix.