A few weeks ago, Looney Tunes made headlines when it was announced that it would be releasing NFTs of some of its IPs. This was a major announcement because Looney Tunes has the rights to some iconic animated characters that have been popular with children for decades at this point.
It seems this has become somewhat of a trend as Nickelodeon, one of the biggest entertainment networks in the world, has also announced an incoming NFT collection that will leverage its IPs.
12 of these NFTs will also reportedly be released unto Opensea alongside the major collection on July 19, 2022.
Nickelodeon Comes to Opensea
Both the original and accompanying NFT collections from Nickelodeon are part of a collaboration with Recur, an NFT company. The main collection will see iconic Nickelodeon titles like Rugrats and Hey Arnold! Being turned into NFTs.
However, another collection comprising only 12 NFTs has been announced. The NFTs will be sold via auction on Opensea for 24 hours only and will also feature characters from both the Rugrats and Hey Arnold!. Those who are lucky enough to get their hands on one of the NFTs will have not only nostalgia and bragging rights but also some benefits that come with the assets.
These will include a free Nickelodeon NFT Pack, a physical artwork along with their NFT, and a Recur pass. The pass will grant holders early access to NFT drops and other features within the Recur ecosystem. Considering the fact that Recur works with many top brands like Hello Kitty and the Care Bears to bring their properties to web3, Recur pass holders will have the chance to access prime NFT collections before anyone else.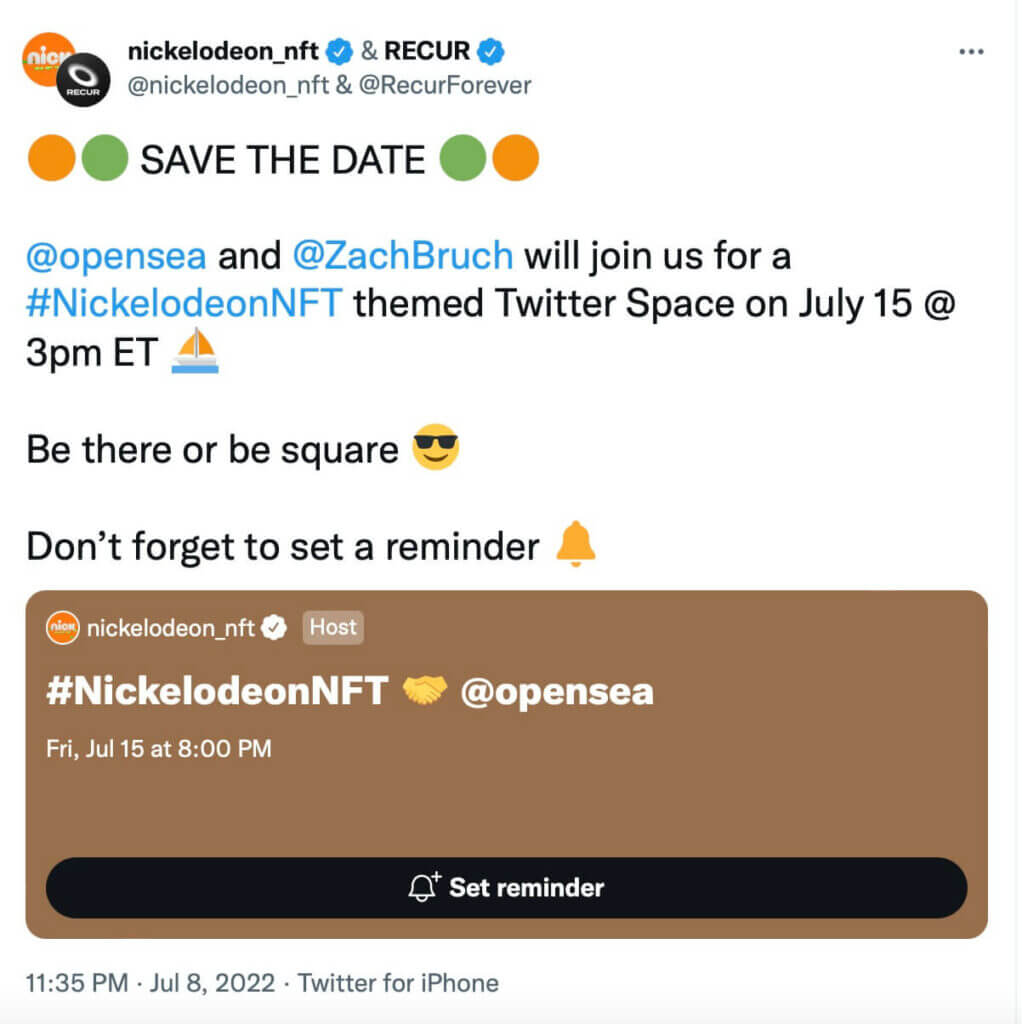 Besides this 12-NFT drop on OpenSea, Nickelodeon has also been drumming up a lot of publicity for its main NFT collection, which will see 10,000 assets released at a floor price of $50. Ahead of the release, also on July 19, 2022, Nickelodeon collaborated with DJ Steve Aoki for a mashup of some of its iconic songs and has also announced an upcoming Twitter space with Zach Bruch, the founder of Recur.
This NFT drop seems to be coming at a very appropriate time. NFTs are particularly popular among millennials, who would have been the demographic that watched these programs as children and thus, feel connected to them. As such, releasing an NFT collection at this time is both financially sound and culturally timely.
NFTs of Your Childhood
While not everyone is interested in NFTs, millions of people remember being children and enjoying their favourite shows. So when the company behind these shows decide to release NFT collections, even some sceptics might want to give them a try.
In many ways, pop-culture-themed NFTs can be a major way to drive adoption and visibility of the space. For the companies, it means a chance to profit from their IPs and immortalize them on the blockchain. For the buyers, it could be another way to get closer to their childhood classics.