NFTs have been called many things; innovative, a fad, and even a scam. But one thing that NFTs cannot be called is obscure. The truth is that whether you love them or hate them, NFTs are very well-known by the public. Thanks to very successful collections and an ever-growing association with popular culture, NFTs are at the forefront of public visibility.
But just how well-known are NFTs actually? Well, according to a recent survey by the Pew Research Center, they are known by about half of the American public, making them very visible indeed.
Famous NFTs
The survey in question was conducted from July 5 to July 17, 2022, and touched on crypto assets as a whole, as well as NFTs. As per the results of the study, 49% of adults in the United States have heard of NFTs. It should be noted, however, that this is not evenly distributed among genders. Among the respondents, 68% of men and only 30% of women report having heard of NFTs.
Over the years, a lack of female representation in the NFT and blockchain space as a whole has been extensively discussed. In fact, projects like the Boss Beauties collection have been launched to combat this growing problem.
In terms of age, 18 to 29-year-olds were the most represented group, with 79% of respondents in that age range reporting that they had heard of NFTs, compared to 56% of 30 to 49-year-olds, and only 36% of people over 50 years old. This is in line with existing data that shows that NFTs are most popular among younger people.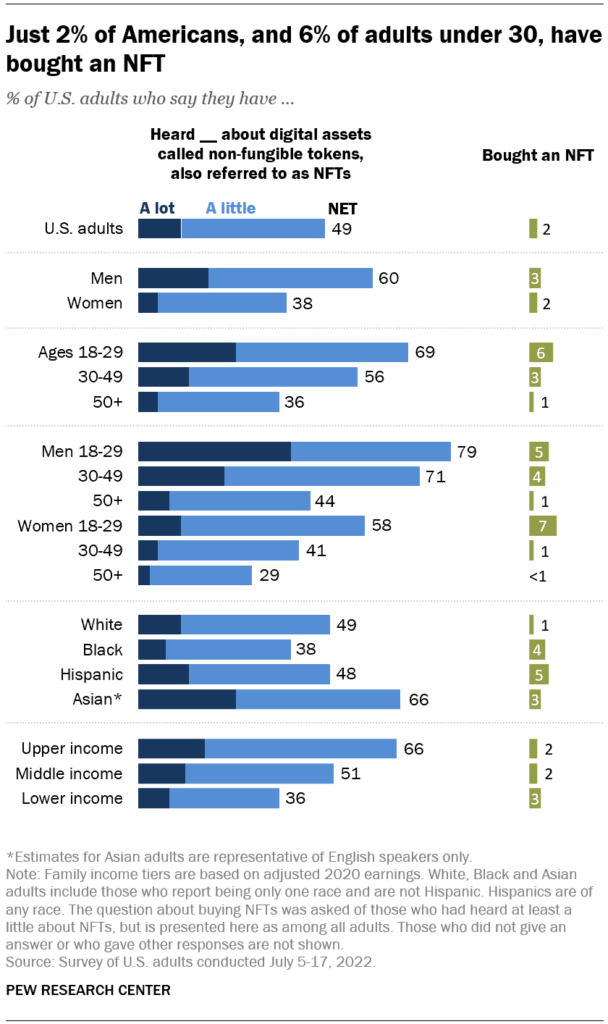 Information about NFTs also seems to differ according to economic status. As per the results, 66% of upper-income people have heard of NFTs, compared to 51% of middle-income people and 36% of lower-income people. Given how pricey of an investment some NFTs can be, with a single asset from top collections costing millions of dollars in some cases, this is to be expected.
In terms of actually investing in NFTs, the study found that only 2% of Americans had. This is in contrast to a previous study that found that around a quarter of US households had done so. Interestingly, it was found that the number of people who had invested in crypto assets has not changed since a previous study in September 2022, despite the industry's growth.
Visibility in NFTs
Regardless of the existing data about actual NFT purchases among Americans, it cannot be denied that NFTs are very visible at the moment. Both studies cite NFTs as being very well-known, especially among younger people.
As more NFT projects are launched with mainstream brands and public figures, we can expect this figure to rise even more over the years. In fact, this was cited as a factor for their inclusion in the study
What that will likely mean is that NFT sales will also increase, especially given the advanced utility that is being attached to them.