If you've been involved in the crypto industry then chances are that you have heard of Uniswap. The decentralized exchange is one of the biggest in the world and was at the forefront of the DeFi spike which happened a few years ago, moving billions of dollars in trades a day.
Well, it seems that after conquering the DeFi space, Uniswap has set its sights on NFTs as well. This comes as the DEX has announced the acquisition of Genie, the first-ever NFT marketplace aggregator.
Uniswap Makes a Splash
In the official blog post announcing the deal, Uniswap explained that Genie's feature of searching for NFTs across marketplaces would be integrated into its own platforms. As such, Uniswap users will soon be able to seamlessly buy NFTs on the platform they already use.
"NFTs will be integrated into our products, starting with the Uniswap web app, where soon you'll be able to buy and sell NFTs across all major marketplaces. We'll also integrate NFTs into our developer APIs and widgets, making Uniswap a comprehensive platform for users and builders in web3," it says.
To celebrate this new development, Uniswap will be rewarding all existing Genie users with a USDC airdrop. This airdrop, which will go live in August 2022, will remain claimable for 12 months and will be based on a current snapshot of users.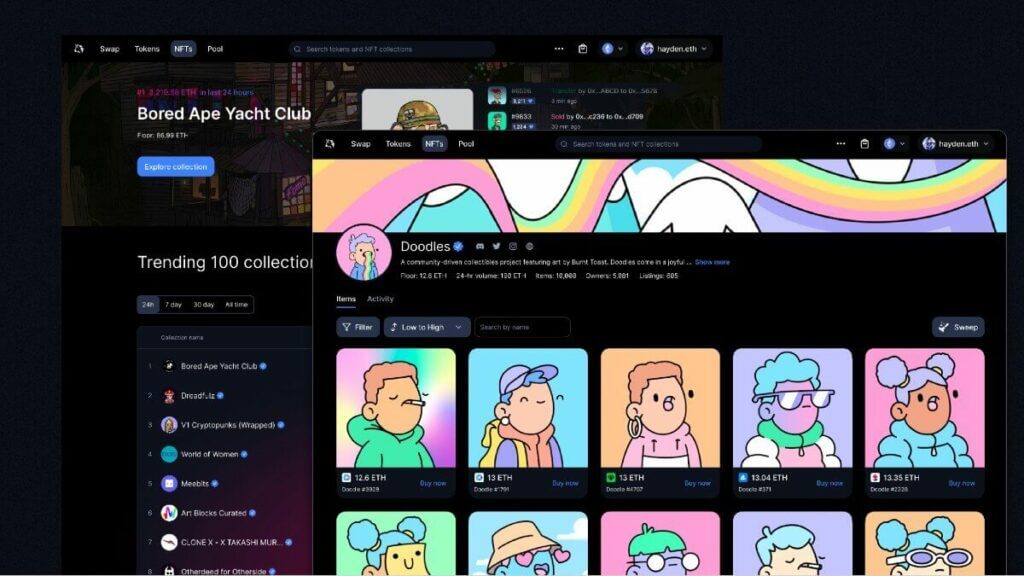 As exciting as this is, it is not Uniswap's first foray into the world of NFTs. Instead, this was back in 2019 when it launched Unisocks, which were NFT liquidity pools. Uniswap also previously developed on-chain generative SVGs.
As the press release explained, this new acquisition is part of its effort toward positioning NFTs as a part of the digital economy and not a separate entity from ERC20s. Naturally, connecting NFTs to its existing processes on all its platforms is a step in this direction and an overall benefit to users.
"As the world's largest decentralized exchange protocol, Uniswap is a simple and safe place to access the benefits of digital ownership, offering deeper liquidity than leading centralized exchanges. We're excited to bring what we've learned building DeFi products to NFTs, giving even more people access to digital ownership and value," the press release concludes.
Seeing as this is one of several high-profile NFT-related acquisitions in the last week alone, we will likely see NFTs being bought and sold more widely across the internet.
The Place of NFTs in the Digital Ecosystem
It is quite telling that Uniswap is determined to place NFTs as a part and parcel of the digital economy. Usually, it is quite easy to dismiss them as separate from other things like cryptos and DeFi.
But with the current trajectory of NFTs, they will play a major role in web3. As such, all the different blockchain-based elements such as crypto, NFTs, DeFi, and so on must be closely intertwined while making the transition to the web3 era. Clearly, this is what Uniswap is trying to do.