Complete guide to Meebits
Meebits is an NFT collection launched by Larva Labs, creators of CryptoPunks, and consists of 20,000 3D characters whose creators designed them as avatars to be used in the metaverse. Meebits are 'voxels', which is essentially a 3D pixel, and were designed by algorithm.
Inspired by the pixelated style popular with games like Mincraft and Roblox, Meebits are perfectly designed for the metaverse space and have proved extremely popular as a result, with the floor price sitting at more than double the average minting price and some Meebits selling for over $1 million.
What is Meebits?
Larva Labs announced Meebits in early May 2021, with the company announcing that it would roll out an "asset pack" for each Meebit which would allow owners to take a version of the avatar and use it in any game or virtual world that supports humanoid avatars. The virtual world was certainly the driving force behind the design of Meebits, which is reflected in the 3D visualizations.
Within eight hours of its launch, 9,000 Meebits had been sold for around 22,500 ETH ($75 million), underlining instant popularity of the line which has continued ever since.
What are the traits of Meebits?
The Meebits collection has 30 different trait categories sharing a total of 1,707 traits between them:
| | | | |
| --- | --- | --- | --- |
| Trait | Trait count | Trait | Trait count |
| Necklace | 3 | Overshirt color | 16 |
| Earring | 4 | Shirt color | 17 |
| Glasses color | 4 | Pants color | 20 |
| Beard Color | 5 | Hair style | 22 |
| Overshirt | 6 | Shoes | 23 |
| Type | 8 | Shirt | 35 |
| Beard | 8 | Tattoo motif | 845 |
| Hat | 9 | Pants combined | 10 |
| Glasses | 9 | Glasses combined | 15 |
| Shoe color | 9 | Beard combined | 26 |
| Pants | 10 | Overshirt combined | 26 |
| Hat color | 10 | Hat combined | 54 |
| Jersey number | 11 | Shoes combined | 69 |
| Hair color | 13 | Hair combined | 191 |
| Traits count | 15 | Shirt combined | 214 |
As we can see, there are a large number of sub-categories, with individual and 'combined' traits. The individual traits refer to an item, for example a hat, and the combination refers to another factor, such as the color.
How does the trait combination impact Meebits value?
The primary trait that can determine the value of a Meebit is its 'type'. 94.41% of all Meebits are human, with the remaining 5.59% of all Meebits being one of seven other categories. Non-human Meebits typically go for $1 million plus, with trait rarity playing an important role in the price difference within this exclusive club.
Traits are more important to consider when dealing with human Meebits however, seeing as how there are so many of them. In general, the more exceptional the trait count is, both high and low, the more expensive the Meebit, while rarer traits also drive up the asking price. However, with so many trait combinations on offer and the platform being so early, prices may soon start to be trend-driven rather than rarity-driven.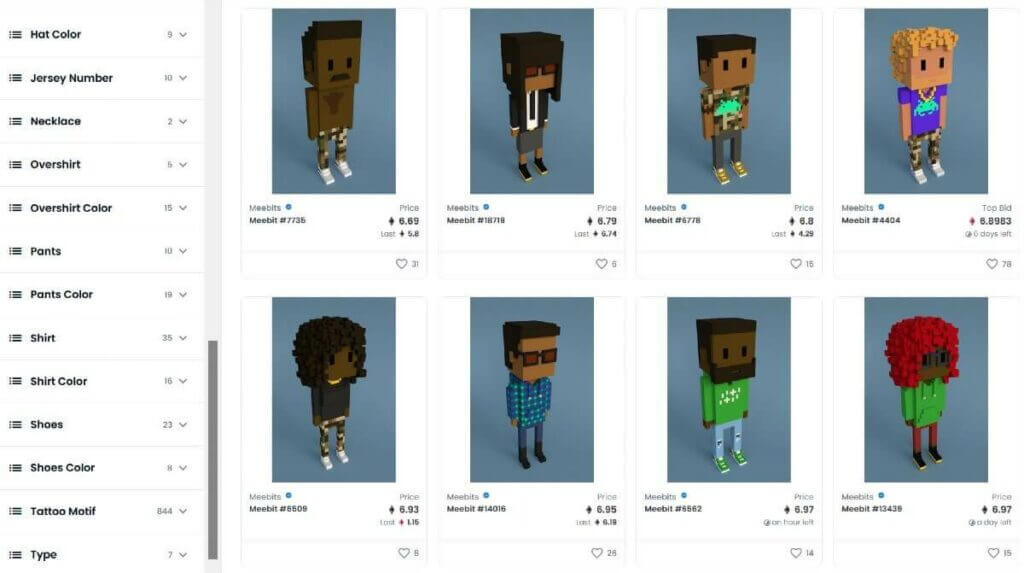 How can you trade Meebits?
Meebits can be purchased on the secondary market, through OpenSea and LooksRare. Those who minted their Meebits at the average price of 2.5 ETH back in May 2021 are currently enjoying a 2.6x return on their NFTs given that the floor price for the Meebits NFT collection is 6.5 ETH.
What was the most expensive Meebits NFT?
The highest selling Meebit to date is #17522 which sold for a staggering 1,000 ETH ($2.14 million) on July 9, 2021. This doublepig Meebit NFT has a rarity rank rarity score of 1,136,763.22, making it the second rarest Meebit in the entire collection. Its type, shirt, hat combined, and shirt combined rarity factors are all under 1%.
How can you find Meebits for sale?
OpenSea and LooksRare are the two marketplaces on which you can buy Meebits, where the floor price is 6.7 ETH. Make sure you are viewing the official Meebits collection (denoted by a verification mark next to the name) to avoid accidentally buying from an unofficial creator.
How can you buy Meebits?
OpenSea and LooksRare both let buyers either purchase a Meebit outright if it is for sale, or place a bid if it's not. This is easily done through the 'buy it now' or 'make an offer' options once you've selected your chosen Meebit. Don't forget that the NFT won't be yours until you have signed the transaction.
Conclusion
Meebits has huge potential as the primary metaverse NFT collection, with the sheer volume of trait combinations resulting in there being something for everyone. The collection will likely increase in popularity as the metaverse expands, which will almost certainly have an impact on their value.