When it comes to NFT collections, it is safe to say that the Bored Ape Yacht Club is rather iconic. The collection, which features images of cartoon apes, has become a favourite of celebrities and is one of the most valuable collections on the internet.
It makes sense then, that the Ape Club would collaborate with another iconic brand, Rolling Stone, for a new NFT drop. This new drop, which was announced on June 22, 2022, is the second time that the brands are collaborating and will see two physical art prints and two NFTs being sold.
BAYCXRolling Stone
These new pieces will see fans getting the best of both worlds when it comes to the Bored Ape Club and Rolling Stone. The images, which were custom-made for this drop, will see the iconic bored ape on the cover of Rolling Stone.
The first is of the bored ape in a tropical paradise featured on the cover of Rolling Stone. The second, which is also a collaboration with the Mutant Ape Yacht Club, will see the ape escaping from a volcano.
The images, both of which are designed to look like a Rolling Stone cover, will be released as NFTs on Opensea and as physical prints on the Bored Ape Yacht Club website. This is the second time that the magazine and the NFT collection are joining forces and combining their visual legacies.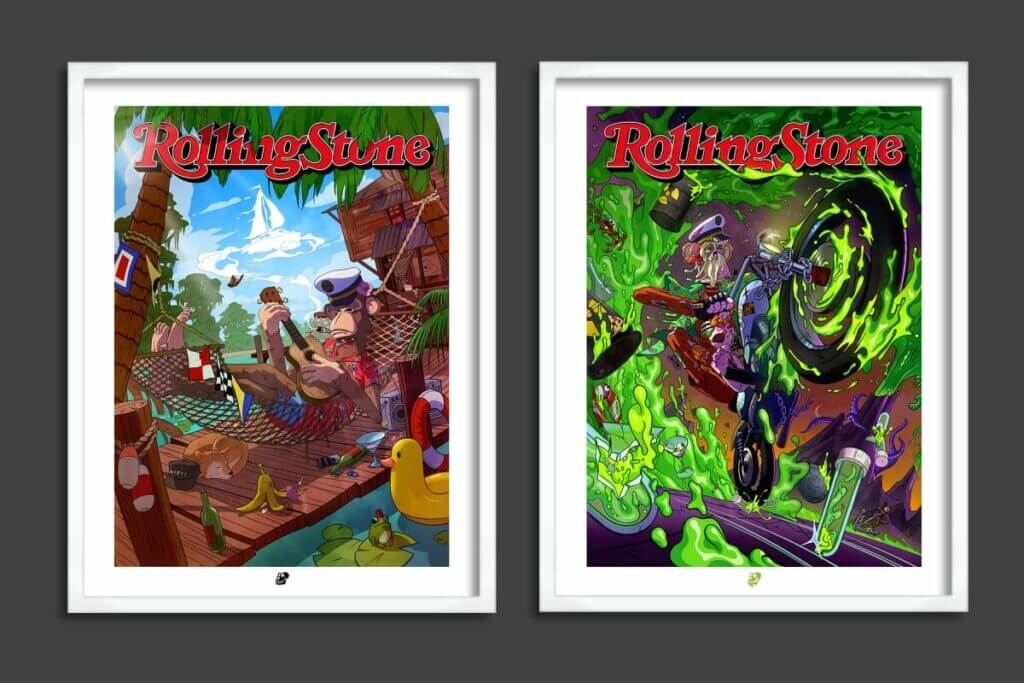 "Both pieces were created exclusively for this release, offering both fans and collectors a chance to own something from one of the biggest digital art collectives in the world today and one of the most iconic magazines of all time," the announcement says.
For those who choose to buy art from this collaboration, two 1-of-1 NFT auctions will also be held. The winners of these auctions will also receive a prize- the associated collector's item signed by the founders of Yuga Labs, the creators of Bored Ape Yacht Club, the artist, and the CEO of Rolling Stone.
The NFT drop was made available for sale from 9 am ET on June 22, 2022, and both the physical item and NFTs were payable through ApeCoin. The fine art print, however, was only available for purchase for a five-hour window while the NFTs were not given such a short sales period.
NFTs Collaborations in the Wild
One thing we are likely going to see a lot more of in the future is NFT collaborations. Whether this is NFT collections teaming up with established non-NFT brands as with the Rolling Stone collection or with other collections, this certainly seems like a possibility.
This also has a lot of potential for creative output. Most NFT collections have a unique visual style and there is no telling what can come out of these collaborations (BAYCXBaby Shark, anyone?). The public certainly seems to be loving them, as the first Bored Ape Yacht Club and Rolling Stone collaboration was a huge success, selling out in under 30 minutes.