The Complete Guide to Alpacadabraz Genesis NFT Collection
Alpacas are without a doubt one of the cutest animals around, and that's something that everyone can get behind.
Once the king of memes, alpacas are now settling into their new paddock – the world of NFTs.
Say hello to the Alpacadabraz Genesis collection, which is arguably the most amazing alpaca art that we've ever seen – period.
If you love alpacas, NFTs, and all things crypto, then you'll fall head over heels in love with the gorgeous and boisterous Alpacadabraz NFT collection.
If you don't believe us on just how cool this collection is, the floor price and trade volume should back us up.
The Alpacadabraz NFT collection launched in October 2021 at just 0.069ETH each, and the floor price is now well over 1.2ETH – yikes!
So, without further ado, let's dive into this charming and witty NFT collection!
What is the Alpacadabraz Genesis Collection
The Alpacadabraz Genesis NFT collection launched on 22 October 2021, selling out completely within a few hours.
Exactly 9,669 Alpacadabraz were minted from the Genesis NFT collection, and are all available for browsing on OpenSea.
The founding team all knew one another in real life, which is rare for the NFT world.
Brainy, Apefan, and Kidd0x spend days trawling through the internet to find the right designer to join the team and bring the Alpacadabraz Genesis NFT collection to life.
Eventually, they discovered ChuckChee, one of the most renowned pixel artists in the world, and he agreed to join immediately.
ChuckChee blended farm animals, farts, and feces to create the glorious Alpacadabraz Genesis NFT collection in just a few months.
The team then slapped it all together with a smart contract that randomly matches the various elements together and set a mint date.
As they say, the rest is history.
Today, the Alpacadabraz Genesis NFT community is blossoming, with more than 49,000 members on discord and 3,621 unique Alpacadabraz Genesis NFT holders.
If there was an award for the most stylish, outrageous and belly laugh inducing NFT collections, the Alpacadabraz Genesis NFT collection would take gold!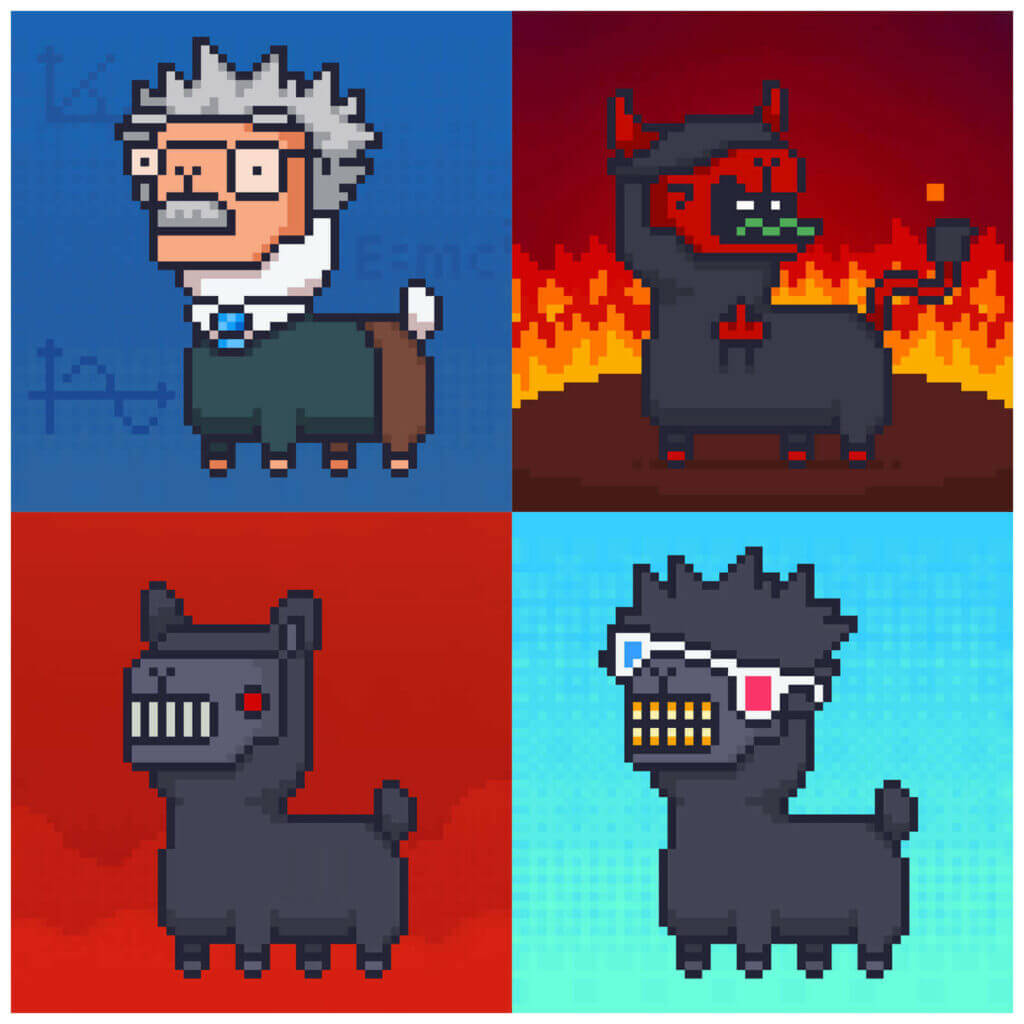 Who Created the Alpacadabraz Genesis Collection?
The Alpacadabraz Genesis NFT collection was made by a nine strong team of NFT and blockchain veterans.
A plucky trio consisting of Brainy, Apefan, and Kidd0x kicked off the project together, but quickly hired more alpacas to the farm to make sure that the Alpacadabraz Genesis NFT collection was as good as possible – and boy has it paid off.
The nine strong team now consists of a creative guru, an art gen and coding expert, a legend of UI, a lead sandbox developer, a social media strategist, and a dedicated Asian marketing manager.
Together, these nine NFT heroes created and launched the Alpacadabraz Genesis NFT collection.
They're also working on a second generation which is set to launch in February – so stay tuned for more information on that!
What Can I Do with Alpacadabraz Genesis Collection?
As with all NFT collections, you want to get stuck in and start taking full advantage of that utility.
The Alpacadabraz Genesis NFT collection is a simple NFT collection that allows you to use your Alpacadabraz NFT as your social media profile picture, or for anything you want.
Owning an Alpacadabraz Genesis NFT will allow you to mint a second generation Alpacadabraz NFT, which will be 3D, as opposed to the 2D first gen Alpacadabraz.
You can also trade your Alpacadabraz with other collectors via the OpenSea marketplace.
There are lots of exciting features in the road map and are set to launch in early 2022, but you will need to get your hands on a second generation Alpacadabraz to be able to make the most of those features.
There's a fun and competitive browser game, a metaverse in the Sandbox, an augmented reality app, and a merch store coming real soon.
So, if you want to be able to use these new features to the max, you'll want to get your hands on an Alpacadabraz Genesis NFT – that's your ticket to the fun and games.
What are Alpacadabraz Genesis Collection Traits?
Every NFT collection comes with a pile of traits for you to get stuck into, as well as collect.
The Alpacadabraz Genesis NFT collection is no exception to the rule, and boy are there some epic traits for you to collect.
In fact, the Alpacadabraz Genesis NFT collection is the definition of edgy, and we love it!
There is a total of nine types traits that any given Alpacadabraz Genesis NFT can have, each with their own rarity level.
The fewer Alpacadabraz Genesis NFTs with a given trait, the rarer the trait is, making that specific Alpacadabraz more expensive.
The traits available are as follows.
| Trait name | Sub-traits |
| --- | --- |
| Animated | 2 |
| Ass effect | 9 |
| Background | 40 |
| Body | 5 |
| Body color | 43 |
| Chains | 19 |
| Clothes | 21 |
| Eyes | 43 |
| Hair | 33 |
| Mouth | 38 |
| Saddle | 11 |
| Special | 111 |
Each type of trait will have its own range of combinations.
For example, the "Ass Effect" trait has nine different types of effects.
What creates rarity and increased price is a trait that isn't shared with many other Alpacadabraz Genesis NFTs.
Sticking to the "Ass Effect" theme, there are only 18 Alpacadabraz Genesis NFTs with the trait known as "Chemical Fart".
As a result, the average price of Alpacadabraz Genesis NFTs with the "Chemical Fart" trait are significantly higher than those with the "Fly" ass trait.
This is due to the fact that there are 1,154 Alpacadabraz Genesis NFTs with this trait.
So, while the "Fly" ass trait is cool, it's less rare and therefore less valuable than the "Chemical Fart" ass trait.
During the mint, the combination of traits into each Alpacadabraz Genesis NFTs was randomized.
This means that you could not pick out specific traits, and you had to make do with what you could mint.
Now, however, you can pick and choose which traits you want on your Alpacadabraz Genesis NFT when you're browsing through OpenSea.
You will pay more money for Alpacadabraz Genesis NFTs with rarer and more desirable traits, which is par for the course in the NFT world.
How Can You Trade Alpacadabraz Genesis Collection?
Owning an NFT from the Alpacadabraz Genesis collection separates the men from the boys, the women from the girls, and the wolves from the sheep.
You're already too late to get your hands on one of these epic NFTs via minting, so your only option is to trade them.
Right now, you can buy and sell Alpacadabraz Genesis NFTs through OpenSea.
All you need to do is head on over to the Alpacadabraz Genesis OpenSea collection and connect your wallet.
Then, you can place bids on NFTs or opt to buy now.
At the time of writing, there are some absolute bargains to be had, so you better snap those up before it's too late!
If you opt to buy now, you'll get the Alpacadabraz Genesis NFT straight to your wallet, just make sure you have enough ETH in your wallet to cover the purchase plus a little extra for the gas fees.
If you don't mind waiting, you can take part in one of the many Alpacadabraz Genesis NFT auctions, which could allow you to snag a juicy discount.
After all, we all want a slice of that Chemical Fart action, don't we!
If you want to flip Alpacadabraz Genesis NFTs like you're Jordan Belfort in his prime, then you can do that too on OpenSea.
Simply connect your wallet with OpenSea and buy an Alpacadabraz Genesis NFT.
Then, list it for sale at a higher price, if you want to make a profit, of course.
You can trade Alpacadabraz Genesis NFTs time, time and time again – there's no limit.
As long as you have one to sell, then you can sell it and buy more with the profits.
Or perhaps you want to amass a mega collection of Alpacadabraz Genesis NFTs so that you can get a whole pile of second generations, the choice is yours!
What Was the Most Expensive Alpacadabraz Genesis Collection NFT?
We all want that rags to riches story, and believe it or not, a few punters have managed to pull it off with the Alpacadabraz Genesis NFT collection.
At mint, you could pick one up for 0.069ETH…
As I write this, the highest last sale was for 15ETH, which is worth an eyewatering amount of money.
That's a 21,639% return on investment – holy moly.
But that's not where this story ends, the prices are still going up.
There is an Alpacadabraz Genesis NFT for sale for 11,000 ETH, which if you ask me, is a little over the top.
A more realistic top price is 135ETH for Alpacadabraz #9114, because let's face it, that Alpacadabraz is out of this world!
There are plenty of Alpacadabraz Genesis NFTs up for sale for less money, with the upper average being between 50-90, which is fairly reasonable given the utility this NFT will give you in the long term.
If you don't want to fork out that much, you can pick up your own Alpacadabraz Genesis NFT for the handsome sum of 1ETH.
There's nothing wrong with owning a cheaper Alpacadabraz Genesis NFT.
After all, that 21,000% gain was in just three months.
Imagine what your P/L will look like in another three!
Alpacadabraz Genesis NFT Are Off the Chain!!!
The Alpacadabraz Genesis NFT is one of the coolest NFTs that we've seen in a long time.
It's without a doubt that this funky and edgy NFT collection will soon be competing with the likes of Bored Ape Yacht Club and CryptoPunks.
Alpacadabraz Genesis NFT may not be an OG of the NFT world, but we have a sneaky feeling that they're going to be the next big thing.
Watch this space!