Dronies NFT collection
Put on your tin foil hats as the biggest conspiracy theory since the Moon Landing is landing on the Solana blockchain.
A secret group has been slowly replacing all of the birds on Earth with spy drones that look like birds.
These Dronies are here to spy on us and report back to their master.
With incredible attention to detail, tons of variables, and an all-star team, the Dronies NFT collection is set to be one of the hottest NFT collections to drop on the Solana blockchain in 2022.
Dronies NFT description
The Dronies NFT collection has been expertly designed by Unfold (dribbble.com/unfold), a well known design agency founded by Eddie Lobanovskiy, the most followed artist on Dribbble.
His art brings the Dronies NFT collection to life and adds real menace to their features.
This blends in perfectly with the backstory that these Dronies are here to spy on the human race for their unknown masters who are hatching an evil plan.
There are set to be several seasons in the Dronies metaverse, so we're expecting a ton of action and utility to land once the minting process has been completed.
Unfold and Solana Labs have teamed up to create this collection, which has got to be one of the hottest NFT duos that we could imagine right now.
There will be a grand total of 10,000 Dronies available for minting, with traits chosen at random by an algorithm.
Minting goes live on 2 Feb 2022 – be there or the Dronies will report back to their masters, and you could end up with men in suits at your door!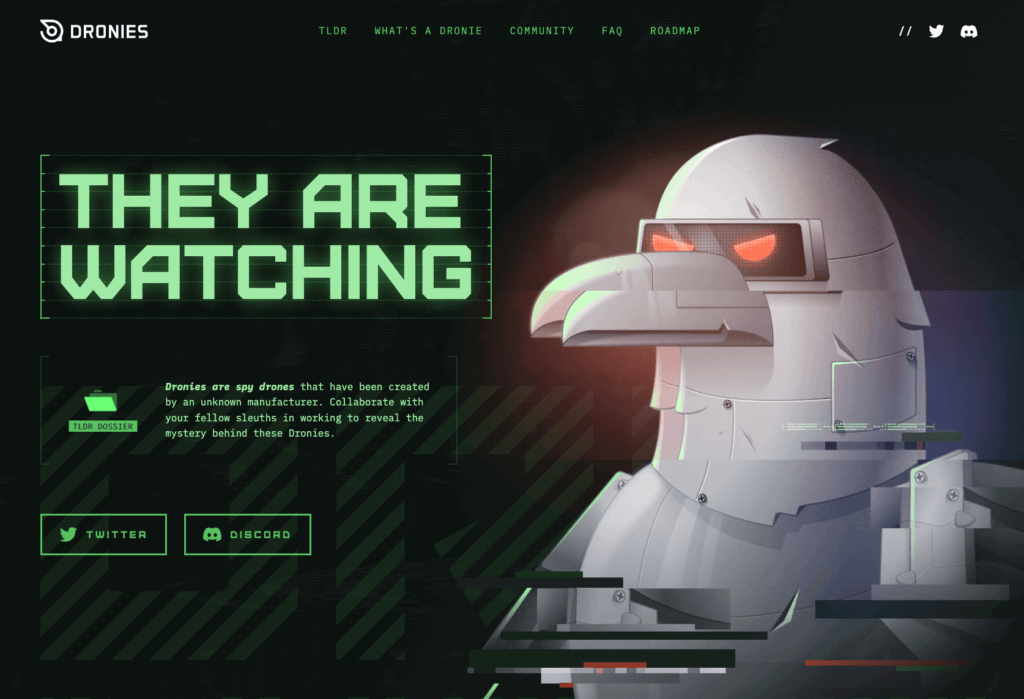 How are Dronies made?
The Dronies NFT collection has been expertly designed by Unfold (dribbble.com/unfold), a well known design agency founded by Eddie Lobanovskiy, the most followed artist on Dribbble.
There are hundreds of thousands of traits, features, and variants that could potentially arise during the minting process.
The only way to really tell what features your Dronies NFT could have is to head on over to the minting site and mint one for yourself.
How do I mint Dronies?
Minting of the Dronies NFT collection will go live on 2 Feb 2022.
There will be a whitelisted minting session that will take place shortly before the general public can get their hands on the minting process.
You can apply to get your Solana wallet address onto the whitelist by reaching out on Twitter or through the Discord channel.
When minting goes live, all you need to do is pair your Solana wallet with the minting contract.
Make sure that you've got enough SOL in your wallet to cover the mint, plus a little extra in the tank for gas fees.
You're looking at 2.75 SOL for the minting fee.
Then, type in the number of Dronies that you wish to mint, hit mint, and approve the transaction in your wallet.
Congratulations, you'll have just minted your very own Dronie!
Dronies are proving to be incredibly popular, so make sure to get yourself on the whitelist as soon as possible to avoid disappointment.
How to buy Dronies
If you don't manage to mint a Dronie NFT in time, you'll always be able to buy one from a secondary marketplace.
The Dronies NFT team have been hard at work securing placement on Magic Eden, which is the leading Solana NFT marketplace.
Dronies will go up for sale on Magic Eden in the hours following the mint, so keep your eyes peeled.
If the mint is as popular as people are expecting, then you could end up paying a fair deal more for your Dronie than if you minted.
Either way, the roadmap is exciting and owning a Dronie will give you access to all the fun and games that's on the way!
Remember, you will only be able to find Dronies on Magic Eden once the mint is completed, so don't panic if you can't see the collection just yet.
Dronies NFT Collection Conclusion
The Dronies collection is fun, cool, and edgy – we love it.
With big names like Unfold and Solana Labs on the Dronies project, we can't see any other outcome and future for the Dronies collection than success.
These robotic looking birds are incredibly cool, and the roadmap ahead looks promising.
Unfold and Solana Labs are catering directly to the needs and demands of the community, meaning that if you own a Dronie, you'll have a voice to help influence the future of the project.
We already know that there will be multiple seasons of Dronies, and if we've learned anything from other projects that have done something similar, owning a genesis NFT opens a LOT of doors.
So, stack up your SOL, fill your wallet, and start loading up the minting page.
Dronies looks like the NFT collection that you're going to want to have in your wallet come 26 January!
See you on minting day!