The Complete Guide to Llamaverse
Llamaverse is a funky and fresh NFT collection created by the founders NFT Llama and Helle along with their team that has their backs through thick and thin.
Check out also their cool Llamascape NFT!
The genesis collection depicts funny and wacky llamas in many shapes and sizes, and they provide excellent and broad utility for their holders. Let us dive deeper into this project and explore just what it can do for you.
What is Llamaverse?
Llamaverse started off very modestly as a free Discord server until it eventually was revamped into the Llamaverse we know today. A true rags to riches story, essentially.
Llamaverse is an NFT project that aims to grab all the good things about NFT projects and then mash them together into one single entity.
This ties in well with their core focus. Their core focus is to ensure that every holder, despite their different interests, will be able to find something that benefits them in the Llamaverse project.
Essentially, they want to change the whole NFT game through Llamaverse. Not only will they provide many benefits, but they will also establish connections to different communities, so you can get in on their goodies too!
As for the NFTs themselves, they are based on a well-known animal that we all love or hate: the llama. This makes them relatively similar to the Alpacadabraz project in appearance and style.
The general theme around them is the llamas' journey through the metaverse, so there is a lot of space travel and cyberpunk gadgets involved here. Quite a neat aesthetic that encapsulates the futuristic aspects of the metaverse as a modern world of limitless opportunity.
As mentioned before, the team is spearheaded by the founders NFT Llama and Helle. Joining them are BrotherAli (business relations), NFT Cheetah (ADM/secretary), Tavo (Administrator), delta devs (Developers), NPRUSSELL (Artist), Parameta (Artist), and Baehlee (Video/GFX).
Together they form a dedicated, ambitious, and innovative group that shows the true power of WEB3.
What utility does Llamaverse give?
Llamaverse brings plenty of utility on the table for its holders. And these utilities vary quite a bit – giving a little something to everybody.
Firstly, we can talk about their internal ecosystem and the token associated with it: $SPIT. $SPIT can be generated by staking your Llamaverse NFT and some of their sub-NFTs.
Once $SPIT is generated, you can spend it at their marketplace. Here you can purchase rewards that have been supplied from Llamaverse's connections to other projects.
These include access, whitelists, NFT raffles, and other cool things.
$SPIT can also be used to create Spit Buddies. This is Llamaverse's crossbreeding NFT program. Essentially, you can crossbreed a Llamaverse NFT with another associated NFT to share in its benefits. Kinda neat, right?
Secondly, you also unlock access to a bunch of useful NFT tools such as Alpha Sharks Tool, Ape Chef NFT Tool, Brn.Tools, Discord Trading Bots, and flooredApe.
And lastly, there are the many connections Llamaverse has made with other projects, that allows owners of a Llamaverse NFT to gain access to a larger slice of the metaverse.
How are Llamaverse made?
Llamaverse NFTs are digitally generated pixel art pieces that exist in many different shapes and sizes with widely varying traits and backgrounds.
Essentially, the pieces are created by combining these elements together randomly in every possible combination. This means that no Llamaverse llama is the same as another – they are all unique.
There is also a distinction between the NFTs in the collection. You have animated and static llamas. The most common part of the Llamaverse Genesis collection is the static llamas. They are just computer generated pictures as you'd expect from most other NFTs.
On the other hand you have animated Llamaverse NFTs. These have cool and unique animations and effects. Out of the 4000 Llamaverse NFTs, only 500 are animated.
How do I mint Llamaverse?
The mint for Llamaverse happened in three separate stages. All stages took place on their website at the "Mint" section.
Firstly, Llamaverse's original boost holders started out with getting a free mint for a Llamaverse NFT. Then a public sale happened where 12% of the statis llamas were auctioned off. Lastly, whitelisted users could then mint a statis llama for 0.18 Eth.
Seeing as the mint took place in February, you should not be surprised it is already over. In fact, it was one of the fastest mints in NFT history.
How to buy Llamaverse
Now, since the minting is long done, you will have to find an alternate way to get your hands on a Llamaverse NFT. Luckily for you, it is quite simple!
You simply just have to find a secondary listing of them online where private collectors sell their pieces. Marketplaces that offer Llamaverse Genesis are OpenSea, LooksRare, and X2Y2.
Depending on the site, you usually have to create an account. Then you have to connect your crypto wallet to the site so that you can make transactions.
Locate the NFT you are interested in. Make sure your wallet has enough Eth to pay both for the NFT and the gas price of the day. Voila! Now you own a Llamaverse NFT and can start staking it for $SPIT!
At the time of writing this article, the floor price for a Llamaverse Genesis NFT is 3.4 Eth which translates to 6156 USD.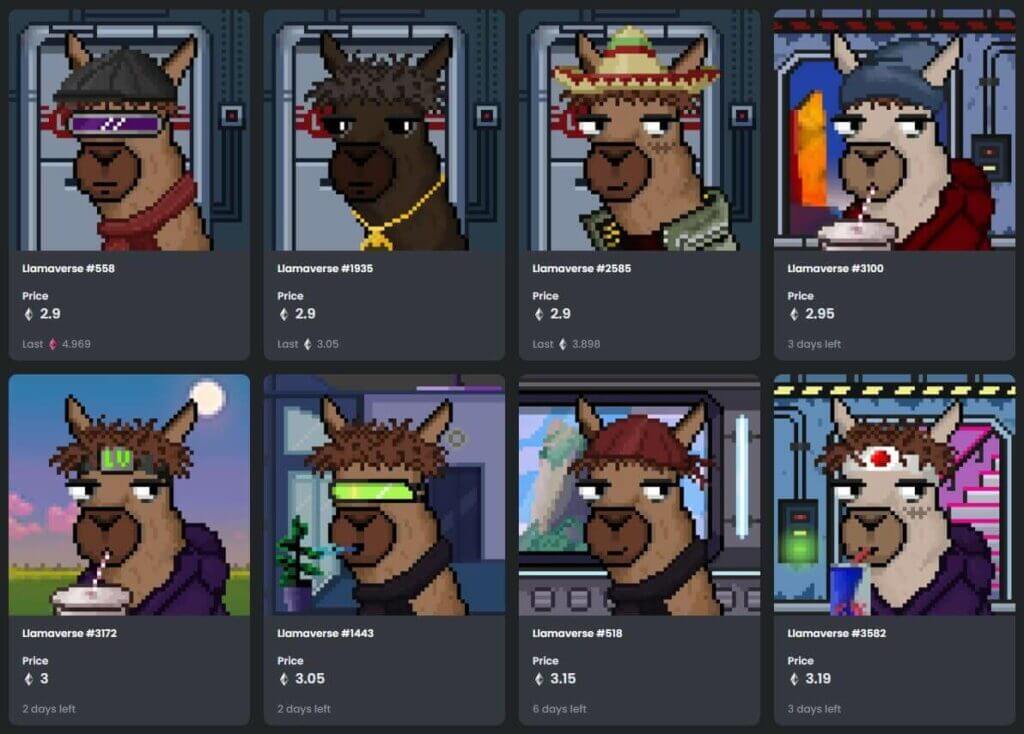 Conclusion
Llamaverse is really a jack of all trades NFT that wants to give everybody a little bit of something. That gives them a massive reach in terms of a target group, and it probably also helps explain why it is so popular.
By getting anything from cool and powerful NFT analytics and sniping tools to direct connections with other NFT projects that you can benefit from too, it is very easy to see that you do get a lot for just owning one NFT.
The team behind Llamaverse is very ambitious and motivated, and they are always working on improving and bringing new utility to their holders. It will be exciting to see what the future holds for them.
One thing is for sure though – it's most likely going to be a real party!